Daniel A. Ninivaggi, Chief Executive Officer of Icahn Enterprises (NYSE:IEP) said in the latest earnings call last Friday May 3rd that: "At the holding company level, we completed a public equity offering of IEP units in the first quarter. We also adopted a $4 annual dividend policy, resulting in a very attractive yield to our unitholders. Providing additional liquidity in IEP units and our new dividend policy are part of our strategy to broaden and strengthen our shareholder base. We also believe creating more liquidity in IEP units will provide us more financial flexibility to pursue our activist strategy and make it even more effective." Carl C. Icahn, Chairman of the Board for Icahn Enterprises is well known for his activist stance. IEP shares yesterday were up by over 4% and are again up today.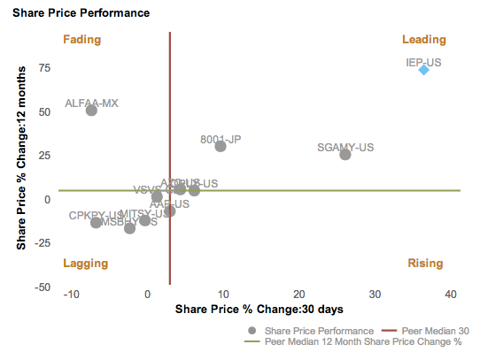 IEP Share Price Performance Relative to Peers
It should be noted that CapitalCube's Corporate Actions Report on Icahn Enterprises suggested that the fundamentals did not support an increase in dividends. Our preliminary analysis indicates that the new dividend policy is supported primarily by financing activities i.e. issuance of new equity.
Earnings Analysis
We analyzed the first quarter earnings for Icahn Enterprises L.P. using our proprietary peer-based methodology. Our analysis is based on the company's performance over the last twelve months (unless stated otherwise). We also examine the Accounting Quality of IEP and conclude that the company's financials suggest possible sandbagging of net income.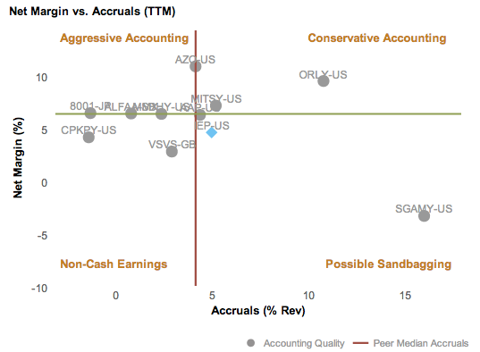 IEP Accounting Quality Relative to Peers
We used the following peer-set for analyzing Icahn Enterprises: C.P. Pokphand Co. Ltd. ADS (OTCPK:CPKPY), Mitsubishi Corp. ADS (OTCPK:MSBHY), Mitsui & Co. Ltd. ADS (OTCPK:MITSY), Itochu Corp. (OTCPK:ITOCF), Sega Sammy Holdings Inc. ADS (OTCPK:SGAMY), Vesuvius PLC, Alfa S.A.B. de C.V. (OTCPK:ALFFF), AutoZone Inc. (NYSE:AZO), O'Reilly Automotive Inc. (NASDAQ:ORLY) and Advance Auto Parts Inc. (NYSE:AAP).
The table below shows the preliminary results along with the recent trend for revenues, net income and returns.
| Quarterly (USD million) | 2013-03-31 | 2012-12-31 | 2012-09-30 | 2012-06-30 | 2012-03-31 |
| --- | --- | --- | --- | --- | --- |
| Revenues | 4,763.0 | 4,278.0 | 4,674.0 | 4,206.0 | 2,676.0 |
| Revenue Growth % | 11.3 | (8.5) | 11.1 | 57.2 | (16.4) |
| Net Income | 271.0 | 18.0 | 78.0 | 235.0 | 48.0 |
| Net Income Growth % | 1,405.6 | (76.9) | (66.8) | 389.6 | (81.2) |
| Net Margin % | 5.7 | 0.4 | 1.7 | 5.6 | 1.8 |
| ROE % (Annualized) | 21.2 | 1.5 | 6.4 | 19.9 | 4.4 |
| ROA % (Annualized) | 4.3 | 0.3 | 1.3 | 4.2 | 0.8 |

IEP Revenues Trend

IEP Net Margin Trend
Valuation Drivers
Icahn Enterprises L.P. trades at a lower Price/Book multiple (1.5) than its peer median (3.7). The market expects IEP to grow at about the same rate as its chosen peers (PE of 13.4 compared to peer median of 14.8) and to maintain the peer median return (ROE of 12.1%) it currently generates.
The company's profit margins are below peer median (currently 3.4% vs. peer median of 6.2%) while its asset efficiency is about median (asset turns of 0.8x compared to peer median of 0.8x). IEP's net margin is greater than (but within one standard deviation of) its four-year average net margin of 1.2%.
Economic Moat
The company has achieved better revenues growth than its chosen peers (year-on-year change in revenues of 32.8%) but its earnings growth performance has been below the median (change in annual reported earnings of -48.4% compared to the peer median of 9.6%). This suggests that, compared to its peers, the company is focused more on top-line revenues. IEP is currently converting every 1% of change in revenue into -1.5% change in annual reported earnings.
IEP's return on assets is less than its peer median currently (2.5% vs. peer median 4.4%). It has also had less than peer median returns on assets over the past five years (0.7% vs. peer median 3.5%). This performance suggests that the company has persistent operating challenges relative to peers.
The company's gross margin of 20.2% is around peer median suggesting that IEP's operations do not benefit from any differentiating pricing advantage. However, IEP's pre-tax margin is more than the peer median (7.8% compared to 6.3%) suggesting relatively tight control on operating costs.
Growth & Investment Strategy
While IEP's revenues have grown faster than the peer median (26.9% vs. 7.7% respectively for the past three years), the market gives the stock an about peer median PE ratio of 13.4. This suggests that the market has some questions about the company's long-term strategy.
IEP's annualized rate of change in capital of 23.0% over the past three years is greater than the peer median of 10.4%. This relatively high investment has generated a less than peer median return on capital of 4.2% averaged over the same three years. The relatively high investment and low current returns lead us to believe that the company is betting heavily on the future.
Earnings Quality
IEP reported relatively weak net income margins for the last twelve months (3.4% vs. peer median of 6.2%). This weak margin performance and relatively conservative accrual policy (5.0% vs. peer median of 4.1%) suggest the company might likely be understating its net income, possibly to the extent that there might even be some sandbagging of the reported net income numbers.
IEP's accruals over the last twelve months are positive suggesting a buildup of reserves. In addition, the level of accrual is greater than the peer median -- which suggests a relatively strong buildup in reserves compared to its peers.
Company Profile
Icahn Enterprises LP is a holding company, which through its subsidiaries, engaged in nine primary business segments: Investment, Automotive, Energy, Gaming, Railcar, Food Packaging, Metals, Real Estate and Home Fashion.
Disclaimer
The information presented in this report has been obtained from sources deemed to be reliable, but AnalytixInsight does not make any representation about the accuracy, completeness, or timeliness of this information. Please read our full disclaimer here.
Disclosure: I have no positions in any stocks mentioned, and no plans to initiate any positions within the next 72 hours.