Last Friday we wrote an Alpha-Rich article on Radcom (NASDAQ:RDCM) recommending purchase of this undiscovered gem. Since then, shares are up over 50%.
Our positive view was validated by the outstanding 2Q results the company reported this morning. We had expected a loss of ($0.05), but the company reported $0.06, and had a spectacular 1700bps sequential operating margin improvement on just $900k of top-line growth.
For anyone interested, we recommend a read of today's earning conference call - the call was brief, with no questions from callers, suggesting the stock is still on relatively few radar screens.
We now expect Radcom to earn $0.22 in 2013, vs. our previous estimate of $0.03. We now have 2014/15 at $0.55/$0.80 versus prior $0.40/$0.65. We're hopeful that our new estimates will prove meaningfully conservative, but we think it's prudent to be conservative until we see some additional customer wins announced. Given the strong overall tone of business, we think shares are well on their way to double digits - and believe our $13-$16 price target is very realistic.
Below is our new model, and below that our previous model. We welcome your feedback.
New Radcom Model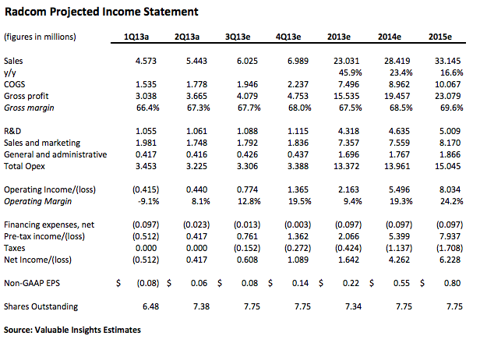 Prior Radcom Model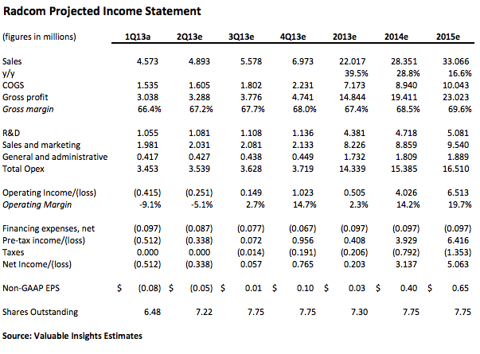 Disclosure: I am long RDCM.
Additional disclosure: We conduct thorough research on our ideas, but our views are our own. Please do your own research.