A new earnings season approaches.
Will companies post such encouraging results as to confirm a solid recovery and drive the S&P over the 1500s? Or will they be so disappointing to bring back old fears and send valuations down?
Earnings are probably one of the most important market drivers. Probably the only thing more important than earnings are earnings surprises. Next quarter's results are already discounted in current prices. The question therefore is weather actual results will meet those expectations.
Within a couple of months we'll be hearing analysts talking about strong results, weak results or maybe just in line with what was expected. How they come at this conclusion can sometimes be confusing. The S&P 500 Surprise Index tries to shed some light on the matter.
The Earnings Surprise Index
· I list every company in the S&P500 as of March 2012.
· For the past 16 quarters, I track the difference between the market consensus one day before reporting and the actual adjusted diluted EPS (i.e the earnings surprise).
· I then multiply this surprise for the weight the company has in the index. (and i multiply it by 100 not to get such small numbers)
· By adding the weighted beats I get to the Index value, which is a weighted average of the market's earnings surprise.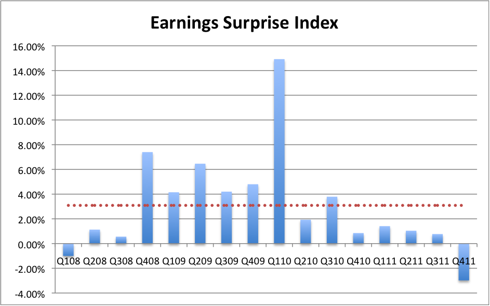 The pink line represents the 4 year average which is 3.09%. As you see, 2009 was marked by above average surprises while 2011 was mainly in line with expectations.
4Q11 was particularly disappointing. The market seemed to dismiss this fact and pushed higher during the first two months of the year due to solid economic data and fears from Europe being frozen. With these issues already priced in, earning results could difficultly be dismissed this upcoming quarter.
What should we expect for 1Q2012?
Results beating estimates can mean either companies performing outstanding or analyst being too pessimistic. Likewise, disappointing results may be caused by bad performance or excess of optimism.
The market is definitely on optimistic mode right now so I wouldn't expect a huge surprise like that of the 09's and 10's. In my view, an Index of just above 1% would be enough to consolidate the idea that the recovery has come to stay. Were this to happen, don't be surprised to see the S&P 500 solidly performing above 1400.
Disclosure: I have no positions in any stocks mentioned, and no plans to initiate any positions within the next 72 hours.