In watching/analyzing AMD, I've noticed 2 other interesting trends.
For one, I read another SA article on AMD and was convinced of the exact opposite of what was implied, which is that their pricing battle with INTC is a bad thing. AMD has such impressive/superior graphics on-chip with their latest CPU design, that it struck me this is really going to appeal most in one area: emerging markets. This is where people want the best gaming rig for the buck, and AMD's latest chip Kaveri will play some really decent games. Maybe not Crysis 2 on max settings, but it is a blowout compared to INTC without discrete graphics. With INTC cpu + discrete graphics the laptop likely has a much more expensive companion chip as well (think i5 or higher). In effect this is wasteful, the machine that competes with AMD has "double graphics". No wonder they're worse on fuel; there are extraneous transistors in the circuit, which also has a nasty way of driving up cost. So a laptop that plays great games for $4-500 w AMD vs $700+ w INTC+discrete can be a whopping difference, esp. in emerging markets.
To trace this idea back a bit, I was always wondering HOW (or where) AMD was actually creating positive chip sales with their budget brands. From looking around, I simply don't think it's this country. This can be a good thing.
Second, consoles are this week, for the first time in 20 yrs, being sold in Shanghai free-trade zone. In other words, Chinese can now take a pilgrimage to buy a console for the first time ever. Is that news for AMD?!? I'm surprised to see AMD isn't up more this week. Here's the news if you're interested.
So the impatient shorts (and also impatient longs mid-week) are showing up here this Friday. Impatient traders probably sold AMD this week on the pullback so this late day/late week blast is a bit eye-popping.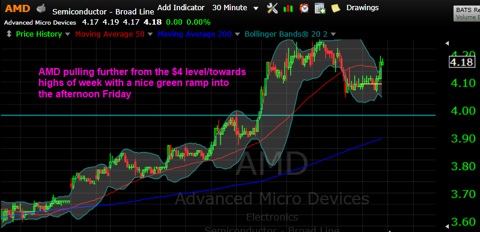 AMD Kaveri shows excellent gaming performance on some pretty strenuous settings, which means lower settings will allow most modern games, minus the bleeding edge releases.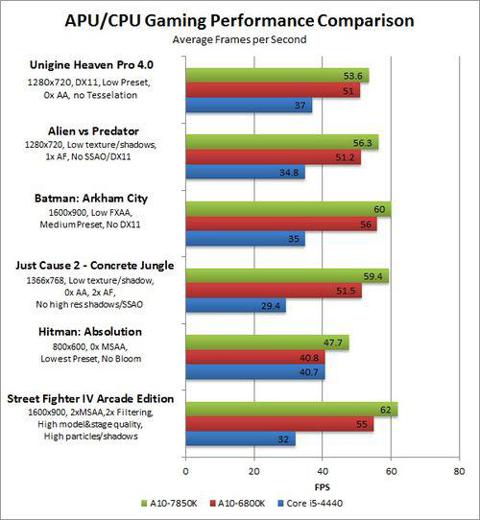 Disclosure: I am long AMD.