Telekom Austria is generally not the first port of call for telecoms sector analysis. Life though is getting progressively more interesting in the European telecoms world. We discussed KPN a couple of times in the last two weeks, most recently when America Movil/Carlos Slim put in a bid for the near 70% stake in the company that he does not already own.
America Movil owns another material stake in a telecoms company in Europe and that is a 23.7% stake in Telekom Austria, the leading central European provider of fixed, mobile and broadband services. Carlos Slim owns an additional 3.14% share of the company through his Inmobiliaria Carso SA holding company.
We can get onto some speculative thoughts about how all this may play out in a second, but let's focus on the fundamentals first. Telekom Austria produced its Q2 numbers today...and they were a bit of a mess. Operating earnings did move forward as shown below...but for lower quality reasons (depreciation/amortisation changes pre-eminent amongst them).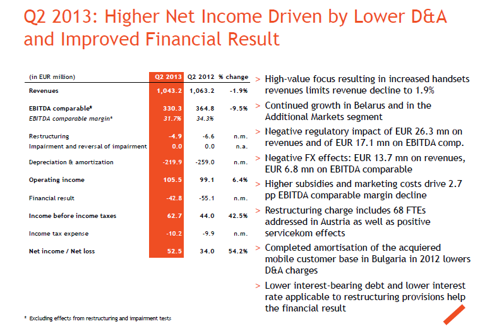 The list of 'excitements' in these numbers is quite long...restructurings, regulatory burdens, FX impacts, higher marketing costs etc. We've seen it all before in the telecoms market. It is pretty grisly and that's even before we throw in the still only x2-and-a-bit interest cover (albeit improved from a year ago).
Telekom Austria is very much a regional player. Austria remains its key market but it does have 20-40% market penetration in Bulgaria, Croatia and Belarus amongst others. Ebitda progression though is always going to be difficult when your top three markets are negative as Austria, Bulgaria and Croatia were as shown below. Just to rub salt into the wound, the company talked about further regulatory pressures in Croatia in the release too.
Still, at least they did not cut guidance as shown below...apart from to capex. Now capex savings are good but the lack of any earnings guidance is interesting. They are not willing to commit to a margin profile. Potentially not pretty. And forget that dividend too...it is equivalent to less than a 1% yield.

Still, America Movil/Carlos Slim will bid, yes? Well America Movil would have to make an offer for all of Telekom Austria's shares if it wanted to raise its stake above 30%, according to Austrian law. Any offer prior to September 25th, the one year anniversary of America Movil's investment in Telekom Austria, would need to match the Euro9.50 share price paid for the initial stake, takeover rules say. By the way that Euro9.50 price is 80% above the current share price.
The other curve ball re Telekom Austria is the role of Austria's state-asset agency, which owns 28.4% of the company. In the Netherlands, the country has been more accepting of foreign bids. I am not sure that is the case in Austria.
Despite near Euro1bn of debt (our of a total net burden of Euro2.8bn) coming up for maturity later this year, Telekom Austria is still statically cheap.
The company's EV is currently about Euro5.3bn and with full year ebitda around Euro1.3bn. That's an EV/ebitda ratio of just over x4. When we talked about KPN and deals in this space, we discussed x6 EV/ebitda as a level, so it does appear cheap.
However if you put all the above together any bid for Telekom Austria has more hurdles than for KPN. Clearly the timing would be post 25th September but greater political awareness is going to have to be applied by America Movil/Carlos Slim. Additionally the skinny interest cover has to be a concern despite the 7% free cash flow yield (of which only 1% is paid out). All this implies a discount is needed...but how much? Traditionally I have used two points for such a situation.
So the share is at an interesting level everything adjusted. From here it is a pretty pure play on the a future America Movil deal. Support at Euro5 (see the chart below) if sentiment drops for operational or market reasons. 10-15% downside, 30%+ upside? Not bad odds.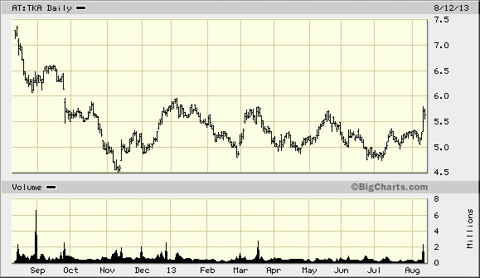 Disclosure: I am long OTCPK:TKAGY.
Additional disclosure: (to be precise am long the Austrian listed stock).