If and when a cure for cancer is discovered, it will surely come with an added financial bonus for some investors if it comes in the form of a proprietary drug or treatment. On the other hand, one could argue that when a company's products are shown to cause cancer, this might be the time to short. That is exactly the claim being made in a new World Health Organization study on the effects of processed meat and red meat.
Specifically, the WHO states that "processed meat was classified as carcinogenic to humans (Group 1), based on sufficient evidence in humans that the consumption of processed meat causes colorectal cancer." The report also states that red meat is "probably carcinogenic to humans (Group 2A), based on limited evidence that the consumption of red meat causes cancer in humans and strong mechanistic evidence supporting a carcinogenic effect." Quantifying the findings, the report claims that consuming 50 grams of processed meat a day increases the risk of colorectal cancer by 18%.
Based on this information, which stocks are good candidates for those wanting to trade the news? The largest American hot dog producers are Ball Park Franks and Oscar Meyer, but these companies are subsidiaries of the much larger Tyson Foods (NYSE:TSN) and Kraft Heinz Company (NASDAQ: KHC), respectively. This makes Nathan's Famous (NASDAQ:NATH) a better choice for pure hot dog exposure. (Note: No jokes about "hot dog exposure" will be provided at this time.)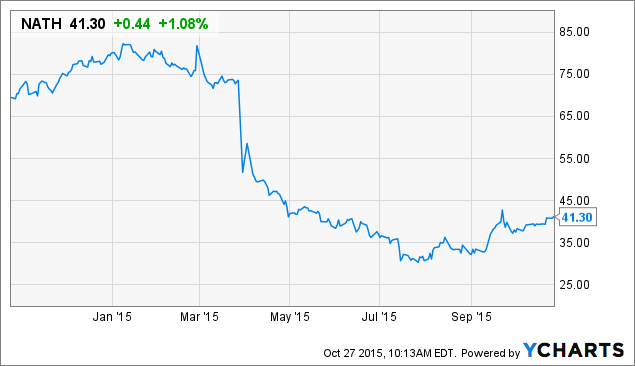 According to the company's own website, they sold over 480 million hot dogs last year. Indeed, the "Famous" in the company name refers specifically to their hot dogs and their annual hot dog eating competition serves to further cement the bond between the company and its signature product in the minds of the public. If there is a significant consumer reaction to the WHO report, Nathan's would likely be one of the hardest hit.
In an interesting coincidence, the WHO report comes at the same time as a completely unrelated hot dog study by a startup called Clear Food, but the latter study is unlikely to have any significant effect for a couple of reasons. First, the study's findings deal
largely with undisclosed meat substitution issues and vegetarian hot dogs. Second, it seems extraordinarily unlikely that those who choose to keep eating hot dogs after the WHO report would suddenly abandon this activity because of a report highlighting a limited number of meat substitution issues.
The WHO report makes a bold and seemingly devastating claim, but the collapse of hot dog sales is by no means assured. Health officials have been warning the public about the potentially negative impacts of processed meat for a long time now. While this report does go further than previous ones in claiming that processed meat does in fact cause cancer, it also offers the disclaimer that "the risk of developing colorectal cancer because of their consumption of processed meat remains small, but this risk increases with the amount of meat consumed."
On the other hand, whenever the word "cancer" is mentioned, people tend to listen and the characterization of "carcinogenic" as opposed to "potentially carcinogenic" may be enough to cause a decline in demand. One could also argue that an increasing trend of
health-consciousness is causing people to more carefully consider their dietary choices as evidenced by the reduced consumption of certain items such as soft drinks. Bottom line: with health warnings becoming stronger and public health awareness increasing, this may be the time to short Nathan's.
Disclosure: I/we have no positions in any stocks mentioned, and no plans to initiate any positions within the next 72 hours.