General Electric (NYSE:GE) has graciously decided to extend by three weeks its deadline to close on its deal with Alstom SA. This will give Siemens AG, its German competitor (OTCPK:SIEGY), a chance to make a bid for the French company.
GE's proposal to purchase Alstom for $17 billion has alarmed French officials and workers, who are concerned about job security and national security issues.
GE's Sign of Good Faith, Snubbed
The extension is a show of good faith on GE's part, signaling it is willing to play fair, honor the interests of the French people, and respect the desire of the French government to give Siemens a chance to improve their bid.
Despite this, however, GE's bid has been met by strong opposition by Arnaud Montebough, the French Minister of Economy, who referred to the offer as unacceptable, as well as a risk to the economic sovereignty of France. GE has already assured the company, its employees, and the French government that if it acquires the company, there will be no loss of jobs, and it will safeguard France's access to nuclear-powered technology used by Alstom.
The minister is in favor of Siemens making a better bid.
The spokeswoman for GE, Deirdre Latour, put a positive spin on the extension, seeing it as an opportunity to continue constructive conversations with the French government on the details of the acquisition. Jeff Immelt, the Chief Executive, also said that he expected delays from the French government in closing the agreement and hinted that he welcomed the idea of an open dialogue to reassure that GE's takeover would not have any adverse effects on France's economy or sovereignty.
Siemens So Far Silent
As of yet, Siemens has not announced its new offer, but it has hinted that it will submit its bid by next week, possibly as early as Thursday. Siemens has already examined Alstom's books and appears to be ready to make its move. Alstom's board is expected to make a decision on GE's bid by June 2. Currently, it has endorsed the bid, but not approved it.
Siemens made a bid in April to acquire a piece of Alstom. However, Chief Executive Joe Kaeser's lack of follow-through has left the question open as to whether the company was seriously contending for partial ownership of Alstom. Siemen's initial proposal consisted of $15 billion in cash, with an asset swap. Siemens is also in the train business and was willing to unload its unsuccessful train division to Alstom, which has built a solid business around providing France with TGV high speed trains.
French Economy Minister Dissatisfied With Both Sides
The French Economy Minister has expressed dissatisfaction with bids from GE and Siemens and has asked both companies to step up their offers. He is representing the French government's keen interest in the transaction, although the government has no shares in Alstom.
Siemens has responded by saying that it will increase its asset swap by adding its rail signaling division to the deal. Siemens, however, would still remain in the rail business, keeping 19% of their locomotive assets.
GE, for its part in sweetening its offer, has offered a rail signaling joint venture and agreed to accept offshore wind and hydropower assets in a swap. However, it does not appear likely that GE is willing to compromise its profitable train business.
Although Deal Could Significantly Boost GE's Portfolio For Investors; The Industry Giant Stands Strong For Investors Either Way
GE has made Alstom a generous offer and provided ample assurance that a takeover would not be a threat to France in any way; the French government appears nervous about the deal, although without clear cause; and Siemen's has yet to make a clear move about what it is planning to offer.
If the deal goes through for GE, it could benefit the company enormously. It could position GE to provide power plant maintenance and power transmission for the recovering European economy; significantly grow and diversify GE's portfolio for investors, while supporting the company's renewed focus on industrial equipment, locomotives, and jet engines after spinning off its GE Capital division; and convert Alstom from a rival into an ally.
Further details of the benefits for GE can be found in our previous article on the topic.
If the deal does not go through for GE, and/or if France sees Siemens' bid through, GE still stands strong as a core holding in 2014.
The Dow Jones Transportation Average has gained 9.3% over the past three months, a strong sign of a recovering economy, and growing demand for GE's services.
GE is undertaking far-reaching programs to better understand the emerging markets in which it operates. While a stronger foothold in Europe certainly wouldn't hurt, GE will likely continue to build strong avenues for growth in 2014.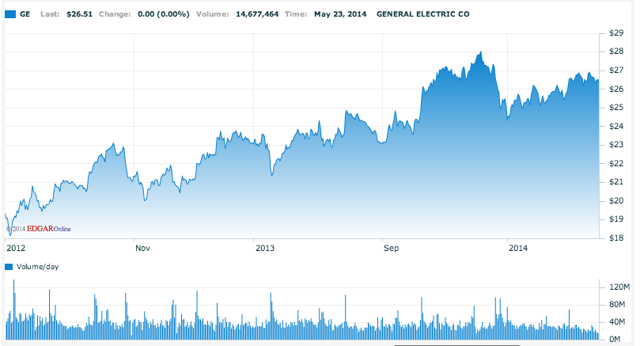 (Nasdaq.com)
GE has also paid steadily increasing dividends to shareholders since 2009.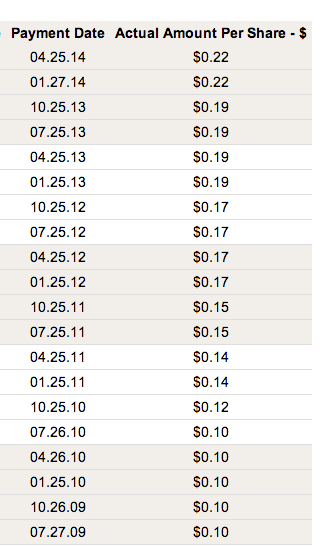 (http://ge.com/investor-relations/stock-information)
Readers wishing to join the discussion on GE should click the +FOLLOW button above the title of this article.
Disclosure: I have no positions in any stocks mentioned, and no plans to initiate any positions within the next 72 hours. I wrote this article myself, and it expresses my own opinions. I am not receiving compensation for it (other than from Seeking Alpha). I have no business relationship with any company whose stock is mentioned in this article.