Sydax Pharmaceuticals Inc (NASDAQ:SNDX), a biopharmaceutical firm attempting to develop and commercialize an epigenetic therapy for treatment-resistant cancers, plans to raise $60.2 million in its upcoming IPO.
The Waltham, Massachusetts-based firm will offer 4.3 million shares at an expected price range of $13-$15 per share. If the IPO can hit the midpoint of that range at $14 per share, SNDX will command a market value of $179 million.
SNDX filed on March 27, 2014.
Lead Underwriters: Deutsche Bank Securities Inc; Jefferies LLC
Underwriters: JMP Securities LLC; Wedbush Securities Inc
Seeking To Develop New Cancer Therapies
SNDX is a biopharmaceutical company seeking to develop and commercialize an epigenetic therapy for treatment-resistant cancers.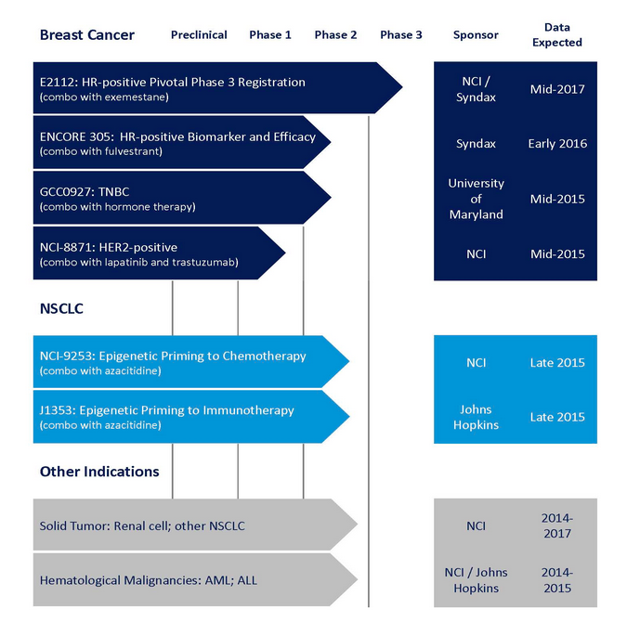 (www.syndax.com/development.aspx)
The firm's lead candidate, entinostat, is an oral selective histone deacetylase (HDAC) inhibitor; entinostat targets HDACs that are over-expressed in cancer cells, leading to uncontrolled cell growth. Entinostat received Breakthrough Therapy designation from the FDA after a Phase 2b clinical trial in locally recurrent or metastatic breast cancer evidenced significant improvements in patients' progression-free survival and overall survival.
The firm will conduct a pivotal Phase 3 clinical trial in advanced breast cancer in collaboration with the National Cancer Institute, which will provide funding for the trial; SNDX expects patient enrollment to begin in the second quarter of 2014. SNDX will also conduct further Phase 2 trials to provide proof-of-concept data for entinostat's use for other cancers.
Valuation
SNDX offers the following figures in its S-1 balance sheet for the three months ended March 31, 2014:
Revenue: $0.00
Net Loss: ($4,020,000.00)
Total Assets: $13,083,000.00
Total Liabilities: $4,650,000.00
Stockholders' Equity: ($133,501,000.00)
SNDX's lack of revenue is typical of a pre-commercial biopharmaceutical firm, and should not be taken as a predictor of its future success or failure. The firm will not be able to generate significant revenues until it has commercialized one or more of its products.
Lead Product Candidate Could Face Stiff Competition
If approved, entinostat will face competition from other treatments developed by major pharmaceutical firms and specialty pharmaceutical and biotechnology firms. Some of these firms have access to far greater financial and marketing resources than SNDX, potentially rendering it difficult for SNDX to proliferate entinostat if it receives approval.
Management Overview
Arlene M. Morris has served as SNDX's President since September 2013 and as CEO since March 2012.
Ms. Morris served as the President and CEO of Affymax, Inc. (NASDAQ:AFFY). She also worked in management and executive positions at Clearview Projects, Inc., Coulter Pharmaceutical, Inc., and Johnson & Johnson (NYSE:JNJ).
Ms. Morris holds a B.A. in Biology and Chemistry from Carlow College. She is a member of the board of directors of Neovacs S.A.
Conclusion: Designated 'Breakthrough Therapy' = Buy For Investors
We rate this IPO a buy for aggressive investors.
Entinostat represents a genuine potential breakthrough in cancer treatment, and would certainly be a goldmine for SNDX if were to receive FDA approval. A central risk in any pre-commercial firm is that it will fail to gain approval; however, given the FDA's designation of entinostat as Breakthrough Therapy, which requires that "preliminary clinical evidence indicates that the drug may demonstrate substantial improvement over existing therapies on one or more clinically significant endpoints," approval seems relatively likely.
The National Cancer Institute's support is also encouraging.
Though any investment in a clinical-stage biopharm is a gamble, we believe that this IPO is a better bet than most.
We invite readers wishing to join the discussion on IPOs to click the +FOLLOW button above the title of this article and follow @DRDInvestments on twitter.
Disclosure: The author has no positions in any stocks mentioned, and no plans to initiate any positions within the next 72 hours. The author wrote this article themselves, and it expresses their own opinions. The author is not receiving compensation for it (other than from Seeking Alpha). The author has no business relationship with any company whose stock is mentioned in this article.