Amazon (NASDAQ:AMZN) has recently decided to go head-to-head with the Disney Corporation (NYSE:DIS) on prices for new releases, continuing their strategy of putting pressure on suppliers of their online entertainment inventory.
Amazon already has an ongoing dispute with French company Hatchette Publishing to lower the price of e-books offered on the Amazon site.
Many experts feel Disney is in a good position to resist this current effort to depress prices for their popular movies.
Amazon's Strategy
Amazon's CEO Jeff Bezos is taking the aggressive route to force suppliers to lower prices in order to help him increase AMZN profits. The stock price has lagged in 2014, making further gains a matter of concern among investors.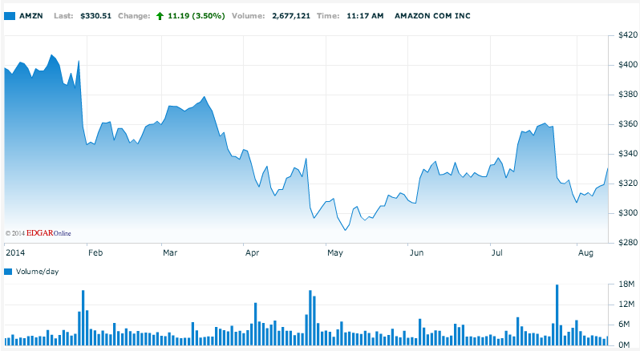 (Nasdaq.com)
As a result, Amazon put a halt to the pre-order of Disney movies such as "Captain America" and "Maleficent," hoping to coerce Disney in lowering prices. In addition, customers receive a message saying "Sign up to be notified when this item becomes available" for other movies as well, such as "Muppets Most Wanted" and "Million Dollar Arm." The move is only part of a bigger action Amazon has undertaken to strong-arm content providers in the industry.
Amazon and Hatchette
The current move comes in the wake of a dispute with Hatchette Publishing to push down prices on e-books it offers to customers on the Amazon site. Amazon demands the books be priced at the $9.99 level instead of the $12.99 or $14.99 level that has been customary until this time. When Hatchette balked, Amazon employed the tactic of withholding the pre-releases of Hatchette books. AMZN has even gone directly to the authors to help pressure Hatchette, offering them the full royalty during the dispute. However, the action has caused a backlash from 900 authors, including John Grisham and Stephen King, who are standing up against the strong-arm tactic.
Disney's Stand
Disney shows no sign of going compliantly along with the Bezos strategy. Although the company depends on individual sales to supplement movie sales, the releases are still available on iTunes and Amazon streaming. Also, customers only need to wait a slightly longer period of time before the movies are available at Walmart (NYSE:WMT) and Target (NYSE:TGT).
But in an age when content is king, Amazon is likely to continue to be a big player in the content market in years to come, putting Disney in a difficult bargaining position.
Disney Outlook
The Disney Company stock has experienced a steady rise over the past three to five years, producing good results for its investors.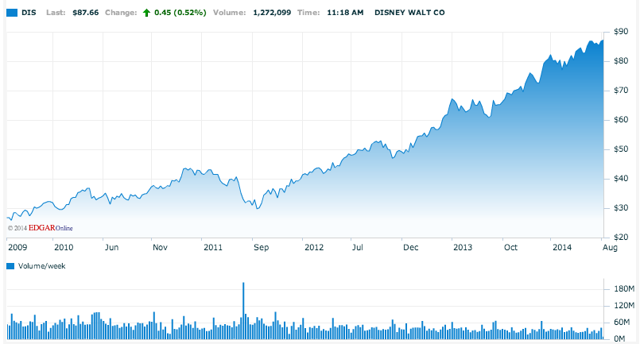 (Nasdaq.com)
Historically, DIS has beat analyst estimates for earnings for the past twelve quarters. DIS dividends have increased at a healthy rate over the same time period as well.

(Nasdaq.com)
As of August 5, 2014, the company announced earnings per share increase of 27 percent for the third quarter with revenues up eight percent. This was largely driven by the film Frozen's continued success.
The acquisition of Maker Studios recently has been an additional positive strategy.
Little has gotten in the way of its domination in the entertainment industry, with its ownership of Pixar, ABC and Marvel. Amazon's attempt to bring this big dog into line may be a fruitless effort and may end up hurting its reputation with consumers in the end.
In contrast, Disney has several generations of good public relations to help shore up whatever decision it chooses to make.
We continue to be positive on DIS moving forward in 2014, despite AMZN's aggression.
Readers wishing to join the discussion on Disney and Amazon might click +FOLLOW above the title of this article, and those looking for the latest news to click +Get real time alerts.
Disclosure: The author has no positions in any stocks mentioned, and no plans to initiate any positions within the next 72 hours. The author wrote this article themselves, and it expresses their own opinions. The author is not receiving compensation for it (other than from Seeking Alpha). The author has no business relationship with any company whose stock is mentioned in this article.