As Tesla (NASDAQ:TSLA) exceeded Wall Street expectations in volume and earnings metrics in the second quarter of 2014, a critical trademark issue in China was resolved.
Latest news on the Gigafactory battery production project also revealed a solid and secure launch pad for global marketing and distribution of Tesla electric vehicles (NYSE:EV). Plans for US domestic development and production of Tesla's proprietary battery technology in partnership with Panasonic (OTCPK:PCRFF) offers investors confidence that Tesla will protect their technological lead.
Tech, Not Automotive, Roots
The Tesla EV concept was founded in the technology industry rather than the automotive industry. Their partnership with Panasonic on the Gigafactory battery production project is one of many examples supporting this key insight.
Although the positive resolution of the issue Tesla experienced in China was based on a potential trademark conflict, this focus on critical trade issues reveals part of the savvy strategy to protect their industrial interests.
Transportation industry leaders, for example, have been concerned that China may have reverse-engineered high speed rail technology while working with European firms on the initial launch of China's massive rail expansion initiative. Another example leading to concerns about protecting industrial intangible assets is the growth of the knock-off smart phones using technology developed in the West while utilizing cheaper materials to produce these phones in the East.
Increased Re-Fueling Speed
It seems that a significant increasing in refueling speed is also a priority of the company. This appears to be the next significant factor in what Mr. Musk refers to as customer "delight." Refueling speed seems doable for Tesla's Chief Technology Officer, J.B. Struabel. Mr. Straubel is convinced by his analysis that EV is the most cost effective and achievable leading technology as an alternative to fossil fuel dependent vehicles.
Moving Forward
Plans for the first Tesla Gigafactory site seems to be pointing to Nevada and future consideration for production expansion in other US States. While design of their EV revolution remains is in California, Tesla's approach to US domestic production exclusivity has become apparent this year. Investor confidence is bolstered with several pieces of the strategic puzzle unveiled along with evidence of improvements in business performance.
Tesla's Brand Becomes Even More Viable, Shareholders' Holdings More Valuable
With an unparalleled combination of style, power, technology and range, the Tesla brand is becoming undeniably viable.
Continued development of battery technology will ensure alternatives fuels such as hydrogen will loose attraction.
The company's run rate target of producing 100,000 per year by the end of 2015 will be reliant on battery production facilities in the US and service centers in each of the global markets Tesla plans for marketing and distribution.
Recent Earnings
In Q2 2014, Tesla reported record Model S deliveries of 7,579 vehicles and production of 8,763 vehicles. While this is still below the market share of electric vehicle rival Nissan (OTCPK:NSANY), Tesla's market influence is perhaps far superior. According to the Harvard Business Review, Tesla's decision to share, instead of retain, the patent on some of its most important technologies, could actually be critical to the company's long-term success.
Non-GAAP revenue, at $858 million, was up 55% from the same time one year ago.
Tesla's market performance has historically been very strong; YTD, the stock has also seen significant appreciation.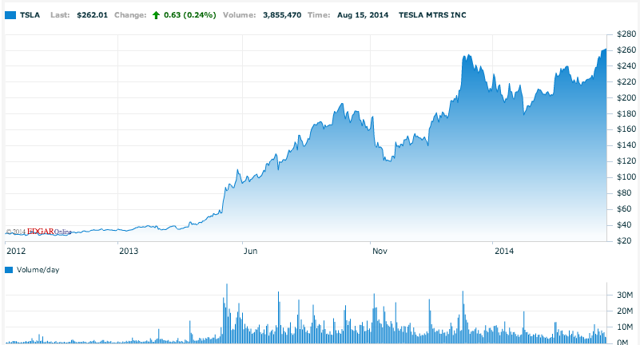 (Nasdaq.com)
The company has beat estimates for earnings the past five quarters, consistently. With China's increasingly voracious appetite for luxury goods, Tesla is well poised to benefit from expanding in this market.
We are continually positive on TSLA's forward-thinking, disruptive technology in 2014 and suggest other investors be so, as well.
We encourage readers wishing to join the discussion on Tesla to click +FOLLOW above the title of this article - and those wishing for the latest updates to click +Get real time alerts.
Disclosure: The author has no positions in any stocks mentioned, and no plans to initiate any positions within the next 72 hours. The author wrote this article themselves, and it expresses their own opinions. The author is not receiving compensation for it (other than from Seeking Alpha). The author has no business relationship with any company whose stock is mentioned in this article.