With fourth quarter earnings due to be announced on March 2, 2015, DTS Inc. (NASDAQ:DTSI) already looks very strong.
Specializing in digital surround sound formats for use in theatrical, commercial and consumer applications, DTSI has a clear edge over its competitors in a rapidly growing market.
Business Overview: High-Quality Audio Systems, Found in Blu-ray, Car Audio Systems, Smartphones, and Elsewhere
DTS, Inc., produces high-quality audio systems for high definition entertainment across a multitude of devices. Their systems enable the delivery and playback of crystal clear audio, and the technology is integrated by hundreds of licensee clients globally. As an early player in the high definition, multi-channel audio revolution, DTS now has become a crucial audio format in the Blu-ray Disc model, and can increasingly be found in movies, games, music and a wide array of digital entertainment along network connected devices.
DTS technology can also be found in car audio systems, game consoles, DVD players, digital media players, home theaters, set-top boxes, PCs, and smartphones.
Founded in 1993, DTS has corporate headquarters in Calabasas, California, and the company maintains offices in several California cities, as well as the United Kingdom, Taiwan, South Korea, Singapore, Japan, Ireland, Hong Kong, France and China. In 2012, DTS acquired SRS Labs, which included more than 1,000 audio patents and trademarks.
Announcement of New Services
Recently, DTS announced that it will provide DTS-HD multi-channel surround sound to entertainment services provided by Best Buy (NYSE:BBY) in Canada and the United States, as well as Dixons and Sainsbury's in the United Kingdom. These services are known as CinemaNow, and they offer content to rent or buy, stream or download across network-connected devices, including tablets, smartphones, smart TVs, and gaming consoles. The CinemaNow library contains nearly 35,000 full length movies, short films, TV shows, and concerts available through the subscription service.
A Rapidly Growing Market
The company expects its growth for 2014 to come mostly from Internet-connected markets, including mobile devices, PCs, and connected TVs, with more than 50% of revenue coming from these sources. With IT spending on track to hit $3.8 trillion in 2015, 2.4% higher than 2014, and with the largest amount of growth to be seen in mobile devices (5.1%) and enterprise software (5.5%), the market for DTS Inc.'s products only appears to be increasing.
In the gaming sector, revenues have been increasing over PCs, mobile devices, and handheld platforms, also highlighting areas in which DTS now has room to expand.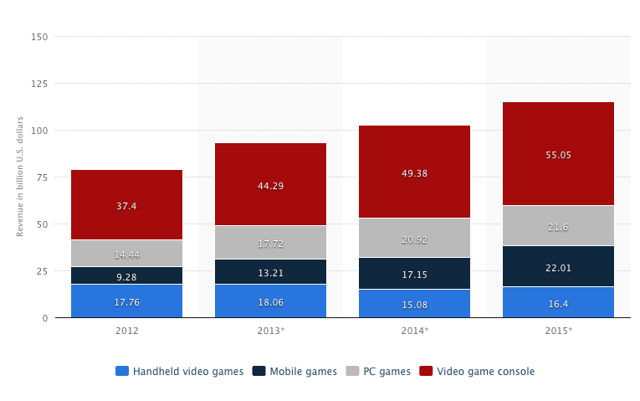 (Source)
Evident Stock Gains, Compared With Overall Industry
In comparison to the overall application software industry (BATS:IGV), DTS is a standout. Although its stock performance year-to-date is (1%), its previous 12 month performance is a healthy increase of 48%, from $20.31 to $30.11. The comparable 12 month performance for the application software industry was almost nil at 0.62%.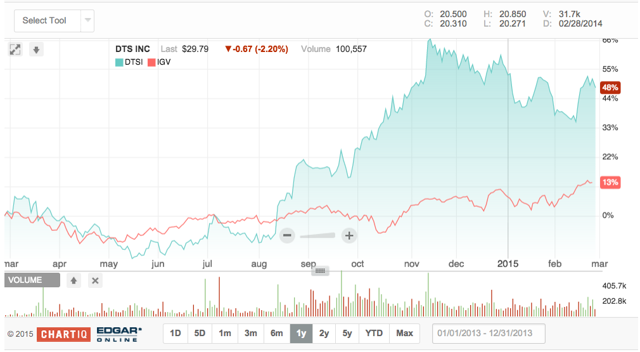 (Nasdaq.com)
Third Quarter Highlights Impressive Growth
Wall Street analysts are looking forward to this earnings release in light of the company's performance for the third quarter. Third quarter revenue for 2014 grew 27% over the same period in 2013. GAAP net income increased to $3.9 million, a 95% increase over 2013, and GAAP earnings per share increase from $0.11 to $0.22.
DTS has raised its outlook for 2014, and currently estimates revenue to be around $140 to $144 million, with a non-GAAP operating margin in the range of 25% to 29%. In addition, DTS estimates a GAAP operating margin from 9% to 11%, and GAAP diluted earnings from $1.00 to $1.05.
A Cut Above The Competition
In comparison to its primary competition, DTS looks particularly attractive. Quarterly revenue growth for Sony (NYSE:SNE) and Dolby (NYSE:DLB) came in at 0.01 and 0.07 respectively, while DTS had a much better performance at 0.27. In addition, while DTSI and Dolby had equal gross margins at 0.93, Sony had a significantly lower gross margin at 0.25. For net income, DTSI earned $33.78 million from revenue of $145.77, and Dolby had net income of $202.95 on revenue of $963.14. However, Sony produced a loss in net income of -$1.86 billion on revenue of $67.11 billion.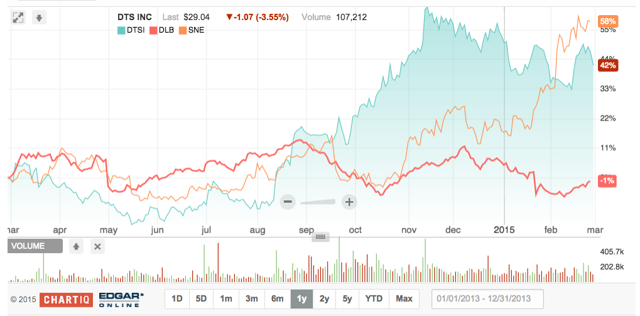 (Nasdaq.com)
Conclusion: DTSI a Buy
With DTSI's upcoming earnings report expected to be positive, raising its expectations above its initial projections, the company may present an excellent opportunity to investors seeking positions in promising growth stocks in the software industry.
Outperforming its peers and the industry overall, and with a strong track record of beating consensus estimates for both EPS and revenues the past three out of four quarters, DTSI sounds like a pick for us in 2015.
We invite readers wishing to join the discussion on DTS Inc. and the broader tech industry to click the +FOLLOW button above the title of this article - and those looking for the latest developments to click +Get real-time alerts.
Disclosure: The author is long DTSI.
The author wrote this article themselves, and it expresses their own opinions. The author is not receiving compensation for it (other than from Seeking Alpha). The author has no business relationship with any company whose stock is mentioned in this article.