Google (NASDAQ:GOOG) faces growing allegations in Europe that may ultimately have a negative impact on its next earnings. In addition to complications with implementing "right-to-be-forgotten" measures that will allow individuals to request information about them be removed from search results, Google faces antitrust charges from the European Commission.
Insight Into Court Decisions, Charges of Manipulating Search Results
In Europe, several court decisions have ruled for plaintiffs against defendant Google in demanding that the search engine giant respond to requests to remove unfavorable information about them or replace inaccurate data with accurate information.
Moreover, The European Commission charged Google (NASDAQ:GOOGL) this week with manipulating search results that give preferential rankings to its comparison-shopping service. (The last time the European Commission took on a large United States technology company, it charged Microsoft with issues surrounding its servers in 2000. Then it added antitrust charges for bundling the Web browser, media player and operating system.)
Margrethe Vestager, antitrust chief for the European Commission, noted investigations regarding Google's Android mobile-operating system. Currently, Google represents a 90 percent market share of online searches in Europe. The Android operating system powers approximately 80 percent of all smartphones manufactured globally, and the investigations will center on the programs that essentially require an Android user to install Google apps or set them as defaults. Competitors claim that this hurts their efforts to promote deals for their services over Android phones.
Huge Potential Fines on the Horizon
Some experts that follow Google have suggested that the charges could lead to fines that reach ~$6 billion. Google posted a response online suggesting that charges were unnecessary, especially since the choices in search engines continues to grow, and proof of harm to competitors and consumers has been elusive.
These figures could certainly cut into to shareholders' equity.
Further Risks in the EU v. US
The charges by the European Commission represent the first formal antitrust allegations to name Google although U.S. regulators recently concluded their own investigations. European regulators may be responding to Google's higher market penetration in Europe versus the United States and varying legal standards. In the European Union, antitrust laws protect rivals as well as competitors, thus Google must answer to allegations lodged by companies such as Twenga SA, Nextag, and Foundem, all of which have formally complained about the company's practices. Moreover, the charges will be reviewed by the European Commission instead of a judge, thus exposing Google to greater risks of being held accountable.
Even if Google appeal any decision, the path could take years to reach a resolution, while fines would be held separately in an account, suspended from operations.
Q4 Results Miss Expectations
In January, Google reported its financial results for the fourth quarter of 2014, and the results missed expectations. Declining ad prices and the strong dollar impacted quarterly revenue and earnings. The company posted fourth quarter adjusted earnings of $6.88 per share. This represents an increase from $6.00 per share for the same period in the prior year. Revenue increased to $18.1 billion from $16.86 billion. However, the Wall Street consensus pegged earnings at $7.11 per share from revenue of $18.46 billion.
Google noted that while 2014 was "a year of significant investment growth," fourth quarter revenue would have been $541 million more had the foreign exchange rates against the dollar had remained constant from 2013. In fact, the company estimated that the strong dollar had a negative impact on net revenue that reached approximately $468 million.
GAAP operating income for the period was $4.4 billion, which represented 24% of revenue. In contrast, GAAP operating income for the fourth quarter of 2013 was $4.43 billion, or 28% of revenue.
Conclusion - Consider Taking Modest Profits
While Google insists that its faces major global competition from rivals including Amazon.com (NASDAQ:AMZN), eBay (NASDAQ:EBAY), Expedia (NASDAQ:EXPE) and TripAdvisor (NASDAQ:TRIP), noting that the growth in revenue and profitability of such companies proves that Google is not involved in antitrust manipulation-this does not seem enough to appease the EU at present.
Concurrently, GOOG share price is on the decline since early March; perhaps shareholders are showing their concern that the search giant could miss earnings estimates once more. Google next reports on April 23rd, after-mkt. Analyst estimates are below Q4 estimates.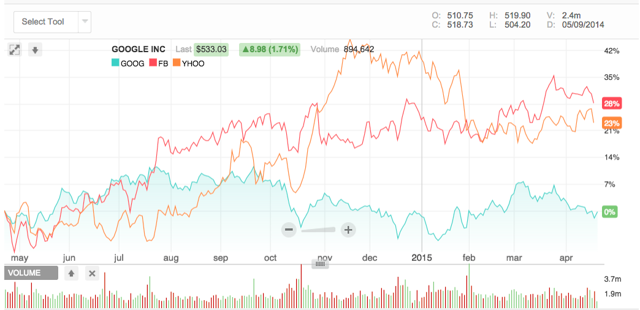 (Nasdaq.com)
Google does not currently pay dividends (although some argue they could); naturally the stock is less attractive for investors seeking income. With regards to growth, if this continues to slow, weighed down by legal fees and fines, investors might shift into rival search giant Yahoo! (YHOO), busy putting its billions from the Alibaba IPO to good use, or Facebook (NASDAQ:FB) -both of which show strength in early 2015.
Readers wishing to join the discussion on Google and its competition should click the +FOLLOW button above the title of this article; those looking for the latest updates should click +Get real time alerts.
Disclosure: The author has no positions in any stocks mentioned, and no plans to initiate any positions within the next 72 hours.
The author wrote this article themselves, and it expresses their own opinions. The author is not receiving compensation for it (other than from Seeking Alpha). The author has no business relationship with any company whose stock is mentioned in this article.