Thesis Summary
Legitimate concerns over potential gun control legislation from President Obama's and Hillary Clinton's recent speeches after Omar S. Mateen massacred over 50 Americans at the popular Orlando LGBT club could drive Smith & Wesson (SWHC) and Sturm Ruger's (NYSE:RGR) sales up strongly.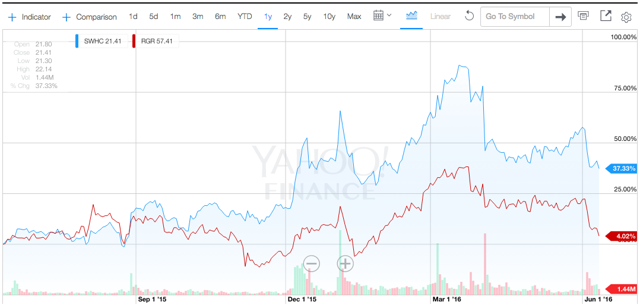 (Yahoo! Finance)
Smith & Wesson and Sturm Ruger are outperforming their competitors, causing us to recommend that aggressive investors buy shares today.
Smith & Wesson and Sturm Ruger reported strong results over the past several years, and their stock prices are on an upswing.
With increasingly strong calls for gun control legislation by President Obama and other politicians like Hillary Clinton, it is likely that Smith & Wesson and Sturm Ruger will see continued increases in earnings over the next six months.
Gun Stocks Respond Strongly To Potential Policy Changes
Each time Washington politicians call for more gun control, the public tends to purchase guns en masse, due to fears they will be potentially prevented from doing so in the future.
Following the President's speeches about gun control over the past several years, gun sales soared.
This result is compounded by the fact the Supreme Court of the United States decided not to hear an appeal of a city gun control law in a suit filed by gun-rights advocates.
Impact of Recent Terror Incidents
There seems to always be a strong correlation between incidents of gun violence and resulting increases in gun sales. With the attack in Paris, the Planned Parenthood shooting in Colorado and the San Bernadino, Calif., massacre, gun sales spiked.
While retail holiday sales overall were not strong, due to worries about stock market fluctuations from terror incidents and a weak economic recovery, that was not true for gun manufacturers, like Smith & Wesson and Sturm Ruger. Instead, gun companies saw sales that were very brisk.
We expect strong sales to continue, given the terrible Orlando Pulse gay club tragedy.
Impressive Past Performance
As we described previously, SWHC has posted gains of 56 percent year over year from May of 2015 to early June. In addition, the company outperformed the consensus EPS estimates by 43.1 percent during Q3 amid volatile market conditions.
While SWHC appears slightly stronger than RGR (RGR has given a return of 24 percent year over year, compared with SWHC's 56 percent); both are very solid. Both companies have shown few signs of slowing down; in Q3, SWHC reported a >60 percent increase in its net quarterly sales.
What The Future Could Hold
The possibility of the future implementation of federal gun regulations could impact the bottom line for both SWHC and RGR. Currently, however, neither shows signs of slowed growth. The FBI reported that it completed 2.1 million background checks for guns in April 2016, which was 25 percent more than it reported for April 2015.
One concern involves the current presidential election. We believe that the drive to purchase guns could slow if Donald Trump is elected president as fears of new regulations would decrease.
Conversely, if Hillary Clinton is elected, gun sales should continue to be strong.
The next president will also likely appoint several Supreme Court Justices, potentially putting gun rights in play.
Recommendation: SWHC, RGR Present Current Buying Opportunities
The constellation of factors detailed above make Smith & Wesson and Sturm Ruger current buys. With sales strength expected to continue for months, the share values are likely to continue to increase.
Calls for gun control by President Obama and Hillary Clinton are expected to continue throughout the presidential election season; investors can expect gun sales and stocks to rise during this time.
Smith & Wesson and Sturm Ruger should continue to be strong performers for investors.
We recommend investors buy Smith & Wesson and Sturm Ruger and hold onto shares they already own in the near term.
Disclosure: I am/we are long SWHC, RGR.
I wrote this article myself, and it expresses my own opinions. I am not receiving compensation for it (other than from Seeking Alpha). I have no business relationship with any company whose stock is mentioned in this article.