Summary
Amazon (NASDAQ:AMZN) continues to impress and grab market share with new initiatives -- from air floating warehouses to no-checkout line grocery stores.
The stock experienced a 3.2 percent dip after the release of its most recent earnings report (2.2), in which the company missed consensus on revenue, due to a slowdown in growth for North American sales. The slowdown seems to be the caused by an overall slow quarter for retailers; overall US retail sales fell by 2% during the quarter. At the same time, Amazon increased net sales by 22% compared to the same quarter the previous year, and the company's share gain against its competitors is accelerating. We predict this growth will continue as Amazon continues to lay ground to go after new markets, including most recently its move into the auto-parts business.
Air floating drone warehouses in the works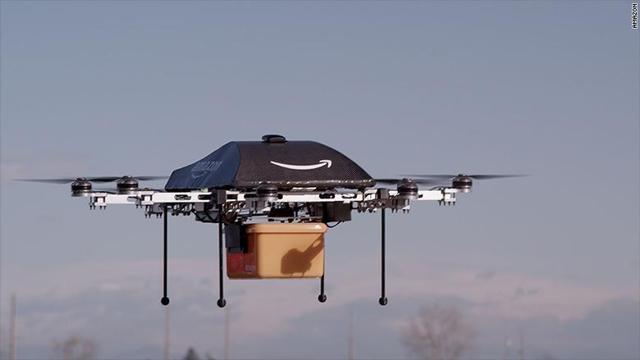 (Source)
Amazon has been working on a project to use drone technology in order to deliver products directly to consumers. In 2014, the company applied for a patent for air floating warehouses, which was granted in 2015. According to the patent application, the drones would be taken by shuttle up to the floating warehouses where they would gather the ordered items and then fly down to deliver them. The airborne fulfillment centers, or AFCs, would be capable of flying at altitudes of 45,000 feet and would have the ability to remain in the air for extended time periods. The company intends to continue testing its drone delivery services during 2017. Its first successful delivery occurred in the U.K. in Dec. 2016.
Amazon Go grocery store
Another new venture is the Amazon Go grocery store. At these stores, the Amazon app automatically tracks and charges what people grab from the shelf, thus eliminating the need to wait in checkout lines. This new technology has the ability to revolutionize how grocery stores operate and can be a huge cost-save in terms of reducing the need for cashiers. It also enables Amazon to gather a wealth of information on consumer spending habits. Amazon is trying a few different tactics to gain market share in the grocery business such as Amazon Fresh.
There is currently one Amazon Go grocery store in beta for Amazon employees in Seattle. A flagship store plans to open to the public in early 2017. Amazon has not released further information.
Amazon Business
A feature we are particularly excited about is Amazon Business which allows businesses to open their own accounts and take advantage of business-only pricing and discounts not available to retail consumers. Business customers receive free, two-day shipping. They can also use their Amazon Prime shipping benefits with no additional cost. Pallet shipping is also available for qualifying orders directly to the businesses' docks. The B2B market is huge and each category represents a substantial market opportunity for Amazon.
Amazon will compete both for direct customers and business customers (i.e. auto-repair shops) though their Amazon Business platform.
Market Status: Poised For A Boost
With the release of the recent earnings report, Amazon's stock fell by 3.2 percent; however, investors seemed to have over-reacted to the news. Given the positive business segments described above, as well as earnings details below, we see a buying opportunity.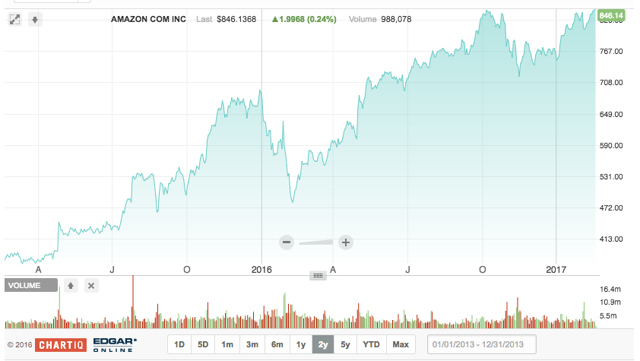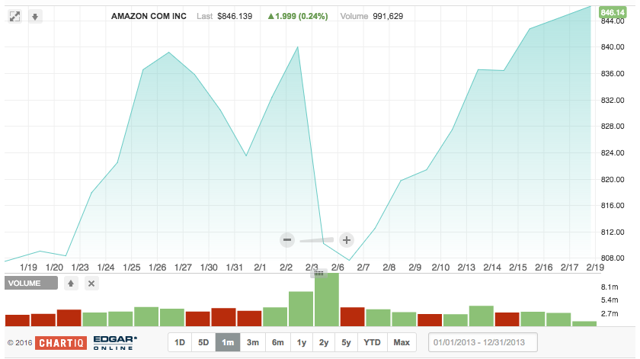 (Nasdaq.com)
Earnings Overview
The consensus among analysts for Amazon's fourth-quarter earnings per share was 1.4. In its report on Feb. 2, 2017, the company highlighted earnings per share of 1.54, a 10 percent beat. Although total revenues were $43.7 billion, which fell short of analysts' expectations of $44.68 billion, clearly the company is devising new revenue-generating models, building on and expanding its current offerings.
The market seems to be hesitant on AMZN's results. For the past four quarters, excluding the recent drop in February, despite beating revenues estimates 3 out of 4 times and EPS 2 out of 4 times, AMZN stock has gapped down on average 53% and remained relatively flat for both the day and week following.
We see an opportunity, given AMZN's still being a titan among peers yet with a very reasonable P/S ratio of 3.0 compared to EBAY (4.06) and GOOGL (6.38).
Conclusion: Consider Buying Shares
While company profits are heavily dependent on its Amazon Web Services, there is clear attempt at diversification as detailed above. In addition we do not see any direct competition to drone warehouses or AmazonGo grocery stores; Amazon could generate strong lines of revenue as a pioneer.
At current levels we suggest investors initiate or build on existing positions in AMZN.
Don Dion's IPO Insights provides up-to-date information and analysis on the major IPOs each week, along with additional opportunities to invest and short these stocks at their quiet period and lockup period expirations, respectively. Consider following us at the link above. We will continue our PRO offerings on Seeking Alpha alongside our more exclusive research.
Disclosure: I am/we are long AMZN.