A thoughtful reflection on what it is to be faithful in the modern world, The Missionary of Wall Street is in turns a fascinating account of Mr. Auth's own journey back to his faith, his experiences as a missionary in New York City and a guide for Catholics who would like to be missionaries in their own communities. The book's unflinching look at missionary work on the streets of Soho and the lives of individuals encountered by the missionaries makes this book appealing to Catholics and non-Catholics alike.
As the Chief Investment Officer for Federated Investment's (FII) equity portfolios, readers of Seeking Alpha will know Mr. Auth best as the individual responsible for overseeing all of Federated's equity and asset allocation products globally. With over 38 years of experience in the investment world, Mr. Auth is a familiar face on CNBC, Fox Business News and Bloomberg as well as an insightful commentator in Barrons and through his many Federated publications.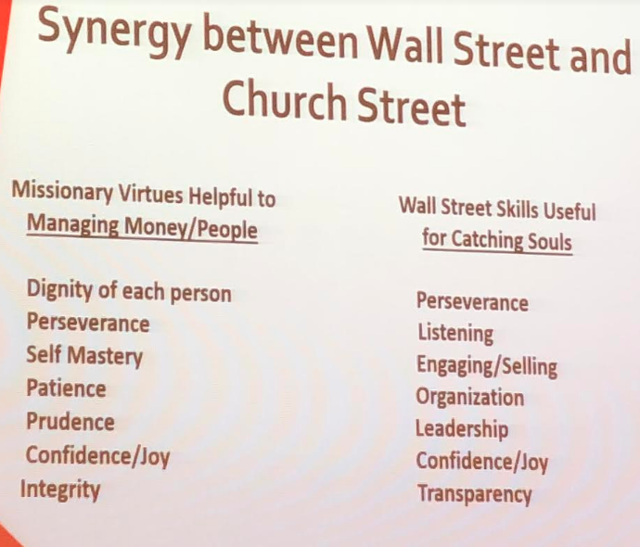 Source: Presentation by Mr. Auth
In The Missionary of Wall Street, however, the reader encounters a side of Mr. Auth that they may have been unaware of - a deeply religious individual who seeks to bring faith and compassion to others.
The book begins with Mr. Auth's own journey back to Catholicism through his own near-death experience. In November of 2002, shortly after taking a senior executive job at Federated, Mr. Auth's heart stopped due to an electrical malfunction. While spending twelve days in cardiac care Mr. Auth had a life changing encounter with a priest that would set him on a path towards the missionary work that he describes in the remainder of the book. 
The Streets of Manhattan
The heart of Mr. Auth's book is a series of stories related by Mr. Auth and other missionaries about individuals they have encountered on the streets of New York during their Holy Week missions. During the Holy Week period each year Mr. Auth and a group of missionaries canvass the streets of downtown Manhattan encouraging passerbys to come closer to God through prayer, confession and visits to Old Saint Patrick's Cathedral at the corner of Prince and Mott.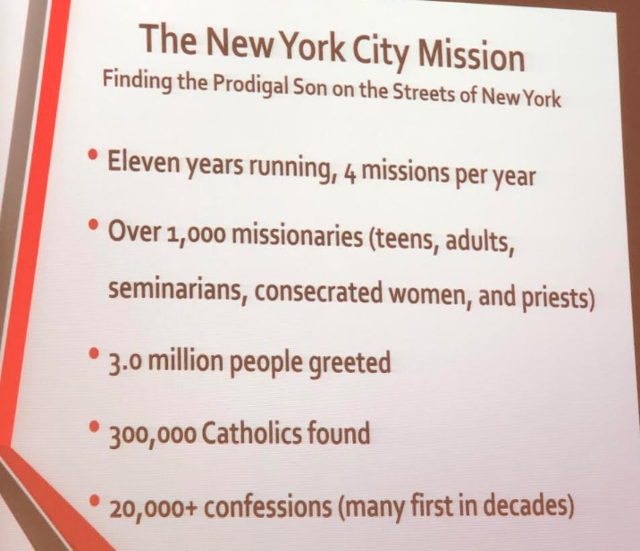 Source: Presentation by Mr. Auth
From the story that opens the book - where Mr. Auth encounters a gun-toting man who seems to be having second thoughts about his path in life - to a touching encounter with a woman who had committed the seemingly "unforgivable sin," these stories paint a rich picture of how people from all walks of life and backgrounds can come closer to God.
The Missionary Way
The book also serves as a how-to guide for individuals who want to become missionaries in their own communities. Advice for how a missionary should approach someone and discuss matters of faith are scattered throughout the book. The heart of this advice seems to be that both missionaries and those they encounter should never give up. Even when the missionaries are rejected time and time again, they learn to approach the next person with an open heart.
Readers will find anecdotes about the usefulness of a large cutout of Pope Francis and tips about how helpful dogs can be to be particularly interesting observations about the practical aspects of attracting the attention of individuals in even a busy and often hostile environment. 
Conclusion
Mr. Auth's examination of his own relationship with Catholicism and his struggle to balance work, family and faith is one that will be relatable to many investors.
Mr. Auth recently gave a fascinating interview where he discussed the book on Fox Business News after the fire at Notre Dame that readers can view here. There is also a very well produced video overview of the book that can be viewed here. 
At its core, the book is a testament to the power of faith and perseverance.
Several times throughout the book Mr. Auth reflects on instances where he was unsuccessful in appealing to individuals who were later able to connect with another missionary in the group. The reader encounters Mr. Auth dusting himself off, time and time again, and approaching the next individual with a joyful and loving heart in a powerful account of the impact you can make when you never, ever give up.
The Missionary of Wall Street is currently available through Amazon and can be purchased either in paperback or through Amazon Kindle here.