NII Holdings Inc.
Recommendations: Buy 14, Hold 6, Sell 0 Price $21.20
Consensus 12-Mo. Target Price $38.11
Industry: Cellular Telecom Summary: NII Holdings provides fully integrated mobile communications in various Latin American countries.
Key Metrics:
52-Wk Range:

$44.21-$19.18

Book Value/Share:

$18.83

EBIT/Total Interest Expense: 4.18
Trailing 12-Month EPS: $1.77
Trailing 12-Month P/E: 11.97
Price/Book :

1.13

Credit Rating:

S&P B+ Moody's B1

Consensus 2012E

EPS: $1.88

Beta vs. SPX:

1.09

Price/Sales:

.54

Total Debt/EBITDA:

2.28

Consensus 2013E

EPS: $2.67

10K Invested 5 Years Ago: $6,585
FCF Yield (%):

1.98

Short Interest Ratio:

2.46

3 Yr-Avg. Revenue Growth Rate (%): 19.7
Dividend:

None

EBITDA Margin (%):

25.54

Return on Assets:

4.33

5 Year Average Return on Equity (%): 18.64
Investment Highlights
· Opportunity to invest in a company that is well positioned for future long-term growth in Latin America with particular focus in Brazil and Mexico
· Experienced management team that has the ability to successfully rollout the 3G network in the important Brazil and Mexico markets
· Differentiated product that resonates with customers and has fended off competition from larger well-capitalized telecommunications companies
Risk Factors
· NII is very sensitive to currency fluctuations which have a material impact on their financial results and possibly the ability to repay their debt obligations
· The countries NII operates within are developing and political instability can have an impact on the ability of NII to operate its business effectively
· Continued promotional activity in the important Brazilian market that will pressure margins
Recommendation
A position should be initiated in NII Holdings because it is currently trading at a substantial discount to its intrinsic value based upon its historical valuation (see Valuation section). A twelve month price target of $33.50 is set for a potential upside of 58%.
NII offers a compelling opportunity for investors who have a moderate risk tolerance and are willing to hold shares for the longer term as NII embarks on the upgrading of its networks to 3G. The growth proposition presented by NII is enormous because its subscriber growth rate has been above 20% over the last three years. NII has found a niche in a highly competitive market and has been able to cultivate a loyal subscriber base that has resisted defecting to larger telecommunications providers due to NII's unique value proposition that resonates with consumers. Going forward, NII will have greater opportunities to increase its revenue with existing customers and to appeal to a broader range of other consumers.
Industry
The wireless telecommunications industry that NII operates within is extremely competitive with factors such as pricing, services offered, handset selection and quality of service being the key determinants of succeeding in the marketplace. Every market that NII competes in has at least two large well-capitalized competitors that range from international players (Vodafone and Telefonica) to local wireless providers (Entel and America Movil) to integrated providers (Vivo and Telemex). These larger competitors have the ability to bundle telecommunications services with other offerings such as television, data services, and long distance. Additionally, these larger competitors can offer more aggressive pricing plans that can appeal to a wider demographic of users due to their scale.
The ability to be granted spectrum licences in markets is essential to the success of any wireless telecommunications company. Spectrum auctions are performed by governments and can be granted based upon the bids received or a desire to create a more competitive marketplace through spectrum allocations. Building the infrastructure for these networks involves large capital expenditures and is subject to government regulation once built. The telecommunications industry in Latin America is subject to heavy taxation with excise taxes, revenue-based taxes, cash taxes, and licensing taxes being the norm.
Company
NII Holdings is a US domiciled holding company that operates the Nextel brand in Argentina, Brazil, Chile, Mexico and Peru. The flagship product offered by Nextel in these countries is push-to-talk (PTT) communications, which offer an inexpensive way to communicate over long distances. PTT service is based upon the Motorola iDEN infrastructure and is not dependent upon having advanced network communications. NII, recognizing that consumers are now demanding more advanced 3G or 4G networks, has started to rollout 3G networks that will be operational in 2012 in Mexico, Brazil, and Chile with a 3G network in Peru functioning currently. The 3G network will allow current iDEN users to migrate to newer technology designed by Qualcomm called QChat or allow users to communicate with PTT across platforms.
The competitive advantage that differentiates Nextel is its superior PTT network which has allowed it to be viewed as a premium wireless provider that operates under the slogan "Your World Now." A brand refresh was recently initiated in the second quarter to help maintain this image and appeal to high value customers. The PTT network resonates with consumers and the rollout of the 3G network will allow Nextel the opportunity to offer mobile broadband that is three times faster than their current network and match larger competitors in their 3G offerings.
The rollout of 3G is on track in all markets and the test market of Peru has met or exceeded customer expectations, especially in the important PTT iDEN to QChat segment. There will be a total of 12 handsets offered in 2012 with four or five smartphones to be offered in addition to the one currently offered. In 2011, 1.64 million new subscribers were added to bring the total subscriber base to over 10.2 million. By focusing mainly on large cities in their markets, Nextel has been able to cultivate excellent subscriber growth of over 22% year over year with significant opportunity for future growth by offering service outside their larger urban environments and expanding service offerings from recent spectrum purchases.
Segments
NII's reportable segments are disaggregated based upon geographical location. The major reporting segments are: (1) Brazil, (2) Mexico, (3) Argentina and (4) Peru. The Chilean operations are reported with the "Corporate and other" segment because they fall below the segment reporting threshold. Appendix 1 shows the geographical revenue breakdown for fiscal year 2010 and the revenue trend from fiscal years 2010-2008. It is clear that Brazil has been powering NII's growth over the past three years as growth in the other operating segments has stalled. In 2010 Brazil overtook Mexico to become the largest market for NII.
The most recent guidance provided by management has a forecasted subscriber growth rate of 25% in Brazil and sequential subscriber growth upon the rollout of the 3G network in Mexico. Brazil and Mexico account for approximately 84% of all revenue and therefore, competing effectively in those markets is essential to the success of NII going forward. Brazil is the most intense market that NII competes within as competitors aggressive promotions to attract customers led to falling average revenue per customer (ARPU) during the most recent quarter. The 3G rollout will allow NII to double the size of the potential market it serves and to allow for additional revenue streams in all markets it serves.
Management
Steven Dussek, CEO of NII Holdings, has been managing the company since February 2008.The presidents of the major operating regions in Brazil and Mexico have been managing their regions since 2007 and 2001 respectively. The other region's presidents have held their positions for even longer. The current management team has overseen the tremendous growth of subscribers/revenue that has occurred over the past three years and thus the ability to execute on the 3G implementation should not be met with skepticism as the Peru implementation was delivered without any delays.
There is currently no significant voting control by any member of management. Management has significantly improved corporate governance over the past three years as rated by CGQ Index with a rating of 8.9 at the beginning of 2008 to a rating of 65.9 today. The past three years has seen the size of the Board of Directors stay constant at nine members with seven of these members being independent. There have been no restatements/reclassifications of financial statements over the past two years.
Credit Analysis
All debt issues have been in US dollars, but held by different subsidiaries. NII Holdings holds most of the debt with other subsidiaries holding the term loans as shown in Appendix 2. Moody's current outlook on NII Holdings is stable with a long term rating of B1. Standard & Poor's offers a similar rating, with a stable outlook and a B+ credit rating. The current debt maturing in 2012 is yielding 1.94%, 2016 is yielding 3.94% with the longer term debt maturing in 2021 yielding 7.64%. The current 5-year CDS spread is 402 basis points indicating a 1-year default likelihood of .965%.
Valuation
NII Holdings has seen its market value decline by 52% over the past year with the majority of the decline occurring from September until early December. During this period there was significant turmoil in international capital markets over European sovereign debt worries and a slowing global economy. Similar trends occurred uniformly in almost all of the currencies that NII is exposed to. Appendix 3 shows that an inverse relationship exists between currency volatility and the stock price of NII; however, currency moves are short term in nature based upon macroeconomic events and the fundamental business of NII should be the focus for a long term investor with currency movements forecasted over a long period of time.
Forecasting the future value of NII was done using a multiples approach of comparing enterprise value to EBITDA. A multiples approach was used for scalability and to compare the prior three years EV/EBITDA. The prior three year EV/EBITDA average was 5.05 and this was used for estimating firm value going forward. The current EV/EBITDA ratio is 3.76. The higher multiple was used to account for: (1) the upcoming 3G launches in Brazil and Mexico which will be a positive catalyst for NII and (2) normalization in foreign exchange markets going forward. Full calculations are available in Appendix 4.
NII is currently trading at the same level it did when it had 7.3 million subscribers compared to the more than 10.2 million it has today. The current price is approaching the book value of $18.83 a share which shows that the market is not pricing the current growth opportunities correctly. NII not paying a dividend is beneficial for growth investors because it allows NII to focus on making long-term investments in its core business and there will not be added strain on cash flows throughout the 3G implementation.
The two largest risks that could pose headwinds for meeting the target valuation include: inability to deliver on 3G implementation and continued currency depreciation. Prolonged depreciation of various currencies poses a significant risk for NII as its debt is denominated in US dollars making repayment more expensive and diminishing financial results when translated into US dollars.
Upside catalysts include: (1) lowering of mobile termination rates in Brazil which are amongst the highest in the world, (2) settlement of litigation with the Brazilian government over alleged unpaid excise and value-added taxes regarding imported equipment, and (3) improved results in Mexico from the brand refresh that occurred during the second quarter.
Appendix 1 - Geographic Segmentation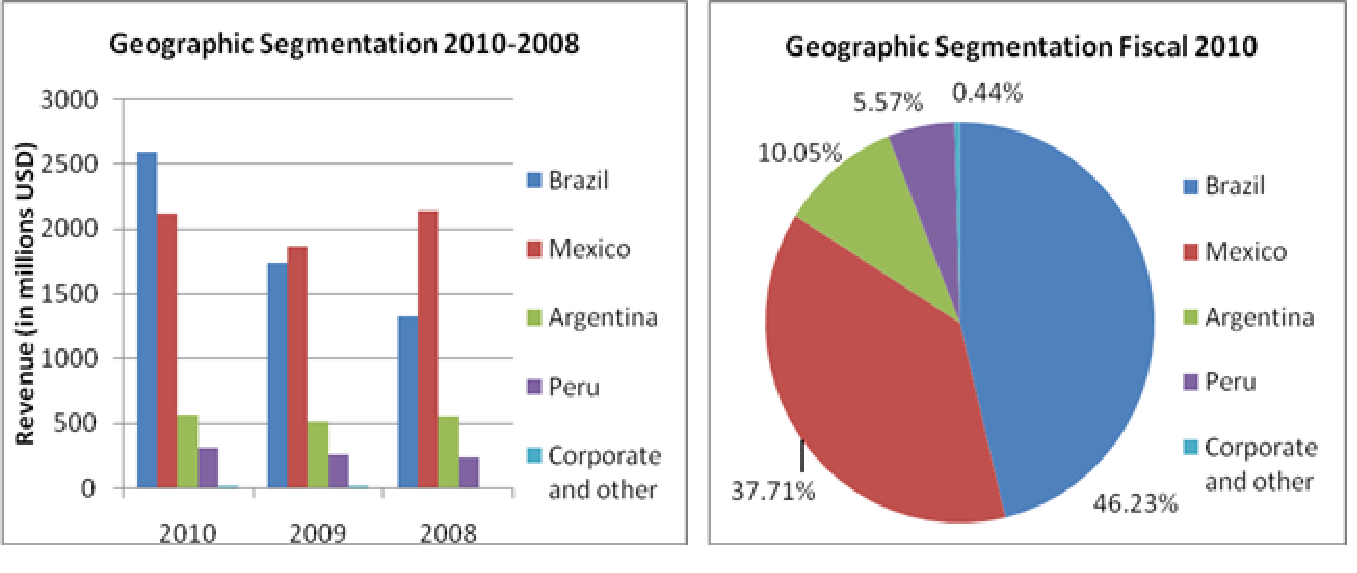 Appendix2 - Debt Distribution

Appendix 3 - USD/BRL Exchange Cross-Rate (white) against NIHD (yellow)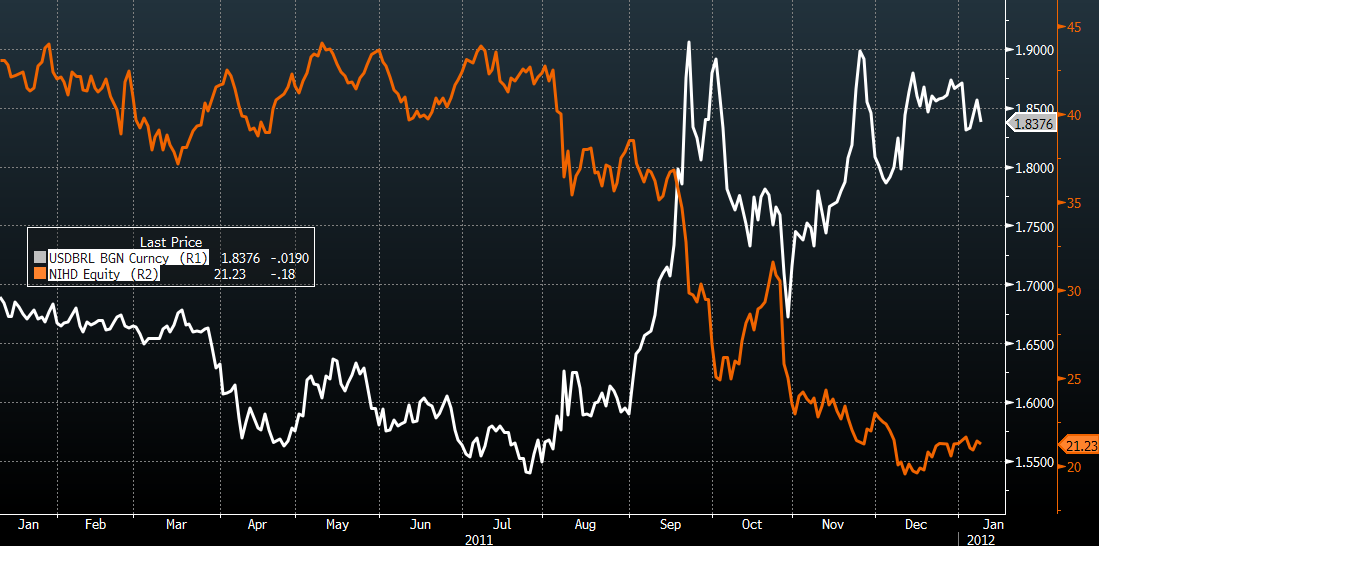 01/10/11 to 01/09/12 (1 year)
Appendix 4 - Valuation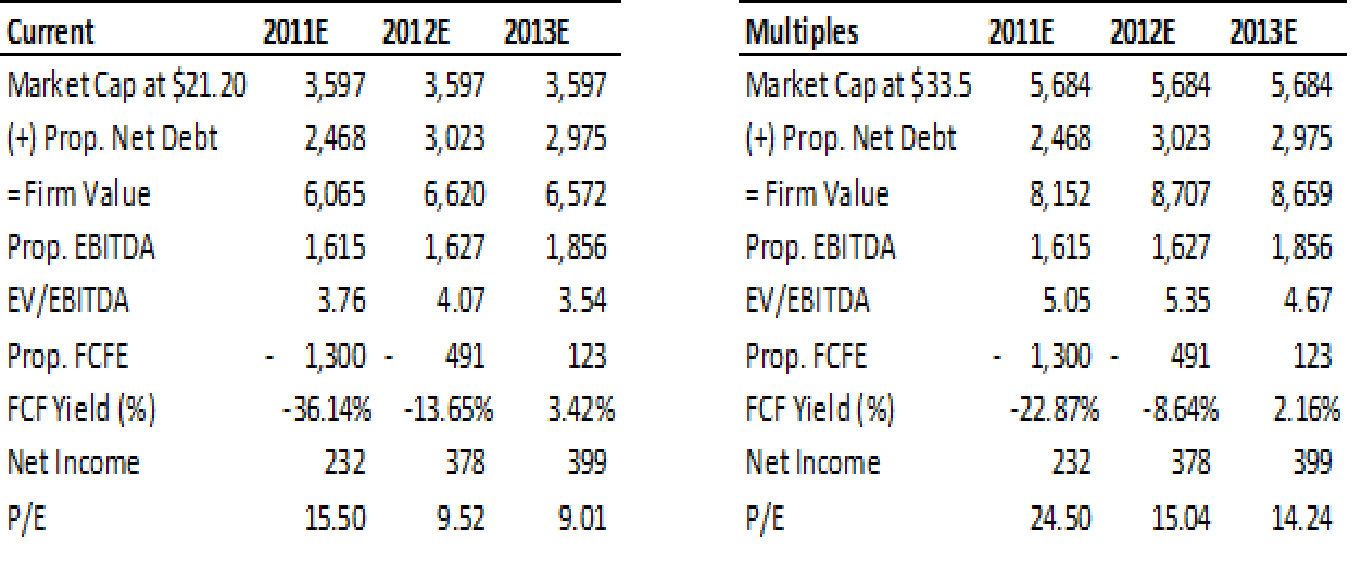 Disclosure
Sources
Data courtesy of Bloomberg.
Baggio, Andre et al. October 2011, Still an Interesting Long-Term Story, But a Challenging Short Term Lies Ahead. J.P. Morgan, 1-10.
NII Holdings, Inc. July 2011, 2010 Business Report. NII Holdings, Inc., 1-13.
NII Holdings, Inc. September 2011, Form 10-Q. NII Holdings, Inc., 1-82.
I am long NIHD.
Disclosure: I am long NIHD.