We noted that a lot of discussion is going on whether Apple (NASDAQ:AAPL) lost its competitive advantage or not. One of the problem we've got is we will have to wait for quarterly sales data from Apple to confirm or reject this thesis. Wouldn't it be nice to have a high frequency indicator (possibly daily !) which does track the quarterly sales, so we have a valuable insight into the quarterly sales of Apple BEFORE Apple publish them and could act on it.
This is exactly the reason why we wanted to update you about a new thing we are working on. It is based on the assumption that collective online behavior will provide us with very interesting insights into all sorts of real-life activity. As a lot of prospective buyers of consumer products use the internet to evaluate their potential purchase of a new iPhone, the activity of these internet-users (such as reading reviews of iPhone or searching for the cheapest available iPhone) will provide essential clues to forecasting consumer product sales.
Let us introduce the Investor Intelligence Collective Behavior Index (II-CBI). We build this index for an increasing number of consumer products, such as Apple's iPhone or iPod.
Let us show you the effectiveness of this index in forecasting the iPod sales.
The graph below shows the relationship between the forecasted iPod sales and the realized iPod sales.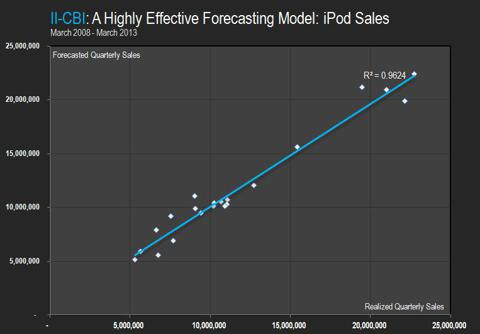 As one can see the R-square is more than 95%. This is an incredible result and really does show the power of the II-CBI.
Please do note that we didn't do any fitting of the variables or data-mining. The great thing about the II-CBI model is that it is NOT build on any regression, so it is less prone to statistical errors and therefore more robust than many other models. Also the forecasts have been published in advance to a number of people to prevent any adjustments to the forecasts after the official numbers came out.
But it's biggest advantage is the fact that it provides us with high frequency data on the development of iPod sales (or other consumer products !). Currently the index can be provided on a daily basis !
Another advantage is that the sample we use is a much larger one than any of the consumer research/surveys you will get from the well known research companies.
Last but not least, the cost is very low. Since the process is highly automatic the cost will be a fraction of the costs of comparable surveys.
To summarize, the advantages are:
1. High effectiveness (higher than other studies I have seen)
2. Higher frequency of data / more timely
3. Larger sample
4. Lower cost
By the way, we know that currently Apple's stock is not being driven by the number of iPods sold in a quarter. iPhones sales are much more important and it is very interesting to note that sales forecasts for iPhone have also a very high hit-ratio.
Please follow us, so you will receive a timely update on the development of sales of iPhones and iPods so you can judge for yourself whether the II-CBI really works !
Thanks for reading and good luck investing !
strategic.investmentdm@gmail.com
PS: if you have questions and or want to have insights into other consumer related products please sent me an email as well !
Disclosure: I have no positions in any stocks mentioned, and no plans to initiate any positions within the next 72 hours.