Remaining objective about price action is one of the key traits of a good investor, and when it comes to precious metals the discussion can quickly become emotional or ideological.
The fact is, the gold (NYSEARCA:GLD) bull has been one of the best-performing investments over the past decade, and despite recent technical damage it is still positioned to provide future gains for long-term investors. Other precious metals investments, such as gold mining stocks (NYSEARCA:GDX) and silver (NYSEARCA:SLV), are highly dependent on a rising price of gold in order to attract money flows.
Secular bull markets rise over the long run supported by underlying fundamentals, but that does not exempt short-term and intermediate-term investors from dealing with the volatile price movements that commonly occur in commodities.
At The Refined Investor, risk management is always our main priority regardless of personal outlook. We take a "Swiss Army Knife" approach to analyzing price action (nicknamed the TEMPOS System) in order to stay neutral in our investment decisions.
What is TEMPOS saying right now with regards to gold? Let's look at each of the variables:
TIME (CYCLES)
Think of cycles as the "pulse" of buying and selling in a market. Intermediate cycles in gold last for roughly 6 months, and daily cycles last for roughly 1 month.
Using spot gold as a reference in order to see the overnight action, we see that gold formed an intermediate cycle low in May of last year, and then another intermediate cycle low in November following the announcement of QE3. This intermediate cycle subsequently topped in only 13 days, and has been declining for the last 5 months.
The good news for gold bulls is that multiple cycle lows are now in alignment. Although it is possible that April 16th represented the major low bulls have been waiting for, in order to manage risk we have to see how gold reacts to the next attack from the bears. Because cycles only measure time, the next low could be a higher low, a double bottom, or a lower low. Regardless, we are now in the timeframe for a daily, intermediate, yearly, and 4-year cycle low.
ENERGY (FRACTALS)
Fractals are the study of the potential energy in price action. Just as you must bend your knees in order to jump, or inhale in order to exhale, price must contract in order to expand.
A simple way to get a rough idea of the fractal energy built up in price is through Bollinger Band Width. Fractals alone don't give timing or direction, but they reveal when price is capable of quick bursts of energy.
The 19-month consolidation in gold created tremendous fractal energy, and it is no surprise that when price finally chose a direction it moved at a historic speed.
When price breaks out of a large consolidation, you need to be flexible and let the fractal energy exhaust itself. Think of a dam breaking and then a huge rush of water flowing out of it. Instead of trying to stop the water, align yourself in the same direction until it is finished.
MOMENTUM
Momentum is how fast or slow price action is moving, and it is helpful to use a shorter and faster moving average. In February of this year, for the first time in the entire gold bull, the 9-Month EMA moved underneath the 20-Month SMA. This was a warning sign that the bears were gaining an advantage over the bulls and to be careful on the long side.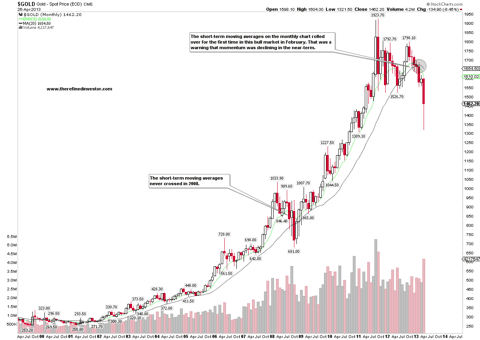 While price action can always go in the opposite direction of momentum, it tends to be choppy and unpredictable until it finally aligns in the same direction again. Think of the difficulty of paddling out to surf a set of waves vs. riding them quickly in to shore.
As investors, positioning with the trend is much easier than trying to fight it, no matter what your outlook is in the short-term. Our goal is not to single-handedly stop a freight train, but wait until it turns in our desired direction and then hop on.
PRICE
Price is the single most important variable on a chart (and to your portfolio), and everything else is just a supporting indicator.
Markets take an escalator up and an elevator down, and when price breaks an important support level on high volume it has to be respected in the short-term.
The price of gold topped in September 2011 following a massive run out of the 2008 lows and has been stagnant since then. Investors love increasing growth and yield in an asset, and while gold represents a store of wealth, in a zero-interest rate environment it must continue to rise in order to attract fresh money.
I am not debating the other numerous intangible benefits to gold right now or alternate viewpoints, just that since the announcement of Operation Twist in September 2011 low-yielding assets and commodities have struggled to catch a bid.
Dividend stocks, junk bonds, homebuilders, utilities, consumer staples/discretionary, and heath care stocks have been the focus of attention for their much-needed cash flows. As an investor, this price action needs to be respected or your portfolio will feel the pain until money flows return to precious metals.
ORIENTATION (TECHNICAL ANALYSIS)
Technical analysis is using past price changes to project future price movements. While the fundamental vs. technical debate will rage forever, I believe that a simple blend of both is essential.
Gold just finished a multi-month rectangle consolidation between $1523.90 on the downside and $1804.40 on the upside.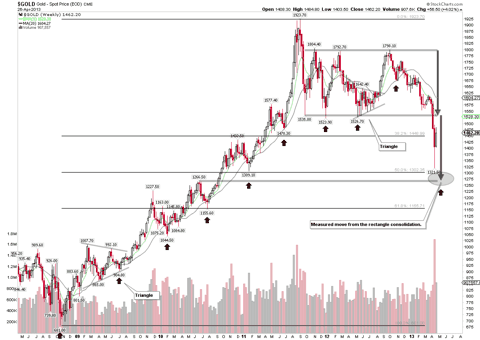 That pattern projects simply to $1243.40. It doesn't mean that price will hit that level, only that price could naturally flow there. Other notable levels that are currently close by include the 50% Fibonacci retracement at $1302.35, and the June 2010 pivot at $1266.50.
The price of gold could already have found a bottom, but the most important thing you do as an investor is look down at your risk before you look up at your potential gains. If your current portfolio allocation would result in a margin call or severe loss at those price points, then you should consult your financial advisor.
For long-term physical buyers, drops in price typically represent a sale or a way to increase portfolio allocation to gold. As an investor the key is understanding your time frame and purpose for owning gold or gold equivalents.
On the daily charts, gold has filled the gap left behind from the April 15th drop, and now is running into resistance at the downward-sloping 20 MA. This was an impressive show of strength after such a large drop, and now we will wait to see what the bears have in their arsenal.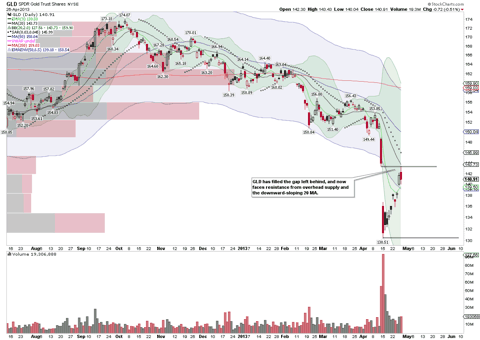 SENTIMENT
Sentiment is tricky timing-wise because extreme sentiment often leads to desirable momentum price moves until buyers/sellers are finally exhausted. At that point, contrarian investors take advantage of overcrowded positions and reverse the market. That is why sentiment is a secondary indicator to price and momentum.
Even though sentiment in gold was recently bullish from a contrarian perspective, bears were still able to take price below the $1500 level as they built up huge positions on the short side.
The recent commitment of traders report showed that small specs have gone roughly net neutral (almost short) for the first time in the entire bull market, and large specs have accumulated a massive short position.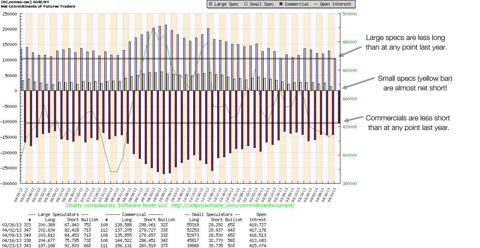 While price can still go lower, from a contrarian perspective there is a lot of fuel to trigger a short squeeze at this point, and the price action in gold this week was a great example.
CONCLUSION
The first priority is always risk management, and from a TEMPOS perspective we have the following report card:
T - Bullish
E - Bearish
M - Bearish
P - Bearish
O - Bearish
S - Bullish
Until price can prove it is done going down, the current downward momentum and overhead supply needs to be respected. Price must consistently hold above the short-term moving averages or the bears will continue to short the market on strength. The previous support level at $1525-$1550 will be strong resistance until it isn't.
Further weakness should be short-lived as we are near overlapping cycle lows on multiple time frames with very bullish positioning in the futures market. However, never underestimate the market's ability to shake out even the strongest of hands and have a pre-planned exit point that you can tolerate.
Good trading all.
Steve Chapman, TRI
Disclosure: I am long GLL. I wrote this article myself, and it expresses my own opinions. I am not receiving compensation for it. I have no business relationship with any company whose stock is mentioned in this article.