Objectively, the gold miners (and related instruments) have been the worst investment of 2013. Sentiment is at historic extremes, but that doesn't mean people immediately want to buy something. The momentum is strongly downward on the daily, weekly, and monthly charts, and earnings have been lackluster. However, at some point the market prices everything in and the selling becomes saturated.
Looking at the last 4 year cycle on a chart, gold mining stocks have made almost a perfect arc...exactly what a cyclical sector should do: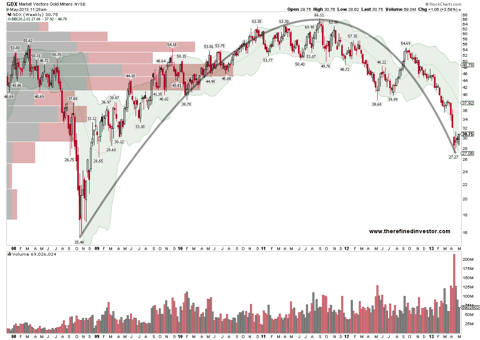 In the context of the entire bull market in gold, the mining stocks are now sitting at the monthly 61.8% Fib retracement and we have recently witnessed the highest volume in history: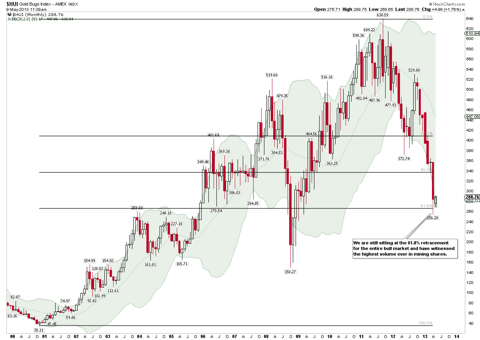 Breaking down the yearly cycles, they have formed a perfectly logical formation as they perform a 4-year "bounce" that peaked past the midpoint when gold also peaked. That makes the 4-year cycle right-translated and therefore these lows should hold above the 2008 lows: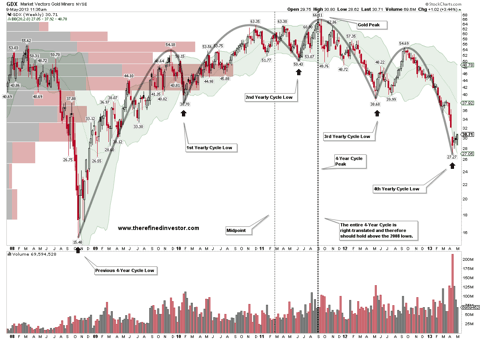 Upon closer examination of this most recent yearly cycle, we see that gold miners perfectly completed their 4-year cycle with an expected left-translated yearly cycle and extremely left-translated intermediate cycle that topped in only 4 days. That gave this intermediate cycle almost 6 months of freefall time into the recent gold crash: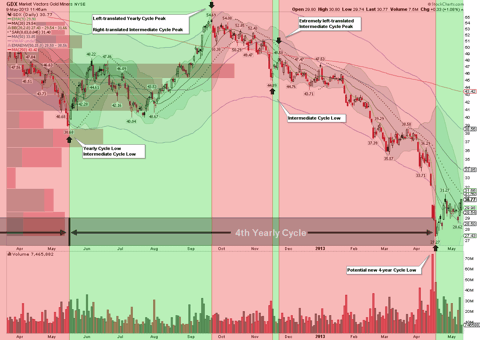 In retrospect, this has been an amazingly orderly right-translated 4-year cycle in mining stocks that likely completed with the crash in gold. There was no manipulation or foul play, it was one of the most technically beautiful sequences I have ever seen on a chart.
Price has once again powerfully climbed above the 20 MA with a backdrop of record negative sentiment and small-spec positioning in gold. I firmly believe that there is plenty of rocket fuel as saturated sellers will be forced to cover and investors seek fresh gains at the beginning of a new 4-year cycle. As always, manage risk appropriately and have a predefined exit point before making any trade.
Good trading all.
Steve Chapman, TRI