Hello,
Perhaps you are sitting in front of your computer reading through your emails right now, but like most of us, there is probably one pressing thought at the back of your mind - how to cope with the economic uncertainty and financial strain.
Take a moment and think of all the things you would do if you had several hundreds or even thousands of extra pounds per month - and were worry free concerning your retirement. I am sure you came up with plenty of options how that money could be used.
Maybe you already have your money invested somewhere. But ask yourself this question - is your money working hard enough for you and are you seeing the return that you want and absolutely need to have on that investment?
Today the case for investing in inflation beating dividend paying shares is as strong, if not stronger, than ever. When in 1999 the Bank of England base rate was 5.5% inflation was 1.6% and falling. Today, base rate stands at 0.5%, and inflation at 3.4%, still well above the Bank's 2% target.
Anyone holding cash is likely to be subject to a negative return after accounting for inflation. Fortunately, some of the UK's best companies are offering dividend yields of up to 7.5%.
Consider this…
"Looking at the long-term performance of the stock market, a strategy based on investing in dividend stocks has outperformed the broader market and had lower volatility. It is also worth noting that in the last 20 years dividends represent almost half of global equity total returns" Measured by the MSCI World Index
Investing in Dividends from high quality companies is a safe, effective, and proven investment strategy that will grow your hard earned money, if done in the right way…here is the truth:
U.K returns: Since 1900, UK stocks have returned 5.1% in real terms (after inflation). Without dividend reinvestment, they returned only 0.4% - less than bonds. Dimson et al CS 2008 yearbook, London Business School.
Investing in Dividends can be an incredibly low risk and profitable way to see the return on your investment money that you have been hoping for. Clever investing in historically undervalued companies at the right time can be one way to help resolve your financial investment dilemmas.
At Dividend Income Investor.com we focus on real total return defined as dividend yield plus dividend growth plus capital gains.
We look to combine "high yield" (those shares with dividend yields at least 40% higher than the FTSE100 average) with "dividend growth" (companies with good dividend track records and growth potential) that are "historically undervalued" (using a share's dividend yield as the primary measure of value, investors will learn to buy and sell when dividend yields instruct them to do so) thereby maximising total real return.
The reasoning behind real total return appeals to us as long-term investors as it deals with averages - an average dividend yield, average dividend growth and average annual share price appreciation.
Of course, we cannot be sure that dividends will rise in each and every year. We also cannot be sure when and to what extent share prices will rise.
However if we can buy a high quality dividend paying share at historically undervalued price levels, and, if this company has a long, uninterrupted history of dividend payments and of frequent dividend increases over a period of years, we can be pretty sure that the total return on that investment is likely to outperform the total return on any other kind of investment.
Our focus on total real return from high quality dividend paying shares could therefore help you to stay ahead of inflation, but also increase your real wealth over time.
Introducing the Guide to Dividend Investing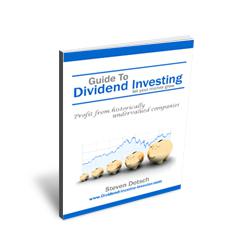 "…if you can get what the author of the Guide to Dividend Investing has to say, then you are qualified beyond the 99.9% of private investors who allow their riches to be run by someone else for a huge fee…" Shares: Reaping the Dividends - Michael Wilson
Click Here to have a look inside
The complete Guide To Dividend Investing is the comprehensive 91 page tool that you need to have in order to maximise your real total return. The Guide will help you:
· How to manage your own dividend investments so you don't have to pay an expert, because you will now be an expert
· How to tap into the incredible market of viable low risk investment returns that many people don't realise the potential of
NOTE: More than 90% of the total returns in the UK stock market can be directly attributed to dividends and dividend growth
· That timing and selection is everything; you will learn when to make critical investment decisions using valuable dividend-yield patterns
· Why dividend investing can be extremely lucrative and what traps you need to be aware of
You don't need to wonder any more about what your next financial move will be. With the Guide to Dividend Investing, you will know exactly what to do and you will see the results of your investment strategy, without having to worry or spend thousands of pounds using a financial advisor.
Order the Guide to Dividend Investing NOW so you can take the guesswork out of your investment decisions. As a previous purchaser has said: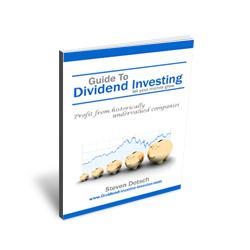 "I have already produced my own watch list of high dividend payers but without the thorough analysis you do. Your dividend reports are excellent. At least I don't have to spend hours researching these companies now myself. It's done for me"
***Click Here to order your Guide to Dividend Investing***
Many thanks
Sincerely,
Steven Dotsch
Managing editor
EMAR Publishers
Twitter.com @Investoretire