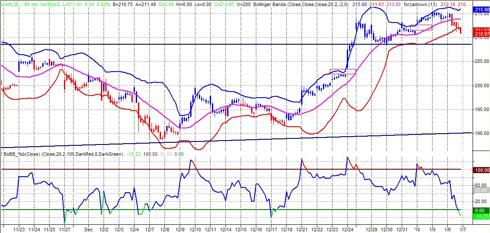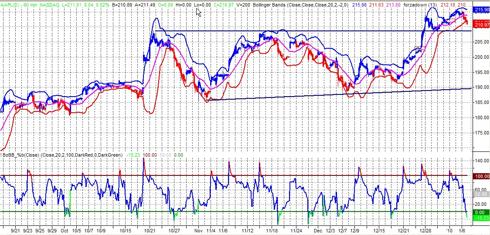 The force index indicator has turned negative. If prices re-enter trading range ($208), it would be a negative signal. The %b indicator is oversold. I would not be a buyer at this level because if this breakout is a bull trap...
In my charts, I used two indicators. The force Index indicator. I used the force index indicator, which is an indicator measuring the force of bulls during uptrends and the force of bears in downtrends. It takes into account price and volume. I applied a 13-day exponential moving average (NYSEMKT:
EMA
) of the force index to help track the trend. When the trend is positive, the color is blue; when the trend is negative, the color is red. You can see that the weekly trend has been up since last March. I applied also the %b indicator, which is derived from the Bollinger bands. It measures where the last price is in relation to the bands and it tells us where we are within the bands. %b in this time frame is near the overbought level.
Should Apple Fear The Google Phone?
Time to short Apple?
Apple: Earnings Blowout
Disclosure:
no positions