The Congressional Budget Office has released its most recent report on our nation's budget and deficit figures. The report confirms that, should federal tax rates and government outlays remain the same, the ever-scrutinized budget deficit will fall to $642 billion this year. The overall deficit, in relation to GDP, will fall to 4% in 2013, and 2.1% by the end of 2015. The report states that before the 2008 economic quake, the 40-year average deficit relative to GDP was 2.4%. It also addressed the fact that "Under current law, the debt (held by the public) is projected to decline from about 76% of GDP in 2014 to slightly below 71% in 2018 but then to start rising again; by 2023, if current laws remain in place, debt will equal 74% of GDP and continue to be on an upward path (CBO)."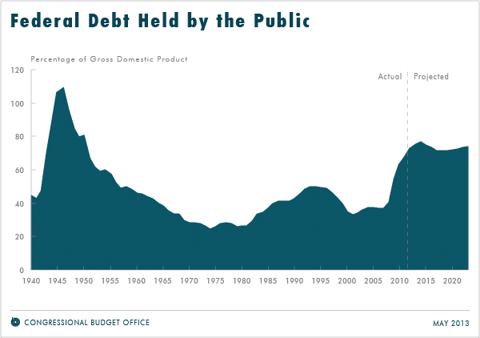 (source: Congressional Budget Office)
While growth in federal revenues is expected to outpace the growth rate in capital outlays in the coming years, the deficit should contract. In 2013, revenues are now expected to grow at a rate of 15%, as opposed to previous estimates of 11%. The report cited that this "robust" growth in revenues is partially due to the expiration of a 2% payroll tax that occurred in January and the subsequent increase in the average tax rate on corporate domestic profits. In 2014, these federal revenues will spike to 18.3% of GDP and 19.3% in 2015.
There are some ominous undertones in the report in the form of warnings and risk factors moving forward in the long-run. The report states that "When interest rates return to higher (more typical) levels, federal spending on interest payments would increase substantially. Moreover, because federal borrowing reduces national saving, over time the capital stock would be smaller and total wages would be lower than they would be if the debt was reduced. In addition, lawmakers would have less flexibility than they would have if debt levels were lower to use tax and spending policy to respond to unexpected challenges. Finally, a large debt increases the risk of a fiscal crisis, during which investors would lose so much confidence in the government's ability to manage its budget that the government would be unable to borrow at affordable rates."
Read the full report at http://www.cbo.gov/publication/44172
Disclosure: I have no positions in any stocks mentioned, and no plans to initiate any positions within the next 72 hours. I wrote this article myself, and it expresses my own opinions. I am not receiving compensation for it (other than from Seeking Alpha). I have no business relationship with any company whose stock is mentioned in this article.