WARNING and FULL DISCLOSURE: I LEARNED ON APRIL 24, 2014 OF THE FOLLOWING ARTICLE PUBLISHED BY BILL ALPERT OF BARRON'S: AN INSURER'S FEAT: TURNING LOSSESS INTO GAINS.
Please read the article: THERE IS RISK THAT AMTRUST'S PROFITS HAVE RECENTLY RESULTED FROM "AGGRESSIVE ACCOUNTING." WATCH THE STOCK, PLEASE DO NOT TRADE BASED ON THIS INSTABLOG ARTICLE (enjoy the article for the effort of work and please send all comments and constructive crictisims to me or under the comment section).
Amtrust Financial Services (NASDAQ:
AFSI
)
Financial: Insurance (Prop. & Casualty)
2. Amtrust Financial Services (NASDAQ: AFSI)
Financial: Insurance (Prop. & Casualty)
Rating/Analyst Recommendation: Buy (moderate-neutral risk)2
Price (1 April 14, US $): 36.9
Target Price (US $): 47.76 (12-month)
52week price range: 42.62 - 26.24
Market Cap (US$): 2.82B
Enterprise value (US$): 3.269B
Share Price Performance (NYSEARCA:USD) Price and Volume Chart (USD): 1-Year
| | | | |
| --- | --- | --- | --- |
| Price | 36.9 | 1M Return | -1.7% |
| 52 Week High | 42.6 | 6M Return | -1.6% |
| 52 Week Low | 26.2 | 52 Wk Return | 22.1% |
| 52 Wk Beta | 1.03 | YTD Return | 15.3% |
| Source: AFSI's MRQ Filing; all calculations are my own. |   |   |   |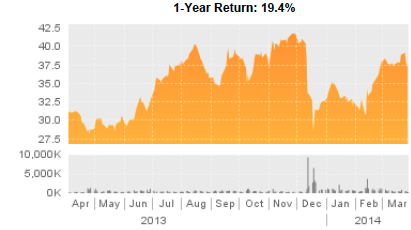 Source: Thomas Reuters Fundamentals; Bloomberg Data Services
2.1 Business Summary
Amtrust Financial Services is a multinational holding company. As such, it does not produce goods or services itself; rather, it owns shares of other companies, allowing for the reduction of risk for the owners through ownership and control of several different companies. AFSI operates as a specialty property and casualty insurer whose main source of revenue comes from generating consistent underwriting profits. AFSI operates in three business segments: specialty program, personal lines reinsurance, and commercial business. The company performs business through 11 insurance company subsidiaries, which include Technology Insurance Company, Inc. (TIC), Wesco Insurance Company (WIC), and Security National Insurance Company (SNIC). In December 2013, AFSI announced that, through a wholly owned subsidiary, it completed the acquisition of Sagicor Europe Limited. The company acquired Insco Dico Group in January 2014. The company operates in the United States, Europe, and Bermuda
2.2 Fundamental Analysis: Balance Sheet and Peer Analysis
AFSI's fundamentals show a weakly bullish portrait. On the shareholder equity front, the company has a very modest 74.8 M shares outstanding, 29.9 M of which are floating shares. As of December 2013, institution ownership stood at 46.50% of float, and short interest as % of float stood at an alarming 35.35%. Figure 2-A shows the company's financial summary as of April 1, 2014. Figure 2.A shows the company's financial position compared to that of its peers. The next paragraphs in this sections highlights AFSI's key financial strengths and basic metrics.
Figure 2.A: Amtrust Financial Services Financial Summary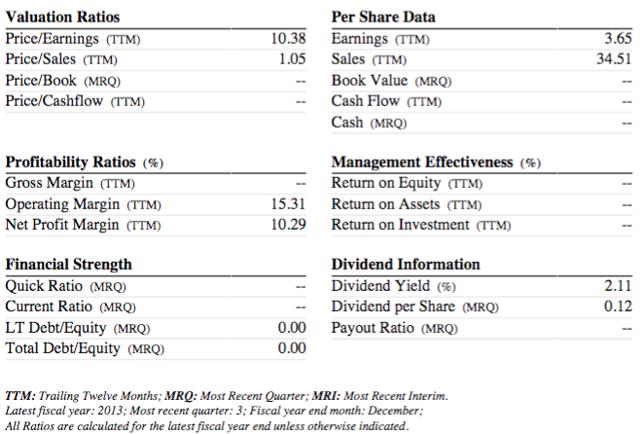 Data Source: Bloomberg Financial Services, compilation (Reuters, S&P Capital)
AFSI's fundamentals paint a bullish picture in a 6-month time frame. First, the Financial Industry as a whole is better poised to withstand economic downturns than it was in 2007. Second, the insurance sector outlook looks positive with increased sales levels in 2014. AFSI's fundamental metrics are thus favorable for value and growth prospects. The following, in particular, are noteworthy:
Sale: AFSI's sales per share level stands at $36.38 and its total sales are $2.7B (NYSE:TTM). The company's sales have grown by an average of 2.5% over the course of three years, which is a good sign for value and growth investors.
Price/Book Ratio: AFSI has a P/B ratio of 2.61, which is reasonably in the "buy" range for value and growth investors.
Free Cash Per Share: AFSI has $2.23 free cash per share as of Q1 2014, and it has steadily risen over the course of three years. This means that AFSI is unlikely to go out of business any time in the foreseeable future.
2.3 Target Price and Methodology
There are three widely accepted methods used to derive the target price of AFSI: Fundamental Business analysis using market metrics and AFSI's balance sheet, enterprise valuation (NYSE:EV), and discount cash flow analysis (NYSE:DCF). Below, each method is explored to model different target prices; then a composite average was taken for an overall target price. The following valuation ratios and metrics were used in the calculations. All price-targets are for 12-months.
Table 2. B Valuation Ratios and Metrics
| | | | | | |
| --- | --- | --- | --- | --- | --- |
|   | 12/10 | 12/11 | 12/12 | 12/13 | 12/14E |
| P/E | 7.68 | 8.55 | 12.69 | 11.04 | 12.72 |
| P/S | 1.03 | 1.05 | 1.26 | 0.90 | 0.83 |
| P/B | 1.45 | 1.60 | 1.85 | 1.83 | 1.22 |
| Net Income (millions) | 142.47 | 170.43 | 177.99 | 290.86 | 300.85 |
| Cash Flow (millions) |   | 296.03 | 531.45 | 915.45 | 1010.44 |
| Book Value (per share) |   |   |   |   | 17.85 |
| Sales (per share) |   |   |   |   | 36.68 |
| O/S Shares (millions) |   |   |   |   | 75.32 |
| P/C |   |   |   |   | 3.65 |
Method 1: Market Metrics and Balance Sheet
The target price based on my estimated 2014 price to cash would be: 48.96
P/2014 Cash Flow per share = Estimate multiple or P/(1010.44/M75.32M) = 3.65 so price target = 48.96
The target price based on my estimated multiple for price to book would be: $48.02
P/2014 Book per share = Estimate multiple or P/17.85 = 2.69, so price target = $48.02
The target price based on my estimate for price to sales would be: $44.75
P/2014 Sales per share = Estimate multiple or P/36.68 = 1.22, so price target = $44.75
The target price based on my estimated 2014 price to earnings would be: $50.81
P/2014 Earnings per share = Estimated multiple or P/(300.85/75.32M) = 12.72, so price target = 50.81
The composite method 1 valuation target price is: 1/4(48.96)+ 1/4(48.02) + 1/4(44.75) + 1/4(50.81) = $48.14
Method 2: Enterprise Value
In AFSI's financial statements, they reported an enterprise value of $3.69B. Terminal year 2013 EBITDA is 412.67M. Assuming EBITDA is a proxy for cash flow, and using the enterprise value from the previous question, the EV/EBITDA multiple is 8.96. I believe this is fairly valued and calculated using my neutral to conservative estimates. Using this multiple and AFSI s reported cash from operations of 0.415M for 2013:
Implied EV: 8.96*0.615B = 3.72B +110 Million (Total Cash) == 6.514 B, which gives us implied Mkt Cap.
Price Target = 3.830B/ (75.32 Million shares) = $50.49
The composite method 2 valuation target price is $50.49.
Method 3: Discount Cash Flow
and,
CFi/ (1+growth rate)n = Present value (CFi)
Discount cash flow analysis follows the following formula:

Using excel to calculate values plugged into the formula above, and relying on a "average" case scenario for free cash flow projections (see section 1.4 for further assumptions), we obtain a composite method 3 target price of $44.64.
Therfore, the overall composite score using all three methods is:
1/3 (48.14) + 1/3 (50.49) + 1/3 (44.64)= $47.76
2.4 Additional Underling Assumptions to Support Target Price
In addition to the projected values of future cash flow, sales, and book given in section 2.3, I am making four additional underlying assumptions to support my composite target price in section 2.3.
(1) Weighted Average Cost of Capital (OTC:WACC) of 8.6%. I used the following calculation: WACC = (E/V) *Re + (D/V) *Rd * (1-Tc), where Re = cost of equity, Rd = cost of debt, E = mkt value of the firm's equity, D = mkt value of the firm's debt, V= E+D, E/V is the percentage of financing that is equity, D/V = percentage of financing that is debt, and Tc = corporate tax rate. WACC is important because it is the average of the sources of financing, each of which is weighted by its priority in a given situation. In this case, I assume the company has to pay 9.2% interest for every dollar it finances.
(2) Enterprise Value (EV) growth rate of 1.0%. I take a conservative EV growth value estimate.
(3) Corporate Tax Rate of 25.31%. This is the legal corporate tax rate that AFSI pays.
(4) EBITDA Multiple of 2. This is a projected multiple I assume using raw data from 2013. I do not take any values here from Bloomberg or Reuters Fundamentals, because none are given.
(5) Growth Rate of FCF: 3% growth.
2.5 Rates of Return Analysis
Defining our time horizon as trailing 4 qtrs, the return on equity (ROE) has been 23.1% respectively. In the context of economic environment and historical trends, AFSI ROE has been in line with the insurance sector's ROE.
No data has been made available for 2012, 2013, or 2013 for AFSI's return on assets (ROA), though AFSI's revenue growth year over year ending 12/13 was 44.4%, more than 10 percentage points higher than the insurance sector's average.
If the economic environment remains modestly positive (or better), barring any constricting financial or legal regulation, AFSI is predicted to achieve rates of return on revenue (ROR), equity, and assets at higher levels than its peers in the insurance sector, though probably in line with the average of the Financial industry's ten largest companies by market cap.
If the trend for AFSI holds, one could see AFSI's ROR go north of its current 44.4% level and settle around 50% for 2014, which is still higher than many of its major competitors such as Hilltop Holding's 18.5% and HCI Group's 19.3%.
2.6 Key Catalysts and Compelling Fundamental Metrics
There are several catalysts and compelling fundamental metrics that make AFSI a buy. A summary of main points is given in this section.
Increased Underwriting Capacity. I believe that record catastrophe losses both in the U.S and around the world incurred in the last 3-5 years will extract billions of dollars of excess underwriting capacity from the property and casualty insurance marketplace; this may in turn cause insurance premiums to rise in 2014 and 2015.
Firming of Certain Rates. AFSI is expected to see a "firming" of certain rates that should propel net written premiums by about 5% o 7% in 2013 and 2014, respectfully.
% LT Debt to Capitalization: All else being equal, a rising percentage implies greater financial risk; in particular, a percentage above 40% should be a warning; AFSI's 1 year, 3 year, and 5 year LTD/Capitalization averages have been well below 40%, standing at 31.39%, 19.56% and 18.25% respectively.
2.7 Special Situations and Events
As briefly outlined, in section 2.6, special situations and events to be considered are record catastrophe losses both in the U.S and around the world. This has both negative and positive shocks to AFSI's cash flow, but I believe that AFSI is situated to answer these challenges and benefit in the market.
Operating profitability in the property and casualty market is dependent on the level of catastrophe losses; in 2012 underwriting results remained unprofitable but improved from 2011; this was despite an increase in direct insured catastrophe losses from $33.6B in 2011 to $35B in 2012.
Nevertheless, AFSI is poised to see premium rises and firming of certain rates have positive affects on cash flow, which would more than offset a potential rise in claims in 2014.
One special event to consider is Hurricane Sandy: claims from Hurricane Sandy offset otherwise strong underwriting results in 2012 and led to lower underwriting profits for that year. In 2014, AFSI is in better financial condition and risk coverage to meet another potential unexpected high number of claims.
2.8 Foreseeable Downside Risks
Risk is moderate for the property and casualty sector as whole, but remains neutral for AFSI. However, several potential downside risks are worth enumerating, not least because such factors could have a materially adverse shock on AFSI profitability and operating margins in 2014. Risks to my composite 12-month target price of XXX include: unexpected increased in number of claims from catastrophe losses, which could in turn decrease underwriting profit, decrease, and decrease return on assets and return on equity. These risks are closely associated with climate change and record damages from storms and other catastrophes.
Nevertheless, AFSI has increased spending in risk coverage by expanding its risk assessment teams. Since 2012, AFSI has been more conservative in its property and casualty insurance holdings and has seen premiums rise to the point where they offset losses from claims. In the next section, I explore key risk metrics and calculations that paint a general good picture of AFSI's 2014 risk prospects compared to the S&P 500 COMPOSITE INDEX.
2.9 Risk Metrics and Calculations to Devise Them
The two key risk metrics to consider for a potential investment in AFSI are standard deviations and time horizon. Using daily closing stock price data for the past 90 days from Yahoo Finance for AFSI and for the S&P 500 COMPOSITE Index, I used STATA to calculate standard deviations of daily and monthly returns as well as Intra-Day Swings. (I also pulled up 60-month standard deviations as reported by Bloomberg. As a statistical measurement that sheds light on historical volatility, standard deviation is calculated as:
where N= number of days (time horizon), xi = closing stock price on day i, and μ is the mean of all values in the sample (mean of 90 days closing stock prices).
From STATA, I calculate that in the short term (30 days - 60 months) AFSI has a correlation of 0.58 with S&P 500 COMPOSITE index, which means volatility correlates with broader market; in the long term, AFSI has shown average correlation (0.35) with the broader market.
Over the past 90 days, AFSI's stock has been less volatile that broader market: daily price has fluctuated less than 75% of S&P 500 COMPOSITE index.
σ = √ [(1/N) ΣN (xi-μ)2],
i=1
Daily Returns

 

Standard Deviation

Best

10.4%

Last 90 days

2.46

Worst

-7.7%

Last 60 Months

18.05

 
 
 
 

Monthly Returns

Intra-Day Swing (Last 90 Days)

Best

19.3%

Last 90 days Avg

3.2%

Worst

-21.8%

Last 90 Das Largest

11.9%
2.10 Technical Metrics and Key Entry & Exit Points
Technical analysis for AFSI indicates it is a buy, with a time horizon for 6 months or at the target price (unless cash flow surprises on the upside occur), whichever comes first. The technical analysis discussed below reference Exhibit 2.10. According to this analysis:
The 50 -day moving average is rising.
The 200-day moving average is rising.
Relative strength is bullish.
The U/D Volume Ratio is at 1.6 and the direction is down.
Price is above the 50-day moving average of $35.36.
Exhibit 2. 10 AFSI Stock Price, Volume, and Technical Metrics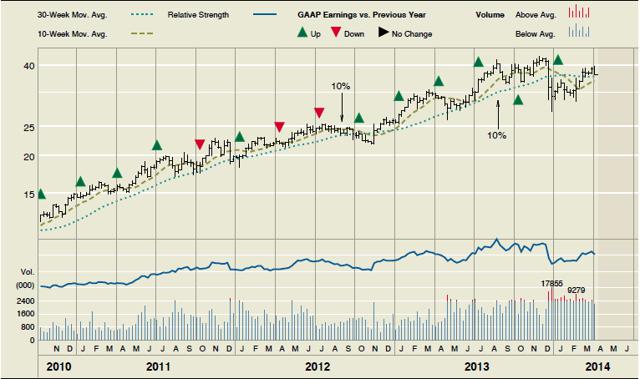 2.11 Technical Factors & Special Factors to Consider
Technical analysis indicates that the key entry point here is between the 50 day moving average and the 21 day moving average, in the range of 35.36-37.89. The moving average convergence/divergence (MACD) indicates a bullish trend, but the chart pattern indicates a possible trend reversal. One factor attributable to the latter is uncertainty surrounding the Fed's decision on interest rates. However, the 50-day and 200-day MAs both have upward slopes, and the industry as a whole faces a positive outlook. After entry at the price points given in this section, the time horizon is for 6 months or until 12-month target of $47.76 is hit (whichever comes first), ceterus paribus.
2.12 Industry & Competitive Analysis
Generally, the outlook for the property and casualty sector of the Financial Industry is positive for 2014. The chief reasons for this are the following:
If modest economic growth holds (or better) in 2014, the sector may see sale increases.
The sector and industry as a whole did well in 2013 and is poised to use capital more efficiently as well as expand the overall market pie by reaching out to underserves consumers and regions.
The industry as a whole performed well under the Fed's stress test initiative. This could mean that AFSI operates in a more favorable financial environment in a healthier industry in 2014.
As a holding company, AFSI will not face as much pressure as some of its peers from a potential in interest rate rises.
Rises in premium rates should lead to marginal growth in revenue and possibly mitigate the negative impact of an expected low interest-rate environment in 2014.
On the negative side, lack of real full-time employment growth in 2014, stress on balance sheets, and possible legislative challenges all pose a potential threat to the sector's ability to get back to the historically high growth rates.
Exhibit 2.12 gives a more fundamental picture of where the company stands relative to its peers.
Exhibit 2.12: Peer Analysis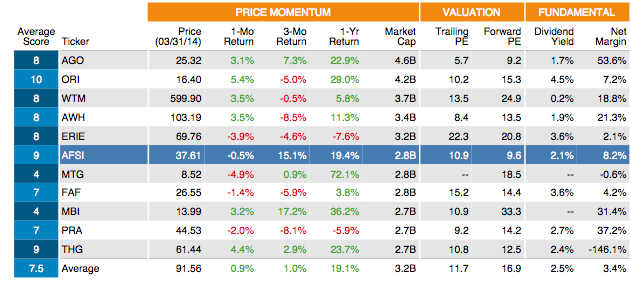 Note: Reuter's Fundamentals determine average score. Historically, companies who attained an optimized score of 9 (out of 10) tended to outperform the market over the following 12-month period.
Source: Bloomberg Financial Services, Thomas Reuters (raw data).
Financial Strength (MRQ): The missing data for the MRQ is cause for worry, not least because the company has either not reported it recently. The company is due to report on April 28, 2014.
Valuation (MRQ): At 10.31x, AFSI has a lower P/E Ratio than 63% of its peers in the Insurance (Prop. & Casualty) industry. This generally means that investors are willing to pay less for its current level of earnings relative to AFSI's future growth.
Profitability (TTM): As indicated by the Operating Margin of 15.31%, AFSI controls its costs and expenses better than 63% of its peers.
Disclosure Appendix
I, Bledar (Blake) Zenuni, Investment Analyst at Clearmark Partners, certify that (1) the views expressed in these Investment theses accurately reflect my personal views of Denbury Resources, Inc. (NYSE:DNR) and Amtrust Financial Services (AFSI), and (2) that no part of my compensation was, is, or will be directly or indirectly related to the specific recommendations or views expressed in the Investment theses.
Academic Honor Code: On my honor, I have neither given nor received unauthorized aid. All work is solely my own, and all sources, including those for the figures above, are cited in all cases.
e-signature: Bledar B. Zenuni,
Bledar B. Zenuni
April 1, 2014
2 Disclosure: Stock ratings are relative to the coverage universe of each analysts sector. Investing any stock carries risk that could lead to the loss of the entire investment. All opinions and analysis are my own, with properly cited sources and references at the end of this report. I do not have a position in AFSI, nor do I plan on initiating one in the foreseeable future.
Disclosure: I have no positions in any stocks mentioned, and no plans to initiate any positions within the next 72 hours.