GARY Investing is a method of value investing that eliminates the potential false positive of "value" when using today's P/E metric. GARY uses dividends, specifically the yield metric, to determine when a stock is "cheap" and a "buy". We developed and have been GARY Investing since 2009 and it works.
Simplified, possible GARY (Growth At the Right Yield) occurs when the expected yield of a stock is higher than usual and the price of that stock is lower than usual, and, all other things being equal, one of two things will ultimately happen to drive the yield downward toward its historic mean. Either 1) the share price will appreciate, as investors are turned-on to that higher-than-average yield, pushing the yield down toward the historic mean…or 2) the dividend per share will be "cut" by the company, also returning the yield to the mean, if not below. In the first case, the stock was GARY, a good value and a buy. In the latter case, the above average yield was a harbinger of the company's need to cut the dividend, the stock was not GARY and was likely not a buy.
With this in mind, if an investor can confirm the sanctity of the dividend and reasonably predict that it will not be cut, then an investor can buy shares of a company's stock with a greater chance of appreciation than loss and with a relatively high yield-at-cost, which compensates the investor for time and risk.
Dividends cannot be faked by the company and they are essentially cash flow to the common investor; what better characteristic is there on which to value a company. Yield, annual dividend divided into share price, and historic yield are also simple to calculate. But yield and historic yield are only a fraction of the GARY screen. Any company can throw up a whopper of a dividend to attract investors but determining the SANCTITY of that dividend is where all the quantitative work comes in. Our GARY screen takes over 1,500 stocks and one thousand data points per stock into consideration before ranking potential GARY stocks for fundamental work.
In defense of Graham Dodd scores etc., we believe P/E is still a valuable metric for value investing but we also know that earnings are routinely manipulated by management, analysts and the media. Simply consider, when asking why operating and pro forma earnings exist, that "operating" EPS always seems to increase the stated earnings in P/E and inextricably makes stocks look "cheaper". As a young analyst in 1995 it was impossible to publish any estimates that were not GAAP, now it is common place.
Again, dividends, on the other hand, cannot be faked.
Here are a few proof positives for GARY Investing, followed by several new or lingeringly cheap GARY stocks. I will expand a bit about GARY on each chart. The GARY stocks I am sharing with you are already owned by us and our clients unless otherwise indicated. Also consider that we use a portfolio of GARY stocks to reduce individual company risk, specifically the risk that a dividend gets cut or that we pick a company with otherwise bad fundamentals.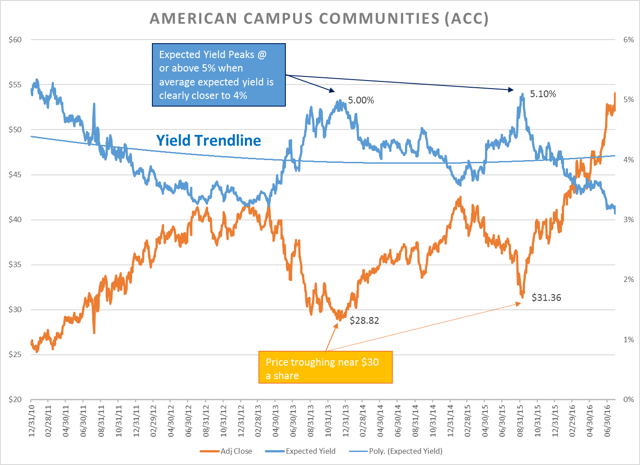 In the above chart, the yield on ACC broke above its historic average of around 4% two times in the last five years. A value hunter would use 5% yield as a buy signal. Notice that each 5% yield corresponds to troughs in the share price of ACC. We of course checked important dividend sanctity metrics, like dividend coverage ratio and insider ownership (not an obvious one), and listened to several conference calls before we bought ACC. With ACC's yield now closer to 3%, we are now faced with the pleasant task of using a sell discipline.
American Campus Communities' chart was an easy one (in retrospect), Caterpillar's chart was not. Furthermore, the negative analyst and media coverage of Caterpillar in late 2015 was out of control. Even my own clients baulked at our buying this one.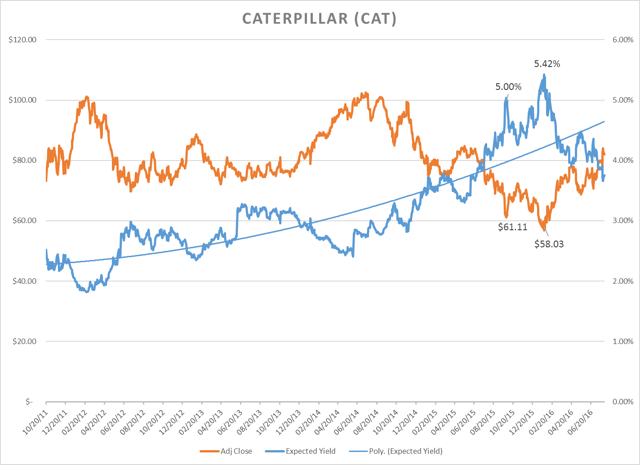 The expected yield on CAT also reached 5% in late 2015. This was happening as sales in China ebbed and China's GDP came in for a bumpy landing. Go back and check the news cycle - the fear was that CAT's dividend was not safe. We checked the history of CAT's dividend and did special work on the debt responsibilities of CAT and toed into shares, albeit a little early. Fortunately the dividend was safe and the high yield/share price arbitrage is narrowing.
ACC and CAT worked. Here are a few stocks, which we own, that still have to play out. GARY Investing involves lots of prep work and then lots of patience. We of course have sell disciplines but I make it a habit never to share price targets.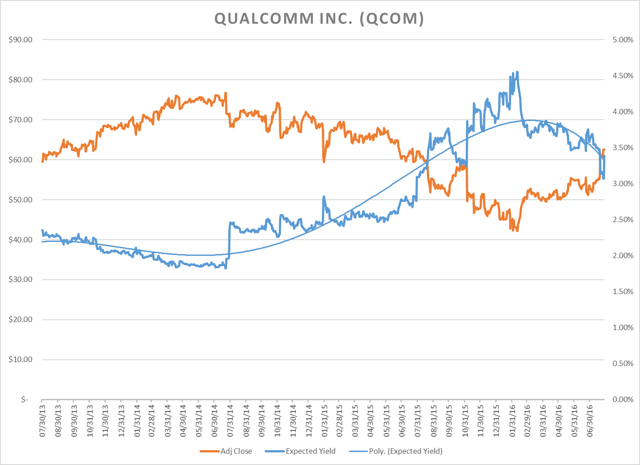 Qualcomm (NASDAQ:QCOM) is still a buy as a GARY stock as its historic average yield is closer to 3%. Technology companies can make great GARY stocks as long as you believe in the dividend. We have owned Intel (NASDAQ:INTC) as a GARY stock and we currently own Apple (NASDAQ:AAPL) as one right now.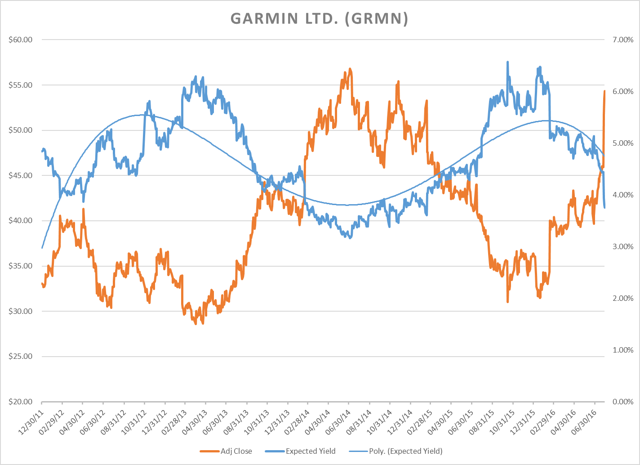 Blink and you will miss it with Garmin. We have owned and sold GRMN once before as a GARY stock. Garmin is volatile because its products face competition from so many players and the news cycle can be tough to it. One thing we know about Garmin is that it's dividend is sacrosanct. We believe it is also experiencing a renaissance of creativity in its product line, driven by an experienced culture but also the Internet of Things. Fundamental work can help GARY investors have the conviction to be patient.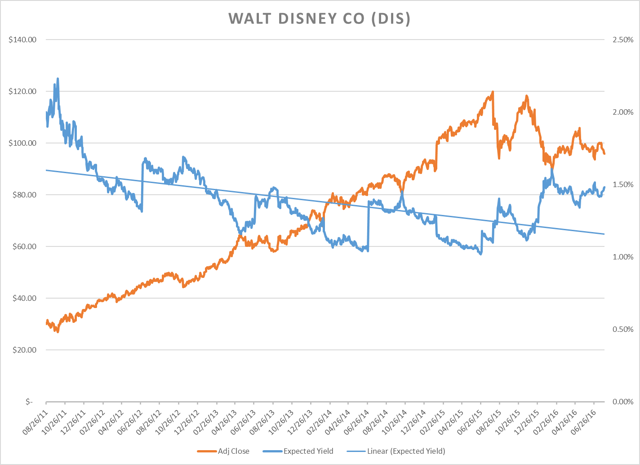 Finally, we finish outside the box with Walt Disney Co (NYSE:DIS). We usually stay away from companies with a yield below that of the S&P because we build our portfolios with a target yield in mind. However, GARY still works on these as well. We paired DIS with a higher yielding entertainment company and created a nice, yielding exposure to theme parks. Disney's yield is relatively high right now as analyst fret over ESPN and cable cutting. We believe this is priced into the stock and that a higher than average yield is telling us that. Time will tell if our belief is right.
We would like to conclude by saying that Growth At the Right Yield investing does not account for company risk, although our screen does weigh stock volatility and more. We invest in as many as 30 GARY stocks at the same time and try to build a sector and market cap diverse portfolio with a yield well above the S&P and a beta below it. Tell-tale Capital Corp is an RIA with Wealth Management, Research, and Proprietary Products segments. Good luck GARY Investing.
Disclosure: I am/we are long ACC, CAT, QCOM, AAPL, GRMN, DIS.
I wrote this article myself, and it expresses my own opinions. I am not receiving compensation for it. I have no business relationship with any company whose stock is mentioned in this article.