The market giveth and the market taketh away in rapid fashion. U.S. equities shed another 1.5% on the Nasdaq and S&P 500 during Monday's trade with the Dow Industrial Average falling slightly less at 1.29 percent. Black gold was the culprit once again as crude oil shed 7.5% on Monday and falling below the $30 per barrel level once again. Investors still have a great deal more than crude oil declines in their sights with earnings reports a plenty this week as well as a 2nd look at Q4 2015 Gross Domestic Product. So with that said let's take a look at what to possibly expect when eBay (NASDAQ:EBAY) and Apple (NASDAQ:AAPL) report this week and starting tomorrow.
eBay is scheduled to report fourth-quarter earnings after the market closes on Wednesday. Analysts surveyed by FactSet expect earnings per share of $.50, down from $.90 a year ago. FactSet analysts expect eBay to report sales of $2.315 billion, up from $2.094 billion a year ago. It was likely a rough quarter for eBay during the Q4 2015 period as search issues continue to plague the firm alongside waning commissions related to merchant mix. Mobile will continue to help balance out underperformance from desktop growth. Benchmark said.
"While the risk/reward profile may be less compelling than last quarter. shares aren't particularly expensive, with fundamentals on track for accelerating growth over the next several quarters and shares supported by a steady buyback program," the analysts wrote.
Apple is set to report fiscal first-quarter earnings after the market close on tomorrow and all eyes will be peeled for signs of smart phone sales slowdown. On Thursday, Credit Suisse cut its annual iPhone sales estimates for the second time. Earlier this week, Raymond James said Apple was on track for weak iPhone sales through March 2017.
Even with the expectation for iPhone sales to slow, the expectations amongst the analyst community is for Apple to post its best quarterly sales in history and iPhone shipments to grow by 2 million from the year-earlier period. That would be a year-over-year growth rate of less than 3%, compared with 22% in the previous quarter. Hence the fear of slowing growth.
Piper Jaffray analyst Gene Munster thinks Apple's valuation is attractive given the recent pullback in its shares, and could benefit from upside of as much as 50% over the next six months as Apple enters a new iPhone cycle. Munster also said he'd be a buyer of Apple shares going into the earnings report on the belief that over the next six months the stock will react similarly to past cycles when Apple introduced new a "numbered" phone -- such as the iPhone 5 and the iPhone 6. The company is expected to unveil the iPhone 7 later this year.
In total, analysts expect Apple to report earnings per share of $3.23, up from $3.06 in the year-earlier period. Apple has generally beaten consensus estimates over the past several years. Additionally, analysts expect Apple to report revenue of $76.7 billion, according to FactSet, up from $74.6 billion in the same period last year. But beyond the quarterly results and expectations, investors might also key off of Apple's forward looking guidance. Now let's take a look at a technical analysis of AAPL which doesn't bode well, but keep in mind that technicals don't always override fundamentals.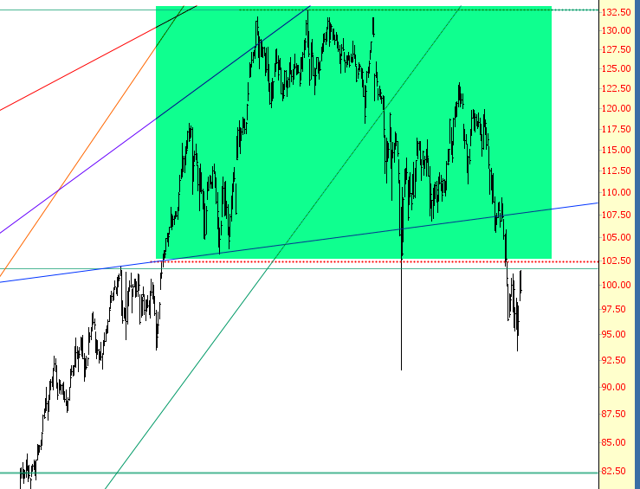 If the technical view above doesn't look good for shares of AAPL you're probably right. The chart and technical analysis was provided by Slope of Hope blogger Tim Knight. He goes on to say the following:
Now here's the going-out-on-a-limb part: I suspect that Apple is more likely to be down on Wednesday than up. I further think that, in the months ahead, Apple is going to find itself at a place no one dare imagine: in the 70s.
With regards to trading or investing in shares of AAPL, it is hard to distract from the inevitable surrounding a slow down in its core iPhone business. This is what has largely suppressed the share performance and has been validated by analysts to the degree they can achieve sales reads during the quarter. But the iconic Apple Inc. balance sheet offers the company and its shareholders a great deal of flexibility to improve share performance in the future. For longer-term consideration, shareholders of record would likely be wise to lock in profits, but keep cash on hand to deploy if a decline in AAPL share price becomes available post the company's quarterly release.
Back to the overall markets and what is impacting equities by and large. With markets seemingly continuing with a downward trajectory, they aren't getting any help from daily economic news or manufacturing news that is somewhat tied to the falling price of crude oil. The Dallas Fed's manufacturing survey in January fell 13 points to -34.6, marking the worst reading since the Great Recession. Production swung from positive to negative territory, and the new-orders index edged further into contraction reading. "We expect the continued depression in the oil and gas industry to negatively impact our customer base and result in significant demand reduction," said one respondent to the manufacturing survey.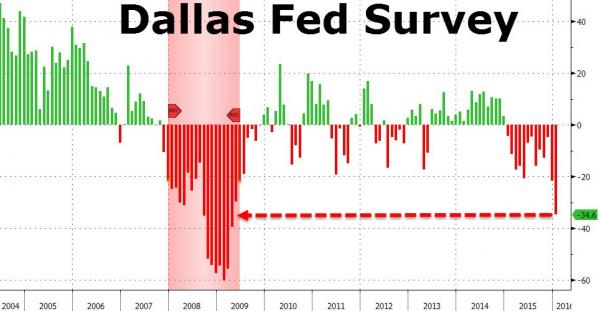 What was even more concerning was the drop in the employment index into negative territory, with a reading of negative 4.2. "The continued downturn in the energy sector and its impact on oilfield services companies is brutal and financially punishing, leading to significant reductions in our labor force and facility closures," said another respondent. The table below identifies just how poor conditions have become in Texas during the survey period.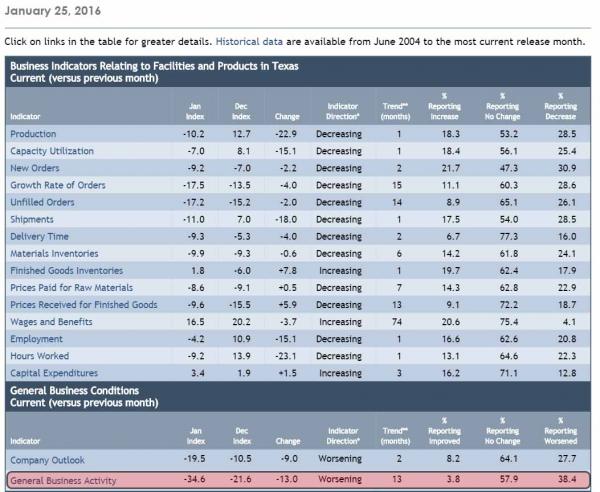 It wasn't just the outsized fall in the price of oil but also the continued strength of the U.S. dollar was cited as a factor hurting manufacturing in the region. While some had forecasted a consumer boon with declines in gasoline prices, this simply hasn't materialized as the rise in healthcare costs and rents have largely offset declines at the pump. It has been a lose-lose situation surrounding crude oil prices for the U.S. economy. With a 2nd look at Q4 2015 GDP coming into focus this week, we may just get an opportunity to see how crude oil prices are damaging a fragile economic condition to date and post the Fed tightening cycle commencement. In addition to Q4 GDP results later this week, tomorrow investors will achieve data from the Case-Schiller Home Price Index as well as Consumer Confidence numbers.
Disclosure: I/we have no positions in any stocks mentioned, and no plans to initiate any positions within the next 72 hours.
I wrote this article myself, and it expresses my own opinions. I am not receiving compensation for it (other than from Seeking Alpha). I have no business relationship with any company whose stock is mentioned in this article.