Capital Ladder Advisory Group (CLAG) has been offering dedicated research and analytics for the consumer packaged goods (NYSE:CPG) and retail industry over the last 7 years. With more than 35 years of combined experience in these industries we have proliferated hundreds of articles with research and insights. Chief Market Strategist Seth Golden has led the way with CLAG and developed a sound reputation in the research driven investment industry. His research and insights have been published throughout the media landscape. At CLAG, we dedicate ourselves to delivering research and analytics that are often difficult for investors to achieve. As such, our efforts are exhaustive, but rewarding.
Scanning For Opportunity In Digital & Mobile
Recently, CLAG participated at the SeeThru Equity 5 th Annual Microcap Conference in an effort to learn more about a specific and emerging industry that is related to consumer packaged goods and digital marketing. But what we found was so much more than we anticipated. Having years of knowledge related to consumer package goods and retailing, what we have found in recent years is the challenge presented to brands with regards to navigating the digital marketplace. With each passing year, brands are becoming increasingly aware of the relevancy for addressing the consumer in the digital marketplace or " digisphere" as we like to call it.
The results are in and they are overwhelming to many consumer brands: The average time spent per adult using some form of digital media is ever increasing and major consumer brands are in need of the appropriate technologies to address these consumers in the digisphere. The graph below identifies just how important this space is for consumer brands and subsequently why Salesforce.com (NYSE:CRM) has maintained a growing revenue stream over the last several years. Salesforce.com has dominated the Software-as-a-Solution space for brand marketers, but newcomers are looking to take a piece of a growing digital marketing pie.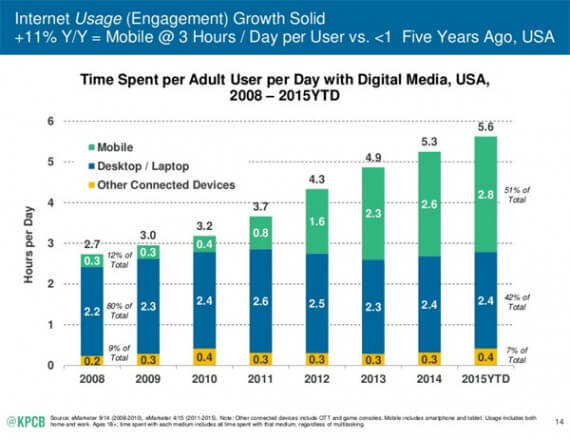 The average adult spent over 5 hours a day consuming digital media in 2015 and that time spent is expected to grow for the foreseeable future. Based on the solid growth in digital media trends, consumer brands have a choice to make. Either they ignore where media is increasingly being consumed and lose potential sales dollars and brand power or they participate with rich, digital marketing media content and engage the consumer directly. We would be of the opinion that the choice is clear and most consumer brands are making strategic efforts in the digital media marketing realm in order to engage the consumer along all aspects of the shopper journey. Having the right technology that is able to deliver a value added digital and mobile marketing strategy would be increasingly important to consumer brands. One such company CLAG encountered at the SeeThru Equity conference aims to deliver that technology and digital mobile marketing strength to consumer packaged goods companies.
Introducing 3 Tier Logic Corp.
At the conference we were introduced to Robert Craig of 3 Tier Logic Corp (TSXV: TTM)(OTCQB: OTCQB:TTMZF). 3 Tier Logic is a Vancouver, Canada-based company, directly positioned to expertly assist CPG companies with digital mobile marketing and consumer engagement. 3 Tier Logic is the developer of PLATFORM³, a cloud-based, Software as a Service digital marketing platform. It enables CPG companies and consumer brands to engage shoppers through their mobile device and influence their purchasing decisions. PLATFORM³ encompasses proprietary consumer engagement and technology modules including contests and promotions, optical character recognition (purchase receipt scanning), consumer-to-consumer content sharing (via social media), data mining, gamification and rewards. CPG companies use PLATFORM³ to attract, engage, incentivize and reward shoppers to influence purchases in-store and online and all while collecting their all-important consumer data.
Technology entrepreneurs Robert Craig and Carlos Yong founded 3 Tier Logic in February 2008. The Company was created to benefit CPG brands with meaningful improvements in consumer engagement and communication via digital and social media marketing technologies. In 2013, and based on years of understanding for how consumers engage brands in the digisphere, 3 Tier Logic built PLATFORM³. The technology took a few years to build, test, modify and perfect and in 2015 it was launched to the benefit of several of the largest CPG companies in the world. Providing marketing solutions for CPG companies is a highly lucrative business and this is exactly where 3 Tier Logic has aimed to disrupt the digital mobile marketing industry with PLATFORM³.
The Vast Market Opportunity
Just how big is CPG digital ad spending you might be asking yourself? According to eMarketer, "U.S. consumer packaged goods and consumer products advertisers will spend $5.97 billion on digital advertising in 2016, an 18.2% gain from 2015 that will see this sector account for 8.7% of total U.S. digital ad spending for the year. Among the 10 U.S. industries measured by eMarketer, CPG and consumer products is projected to have one of the highest compound annual growth rates (OTCPK:CAGR) for ad spending between 2015 and 2020: 13.5 percent.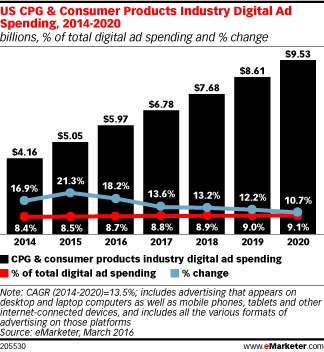 CPG and consumer products manufacturers are among the biggest spenders in advertising overall, and continue to spend across all media. Data from Kantar Media revealed that CPG behemoth Procter & Gamble (NYSE:PG) was the largest buyer of advertising across media (excluding digital) in the US in 2015, spending nearly $2 billion. Beauty brand L'Oréal ranked seventh in overall ad spend in 2015, with $1.22 billion invested in traditional media advertising."
So what has and continues to influence CPG companies to increase their marketing budgets in the digisphere. The growth in e-commerce is something all companies along the CPG and retail food chain are participating. In the U.S., online sales of CPG products will grow from $8 billion in 2013 to $35 billion in 2018 and digital will account for roughly one-half of CPG growth over the next five years (Grocery Manufacturers Association). One of the key aspects to e-commerce/digital sales growth has and will continue to be the aspect of mobile connectivity. Through the use of smartphones, laptops and tablets, the consumer has the ability, more than ever before, to purchase goods wherever and whenever they feel compelled to do so. As such, that is what is compelling CPG brands to employ greater digital mobile marketing campaigns. To capitalize on the rapidly expanding e-commerce opportunity, CPG companies need to start connecting directly with consumers and collecting their data. PLATFORM³ provides the ultimate solution for CPG companies to initiate, capitalize and grow their e-commerce sales channel. This shift in CPG ad marketing spend presents a multi-billion dollar opportunity for 3 Tier Logic.
What PLATFORM³ Brings To CPG Brands
It's not always easy to understand a technology or a new and growing industry and we certainly understand that from an investor's perspective at Capital Ladder Advisory Group. So if you are asking yourself what exactly is PLATFORM³ and how does it work, then we aim to answer that question for readers and investors.
PLATFORM³ SaaS provides CPG brands with a marketing platform to activate shoppers with a "call-to-action" identified below as the "Purchase". Once the Purchase is made the consumer will "Snap" a picture of their receipt and it will automatically upload without the need to download a separate app. Lastly, the consumer will be engaged with a reward or gamification experience to further create a brand influencer for the CPG company. The consumer makes a Purchase, Snap a picture of the receipt and is Rewarded…all quite simple yet with years of dedicated algorithmic, logic and code building all accompanied with efficacy testing by 3 Tier Logic to create PLATFORM³.
An example of just how a CPG company might use PLATFORM³ is as follows: Let's say Dr. Pepper Snapple Group (DPS) wants to influence consumers to buy Dr. Pepper brand products, the company will utilize PLATFORM³ to engage consumers in the digisphere with a promotional call to action.
Dr. Pepper utilized the Batman vs. Superman movie as a means to promote its brand and engage consumers using PLATFORM³ by 3 Tier Logic in the digisphere and with much success.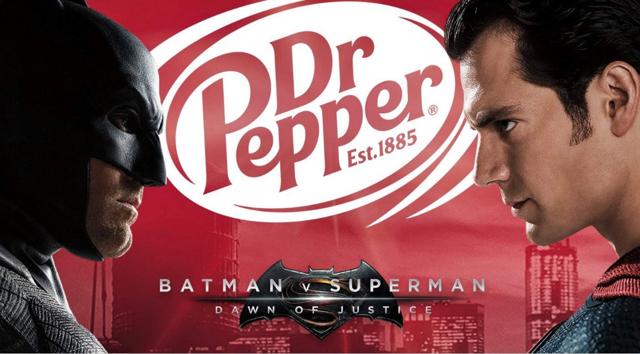 The call-to-action for the consumer engagement was simple. Shoppers who make a qualifying purchase (Purchase) of Dr. Pepper products can submit their receipts (Snap) via a branded microsite to receive a $5 movie certificate (Reward). The receipt validation is part of 3 Tier Logic's technology called SNAP³. As an important technology component of PLATFORM³, SNAP³ provides the necessary technology and software to validate receipts. SNAP³ provides a seamless solution for receipt validation independent of the retail point-of-sale and enables the CPG company to track sales and consumer data. It's with this data that CPG companies can evaluate consumer data that includes shopping activities and social media promoting of the brand. All the data collected is owned by the CPG company utilizing PLATFORM³ and all the consumer data is highly secured.
Dr. Pepper Snapple Group licensed PLATFORM³ for this promotion, which was implemented in all forms of social media, direct e-mail and at the point of sale in retail locations around the nation. All that the consumer had to do was purchase a Dr. Pepper product and upload a photo of their receipt to enter for a reward. Through the rewards portion of the marketing campaign the consumer is also able to promote the brand or marketing campaign through social media in order to earn more rewards. This type of engagement on the consumer's behalf creates a viable consumer-to-consumer influencer and brand promoter for the CPG company.
PLATFORM³ proved to work so well for Dr. Pepper that the company decided to license PLATFORM³ again and going into the Holiday 2015 period for its 7-Up brand of carbonated beverages. The photograph below displays how the consumer would view the mobile marketing when having purchased 7-Up at participating retailers.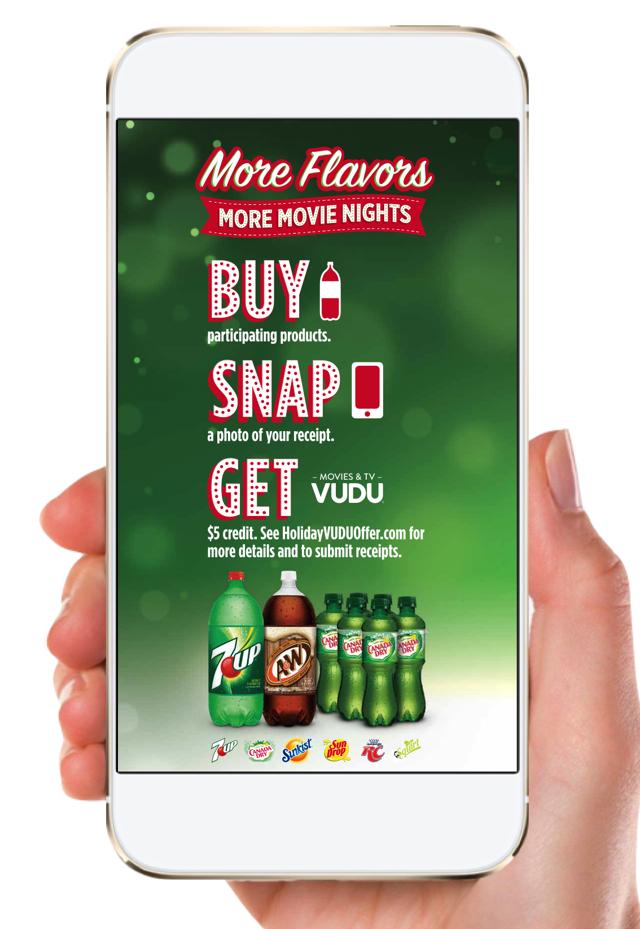 PLATFORM³ Value Proposition
So this was all great for Dr. Pepper Snapple Group and its many brands, but you probably want to know how 3 Tier Logic makes money as a SaaS provider of mobile marketing technologies. But before we discuss how the company makes money, let me briefly explain the value of the technology. Software-as-a-Solution or SaaS provides brands with solutions that are traditionally delivered via a custom build model. Custom building digital consumer engagement solutions are expensive and time consuming. Custom digital marketing builds was the business of 3 Tier Logic from 2008-2012 so nobody understands the value of today's SaaS technologies better than they do. In its first four years, 3TL built over 250 custom digital marketing applications totaling a value of over $4M. During this time 3TL identified compelling consumer and brand trends including the cost of programming for custom projects, the time and resources required and the inability to re-use and leverage code and logic from project to project. To address this market opportunity, 3TL spent 3 years and $3M building PLATFORM³. So if you were looking for a barrier to entry or economic moat around the business once again it comes down to expertise, trade secrets and dedicated time for creating the code and logic utilized in the creation of PLATFORM³. In fact, PLATFORM³ SaaS is so valuable in saving time and money for CPG brands that in 2016, 83% of new sales are leading brands that have moved from competitors over to 3 Tier Logic's PLATFORM³. The primary reason why brands are moving from competitors to 3TL is the fact that PLATFORM³ is offered through a SaaS model, which saves the CPG company both time and money.
PLATFORM³ Advantage:
Cost Efficiencies: Pre-built logic, templates and modules enable dramatic value for dollars. SaaS solution is roughly 50% more cost efficient than most competitors.
Receipt Validation: SNAP³ works on any mobile device and is app free.
Flexibility: Use and pay for only the time and modules that are used.
Scale: Launch a simple 30-day sweep or an ongoing gamified loyalty and rewards program. Run one promotion or multiple concurrent promotions on the same platform.
Dashboard friendly: Very easy to use with full training and instruction. 3 Tier Logic team is consultative and not transactional.
Acquire deep mining consumer data right down to zip code from where product is purchased and even the retailer for which it was purchased.
The Competition:
Key competitors in this space include smaller companies such as Helloworld, Prizelogic, Snipp Interactive, TPG Rewards, and OfferPop. None of the companies named in the competitive space provide the benefits within PLATFORM³ as described in the graphic below. Again, for all the aforementioned reasons, 83% of signed contracts in 2016 by 3 Tier Logic have come from CPG brands that have moved away from the competition in favor of PLATFORM³.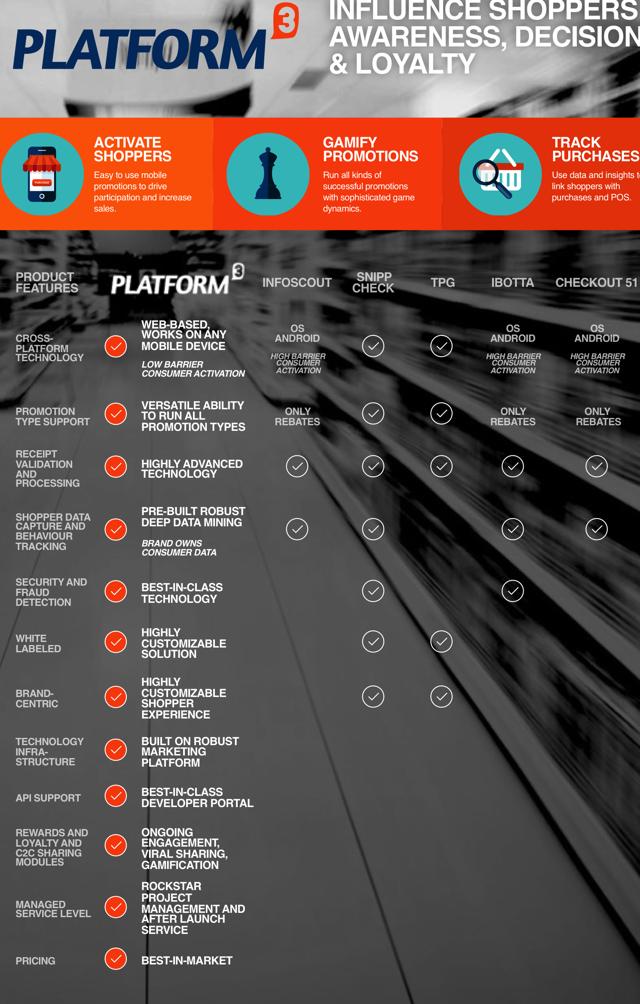 PLATFORM³ "Shows Me the Money"
PLATFORM³ customers subscribe to a monthly or annual license. Because the sales and delivery model is "Software as a Service" (NASDAQ:SAAS), customers don't have to make costly investments in the purchase of licensed software, security, IT infrastructure, hosting facility and staff to run it.
3 Tier Logic sells PLATFORM³ as an annual subscription for a base price of $100K, plus additional fees for usage above the base threshold. To lower the purchase barriers for new clients who desire to test the platform, 3 Tier Logic offers a 2-month subscription to PLATFORM³ for roughly $25K. This provides brands and agencies the opportunity to implement on a trial basis or one consumer engagement promotion (contest, Sweepstakes, etc.). Based on current market trends and initial response in the market, 3 Tier Logic believes that most brands and agencies will run multiple promotions each year as evidenced with Dr. Pepper Snapple Group and Kimberly Clark's (NYSE:KMB) Huggies Brand. This will result in multiple sales of 2-month subscriptions per year, per brand and ultimately lead to the migration to annual subscriptions based on the success of the 2-month promotions.
3 Tier Logic's target market consists of 50,000 CPG brands and the top 1,000 ad agencies that service CPG brands. This year, 3 Tier Logic's sales objective is to establish a relationship with 20 ad agencies. Over a one-year period, these agencies are expected to sell an average of 6 promotions to their clients @ $25K per 2-month subscription. Concurrent with this effort, the Company is selling directly to CPG brands. The Company's objective for selling to ad Agencies and directly to CPG brands is identified below with the ultimate goal of translating 2-month licensees into annual subscribers.
2-Month Subscription Sales
Ad Agencies
20 Agencies selling to 6 of their CPG brand clients 2-month subscriptions for $25K (20X6X$25) = $3M
Direct to CPG Brands
Sales of 2-month subscriptions direct to 30 CPG brand for $25K
(30X$25) = $750K
Annual Subscriptions
CPG Brands and Agencies
Sales of annual subscriptions to 10 CPG brands or Agencies for $100K (10X$100) = $1M
Sales Growth
3 Tier Logic's initial revenues are in the early stages and focused on selling starter programs with 2-month subscriptions. The Company has gone from signing one contract in Q2 2015 (the launch quarter), two in Q3 2015, to signing four contracts in Q4 of 2015. The momentum has accelerated in 2016 with the signing of twenty contracts in the first 5 months for a total of just under $350,000. With this sequential momentum since Q2 of 2015, the YOY momentum will not be found of lesser quality. In Q2 2016, 3 Tier Logic signed one of its most lucrative multi-year contracts to date with NBC Universal's Fandango.
3TL Technologies Corp. announced today that it has entered into a multi-year agreement with Fandango Rewards to license its 3 Tier Logic Platform3 technology for use in Fandango Rewards consumer promotion programs throughout the United States.

Fandango Rewards will use multiple modules of Platform3 including Receipt Scanning and Validation (Optical Character Recognition technology), Data Capture and Analytics, and proof-of-purchase tracking, which together will enable consumers to enter retail promotions by taking a photo of retail purchase receipts (and other printed collateral), and uploading the receipt image and other information into an online promotion form, via text or web-based microsite.
"We couldn't be happier than to work with Fandango Rewards on an endeavor such as this and we are looking forward to demonstrating the unique capabilities and differentiation of our technology through this relationship," said Robert Craig, Chief Executive Officer of 3TL Technologies. "We are also looking forward to continue building our working relationship, and our technologies, with Fandango Rewards for many years to come."
3 Tier Logic's recent multi-year subscription with Fandango can be modestly valued at roughly $250,000 and marks a pinnacle achievement for the company as it anniversaries the launch of PLATFORM³. In addition to the Fandango revenue, the company has also signed a deal with a leading tire manufacturing company. This subscription, like many others since 2015, shows the strength of PLATFORM³ beyond traditional CPG products and brands. In the automotive space, there are thousands of packaged goods for which CLAG wouldn't be surprised to see many more subscriptions in the future.
When we take a look at 3 Tier Logic's Q1 2016 results, the revenue growth is undeniably strong and strengthening based on recent contracts signed and those in the pipeline. And those contracts keep on getting signed with the company moving into the 3rd quarter. You may have seen the recent Milk Life commercial that aired on CNN. The campaign running with commercial spots is facilitated in the digisphere by PLATFORM³.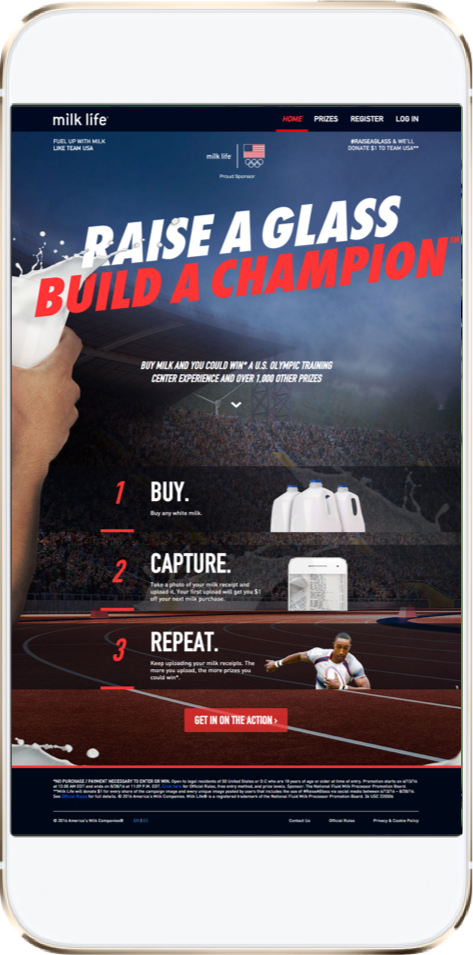 Revenues increased by 208% to $148,838 compared to the quarter ended December 31, 2015. Gross margin as a percentage of revenue increased to 79.6% compared to 37% in the quarter ended December 31, 2015, mainly due to the strong margins from SaaS revenues and economies of scale as revenues increase. The Company drew revenues of $319,163 in FY15 and has already surpassed that total in the first half of 2016. Additionally, 3 Tier Logic is positioned for growth of SaaS revenues in 2016 with repeat business expected from leading CPG brands and longer term and larger contracts driven by validation of the Company's value proposition.
Given the recent, strong subscription run-rate, invaluable technology and trends in place for CPG brands, CLAG believes 3 Tier Logic is an ideal growth investment vehicle. In 2003, Keurig Green Mountain (NASDAQ:GMCR) was a very small-scale coffee maker and a penny stock. Having participated in GMCR as an investor back in 2003 and watching it grow into a $5bn revenue earner over the next 10 years proved a worthy investment for many that watched the stock rise from roughly $2 a share to well over $150 a share. Being able to see the vision and dynamic product offerings for a company at the early stage of growth is not always presented openly in the marketplace. Capital Ladder Advisory Group aims to deliver such investment opportunities to the investor community at large. Quite often, companies like 3 Tier Logic render themselves "under the radar" until brought into the light by analysts and research firms. Far too often the spotlight is shined on the company after the stock has had a significant appreciation in share price. As such, the opportunity is here to take advantage of early stage growth via 3 Tier Logic Corporation. In our coming market updates we will explore the pipeline of subscriptions/customers for 3 Tier Logic Corporation.
Disclosure: I am/we are long TTMZF.