A May 13th Commerce Department retail sales report states that the sporting goods sector enjoyed another month of y/y sales growth. The "Sporting goods, hobby, book & music stores" category saw 4.2% y/y improvement. Since book and music stores are a shrinking category of retail, sporting goods retailers likely saw greater than 4.2% revenue growth in in April. This year has been very good for sporting goods companies overall with consistent y/y gains above the growth rate of the overall retail sector.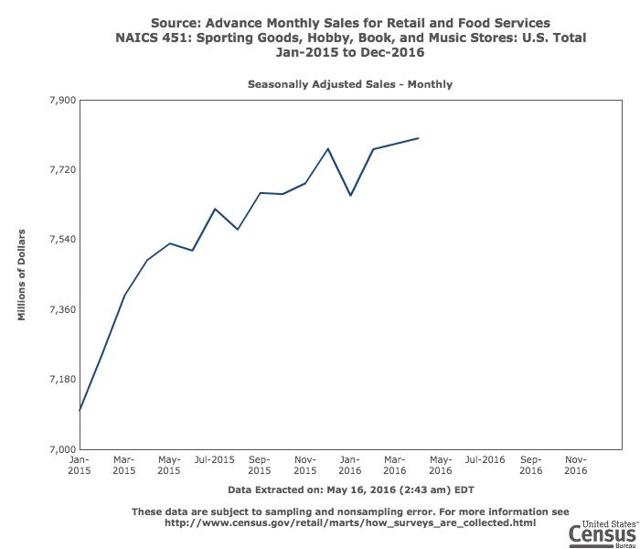 Despite the health of the industry, the highly competitive environment has eliminated Sports Authority and Sports Chalet from the market. The remaining sporting goods retailers now have the opportunity to fight for the market share previously held by the bankrupt retailers. It's a competition for a bigger portion of a growing pie! In the battle, look for Dick's Sporting Goods (NYSE:DKS) to be the biggest winner with Big 5 Sporting Goods (NASDAQ:BGFV) enjoying some benefit from the elimination of the geographically similar Sports Chalet.
Please subscribe to a free trial of the Forward View Sporting Goods Monitor premium research service to enjoy in-depth research and analyses of the best investment opportunities in the sector. We provide consistently profitable trading recommendations and fascinating field research from our team. Don't hesitate to contact us with any questions!
Disclosure: I/we have no positions in any stocks mentioned, and no plans to initiate any positions within the next 72 hours.