Datametrex AI (TSXV: DM.V) (OTC:DTMXF), a Canadian big data and artificial intelligence company, has made a series of value-adding moves within the blockchain and cryptocurrency sectors. 
Their primary technology, called DataTap, is able to collect data and use unique algorithms to provide a quick and clear point of sales [POS] information for executive decision making.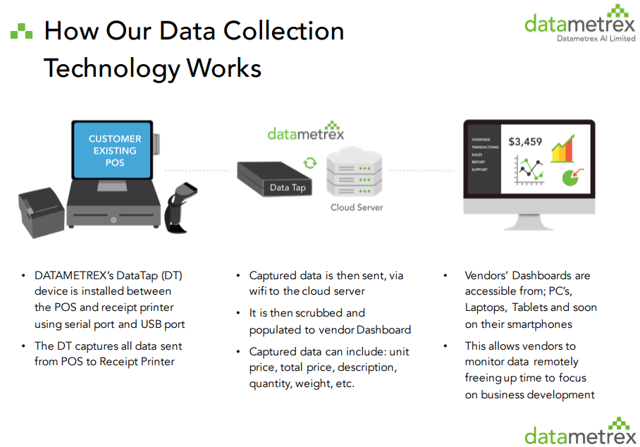 (Source: Datametrex Investor Presentation)
To achieve this, Datametrex has combined efforts with a strategic partner, AimToG, and expects to see significant revenue in the coming quarters. Large potential customers such as Lotte Group and Daewoo, two large conglomerates have expressed a serious interest in the Company's solutions following recent presentations. 
The company is also planning on integrating the DataTap environment into decentralized Blockchains to authenticate and validate the data collected.
To further their Blockchain business, they created a subsidiary named Datametrex Blockchain Limited. The purpose of which is to identify how data captured in the Retail, Manufacturing, and Healthcare sectors as well as the Government, can benefit from both the combination of Artificial Intelligence and Data Authentication.
Nexalogy Acquisition
They have also acquired Nexalogy Environics, for $6 million CAD. The main reason for the purchase was to acquire NexaIntelligence, an AI solution specifically designed for Defense and Security currently being used by government agencies. 
NexaIntelligence monitors social media, discussion forums, blogs, and news sites that crunches and cleans data to produce reports on exactly what the customer is looking for.
They are positioning their technology to be of particular value in the GovTech niche. Current customers in government include Health Canada, City of Calgary, Natural Resources Canada, Canadian Military, City of Montreal, and leads closing for the Bank of Canada.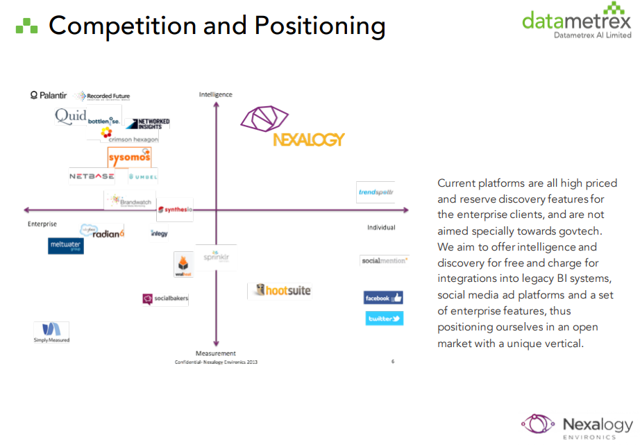 (Source: Datametrex Investor Presentation)
According to the latest news release:
The technology is capable of identifying the following:

Situations Awareness
Faction Identification
Identification of radicalization and influential actors
Country Monitoring tools:
•  country based social data feeds
•  conflict detection
•  social risk assessment
•  fake news and bot detection and social media feeds
•  artificial intelligence based summarization of social media content from a conflict or disaster area         

Disaster and Crisis Management Solutions:

Rescue assistance monitoring
Real time crisis monitoring

"With recent events internationally and in the United States, we see tremendous potential for this technology to assist governments and corporations to effectively monitor crisis around security and disaster management and prevention" said Andrew Ryu , Chairman and CEO of the company.
The company sees great potential in merging DataTrap and NexaIntelligence into one powerful intelligence gathering program.
By combining the gathered structured data through Datametrex's DataTap and unstructured data though Nexalogy's AI platform, and feeding it into a blockchain platform they will be able to truly redefine business intelligence with the most optimum and relevant information. This combination of blockchain and AI for the POS market is extremely compelling and will be unrivaled in the market.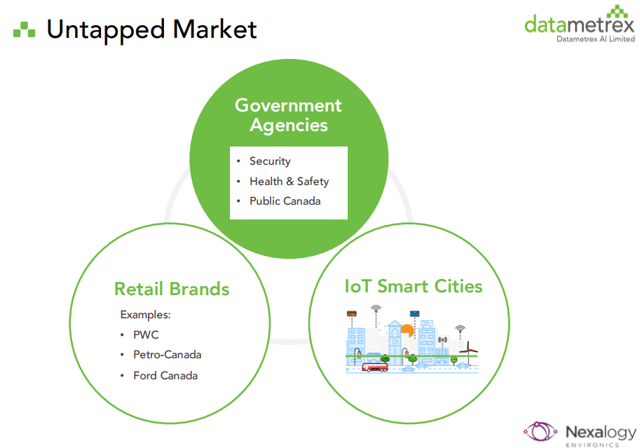 (Source: Datametrex Investor Presentation)
Prototype Blockchain Joint Ventures
On December 18th, Datametrex announced that a prototype blockchain and graph database solution was commenced with its partner, Bitnine Global, through a JV named Graph Blockchain. 
The company says that by combining graph database with blockchain technology they will provide a unique way of analyzing and organizing transactional data in real-time at speeds 1,000 times greater than traditional methods. 
The first use of this will be for the local San Francisco electric company to monitor electric usage at electric vehicle charging stations. If this prototype is proven to work as described plans are to roll-out this platform into a number of new markets. 
On November 27th, it was announced they entered into a license and development agreement with Revive Therapeutics, a medical cannabis company. 
The agreement indicates that an AI component will be developed for Revive Therapeutics Blockchain technology. Datametrex will receive an upfront license fee and monthly payments from Revive for the next 6 months and the contract can be extended. 
Ronin Blockchain
Not only are they working on supplying blockchain data platforms for business and government use, they have made moves into the high demand cryptocurrency mining sector as well.
On December 15th, a binding Letter of Intent was signed between Datametrex and privately owned Ronin Blockchain. The purchase will be $10MM of shares (at $0.25 $CAD) in three (50%, 25%, 25%) tranches. 
Ronin aims to become a large player in the industrial Blockchain mining sector through scale, innovation, and low-cost Chinese electricity.
Ronin's business model is based on an industrial scale Blockchain mining platform, which enables the company to access and manage global cryptocurrency mining infrastructure. Ronin will provide state of the art industrial mining capability across the world and utilize its industrial scale, beginning in China, to optimize efficiency and profitability of the arbitrage opportunities on a GPU based mining infrastructure.
Ronin Blockchain was started by a group of highly knowledgeable insiders in the cryptocurrency and blockchain space. For the impressive list, read here. 
The Memorandum of Understanding outlines the following key points:
An opportunity to gain access, for the purposes of crypto mining to 10 GoSun data centers by January 1st, 2018, with a minimum of 20 racks per data center. 
Access to at least 15 additional data centers per quarter for MaaS starting in Q1 2018. 
Access to all 90 data centers by Q3 2019.  
"Most favored nation" pricing for all electricity and flow through pricing if the provider reduces any costs related to electricity.
Without any details on the equipment inside the racks, I have to assume they are bare. I do know that these data racks are full-size 42U's.
Depending on the exact configuration, there can be room for around 6-8 GPU's per rig, and ten rigs per rack. For a total of 60-80 GPU's per data rack. Multiply 60 by 200 for an initial total space for 12,000 GPU's.
If they purchase the current top mining GPU, Nvidia's (NVDA) 1080 TI, at the retail price of $700 each it will cost them $8.4M USD to kit it out. I am sure they can get a quantity discount, but let's go with that number.
According to WhatToMine.com, 60 1080 TI GPU's can mine alt cryptocurrencies for a daily profit of $400 per rack at today's rates using Chinese electricity cost of $0.05 per kWh.
$400 X 200 racks = $80,000 USD per day profit. Annualized that is a $29.2M in potential profit starting in January. That's a possible annual EPS of $0.155 USD per share.
But they announced they will increase that by at least 15 data centers per quarter until the full 90 are allotted.
90 X 20 = 1,800
1,800 X $400 = $720,000 per day. Annualized, that is $262.8M in forward profit from Q3 2019.  
Say the numbers are wrong and we cut 2/3rds off, that still means a possible future annual profit of $87.6M from just this one venture.
Investing Risks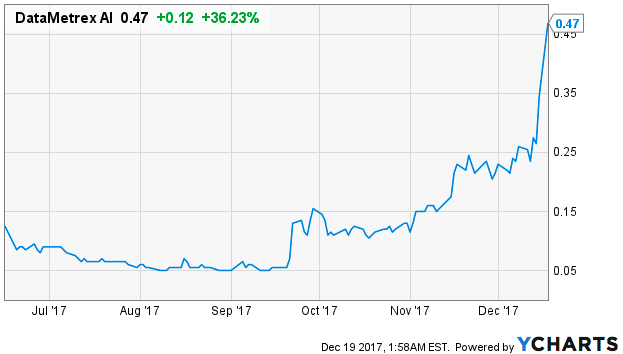 Datametrex is a micro-cap company with limited resources and has not turned a profit. Stock dilution through offerings will certainly be the main way that the company will pay for its expenses until more revenue is captured. 
In fact, with all these acquisitions since the last financial report ending on 30 September, the share count has more than doubled by my math. Going from nearly 76 million to approximately 188 million if the Ronin Blockchain deal goes through as planned. 
The stock is also sure to be volatile and any investment is extremely risky. Many of the projects they are pursuing are untested and may not pan out as intended. There is no guarantee of success.
Be aware of this and perform all due diligence before you invest. 
However, the market has seemed to noticed Datametrex and the projects it is working on as stock volumes, and price, have been increasing lately.
It is clear why they have attracted this attention. Datametrex is pursuing blockchain joint ventures to foster corporate relationships while reducing risk. They are delving into the highly profitable cryptocurrency mining sector with the backing of knowledgeable persons. They are making smart acquisitions that enhance the ability of their main data analysis business.
Any and all of these are great avenues for potential growth.
With the current heavy investor focus on Blockchain and cryptocurrency mining companies, I feel that Datametrex could find favor. 
The risk/reward ratio is worth it to me, personally. That is why I initiated a position in this company. 
Disclosure: I am/we are long DTMXF.