Since Apple (NASDAQ:AAPL) shares began their puzzling descent last September, the overwhelming and unanswered question of why the fall occurred has continually baffled investors. Sure, there have been a multitude of reasons thrown out including the argued poor performance by some of CEO Tim Cook, stronger competition from cheaper companies like Samsung and the inability of the company to bring about the next big thing in recent months.
I could even see the looming economic uncertainty, as I've mentioned before, as playing a large role.
Still, the reasons for a stock's movement is often less complicated than we tend to make it seem. In response, all we can do is learn from such occurrences and looking at a stock's chart goes a long way in that process.
From Apple's low of $82.57 from March of 2009 to the high of just over $400 shares eclipsed in late 2011, the climb for the stock was persistent, yet steady. Shares climbed, but they also had months they traded flat or even pulled back. The company grew with earnings and new products, but expectations remained realistic.
In just under three years, shares climbed approximately $300 for an average gain of $100 per year. However, that persistent and defensible trading pattern gave way to ferocious buying. Within the first four months of 2012, shares climbed almost $250 or well over double what that had gained on average in the years preceding. By September, even the launch of the iPhone 5 which drew a multitude of customers no longer made buying shares sensible.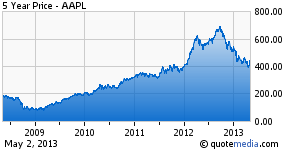 In the end, it may just be some freak coincidence that shares of the tech giant responded by retreating back practically to the same price they enjoyed before the accelerated buying began in early 2012. Or we can use such a chart as a guide towards future investment strategies. After all, Apple isn't the only company with such a history.
Shares of First Solar (NASDAQ:FSLR) hit the market in late 2006 with plenty of reasons to buy. They methodically climbed from their opening day close of just under $30 to $68 within seven months. Then, in June of 2007 shares jumped 24% or over $20 to around $89. They would climb feverishly for another 11 months before crashing hard to $85.28 in November of 2008 or to almost the same spot in which the exaggerated buying began.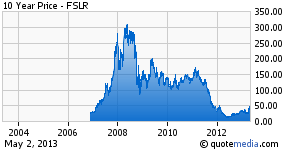 Perhaps no other stock has shown us that the heightened volatility which will always accompany the outperforming stocks and sectors can turn into panic selling more than the trade of Netflix (NASDAQ:NFLX) in 2011. Whereas Apple shareholders may be frustrated at the lack of a new product soon hitting stores, Netflix shareholders were perturbed at management's baffling attempts to separate its DVD and streaming services. So the stock, which had been slowly making gains at $50 per share before surging to $304 in 2011, inevitably tanked back to just over $50 in September of 2012.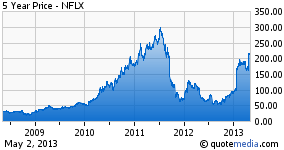 From its IPO high of $35.50 in May of 2009 until late April 2010, shares of OpenTable (NASDAQ:OPEN) had traded in a pretty tight range. Then, in almost exactly one year they soared to a high of $118.66 before falling back below $40 six months later. Most noteworthy is that the fall in shares occurred even as earnings were growing consistently and as the company was beating estimates.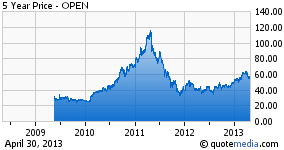 In the end, what these charts show benefits investors in two ways. First of all, buying shares in the midst of an upward swing isn't as risky as one might think. That is at least if you are willing to implement tight stop loss orders. In the midst of their runs, these stocks had little in the way of actual corrections as buying remained continuous and relatively immune to outside market developments. With most stocks in such a position gaining at least around $100, there is also usually ample time for investors to make a profit.
Secondly, most stocks in such a state fall back to the same level they traded at before the intense buying began leaving investors typically able to guess a bottom. Even First Solar, although eventually falling below support, initially gained back $120 after retreating below the $100 per share mark.
Now by no means should investors ever feel encouraged to buy into a stock which is plunging. However, charts show that even if a stock falls by a seemingly large sum, the support for shares may still be surprisingly strong.
Disclosure: I have no positions in any stocks mentioned, and no plans to initiate any positions within the next 72 hours.