Exactly one year ago, 58 percent of Americans said they would support a plan to break up the big banks. If a majority held that view then, the numbers will more than likely only become more exaggerated as this election year progresses. Of course, one can look past the negative feelings that surround such institutions from mere everyday citizens. The greatest problem in this politically focused year hinges on the fact no candidate, on either side of the aisle, would be so shortsighted as to risk their campaign to openly support such entities. At best, they'll remain mum while the opposing nominee will present their plan to weaken and dismantle the size and power certain banks hold.
Just How Big are the Risks
Republicans Don't Like Big Banks Either: Their hatred might not ring as clear as that which surrounds the Democratic aisle, but the GOP candidates understand the public's view and distrust towards the big banks. As a result, they don't dare distance themselves from the voters which they need to retake the White House. The candidates and their negative feelings towards these institutions and Wall Street in general are outpaced only by their hesitancy towards granting the government more power and control. For banks, Republicans offer only a less bad alternative
Banks Face Either Failure or Regulation: Under Hillary Clinton, banks would never be too big to fail. However, as the current frontrunner let that reality be known loud and clear, Bernie Sanders was announcing his plan to shrink the banks. In fact, he's threatened to break them up within the first year of his potential presidency. Although such goals might seem lofty and potentially even downright unattainable, the mere threat is likely to cast a dark cloud over such institutions through election day.
Dodd-Frank Might Not Get Repealed: It's no secret that if the Democratic Party retains the presidency the controversial law would continue to rule. However, it's also true, at least for Republicans, that other priorities have taken even more of a front seat. As the push to repeal Obamacare and their distrust of the nuclear deal with Iran comes to the forefront, the once despised law has taken a seemingly backseat from the political spectrum. If banks want the law axed, at best, they'll probably have to wait in an ever-growing line.
Banks Leading the Selling
A lot of the recent focus may have been on China and crude prices, but it's been bank stocks that have been among the hardest hit. While the S&P 500 has retraced 8 percent, the best performing big bank stock has been that of Wells Fargo with a year-to-date drop of over 10 percent.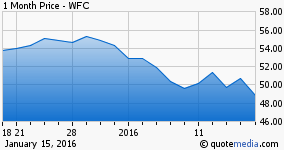 Meanwhile, JP Morgan (NYSE:JPM), Goldman Sachs (NYSE:GS), Morgan Stanley (NYSE:MS), Citigroup (NYSE:C), and Bank of America (NYSE:BAC) are all down more than 13 percent.
Lower Lows
Of course, most troubling of all is that each of the aforementioned banks are trading below their August lows while Citigroup, Goldman Sachs and Morgan Stanley are each trading at least 10 percent below those levels.
Finally, it's important to remember that with relatively decent earnings, it's not the present that concerns investors regarding these names, but rather the future. With the public relations nightmare and threats from candidates sure to only continue and strengthen, the probability of these names thriving this year remains unlikely.
Disclosure: I/we have no positions in any stocks mentioned, and no plans to initiate any positions within the next 72 hours.
I wrote this article myself, and it expresses my own opinions. I am not receiving compensation for it (other than from Seeking Alpha). I have no business relationship with any company whose stock is mentioned in this article.