For those who have been tuning into the "great American" Post Holdings rally, you may have your guard up about whether or not to give this company the time of day. Its share price fluctuated anywhere from $33 to about $60 in one year alone and has suffered the wrath of what Benjamin Graham calls "Mr. Market" due to a loss in third quarter earnings reports. Compared to the $1.44 EPS third quarter earnings in 2013, Post reported an EPS of $0.29 in 2014. Analysts expected a higher profit this quarter but were met with disappointing results no thanks to Post's increased expenses.
Most recently, Post has been criticized for its announced $128 million acquisition of American Blanching Company. Taking a look at the nearly doubled net sales of $633 million this year- beating analyst expectations- shows that there is more to the story than the numbers. Two thirds of net sales actually came from the already acquired segments: Michael Foods, Active Nutrition, Attune Foods, and the private brands sector. Looking closer at the situation: gross profit actually increased while operating profit decreased $8 million.
Since New Years Eve of 2012, Post Holdings has both vertically and horizontally acquired a series of smaller companies in order to expand its business, increase cash flow, and jump-start growth. The first in this long list is Attune Foods, which is also a producer of snacks and cereals. The upcoming 2013 year turned out to be just a warm-up with the acquisitions of Hearthside Food Solutions in late May and Premier Nutrition Company in early September.
Investors were turned off by what seemed like a random $370 million purchase of Dakota Growers Pasta Company on New Year's Day in 2014. This is the first example of Post's horizontal integration, however, and should not be written off as pointless or random. This move is, in fact, the company's first step of diversification into all food groups in order to increase future cash flows. Currently, the ready-to-eat cereal market is losing its popularity to healthier alternatives, like yogurt, so Post had no choice but to expand or it would remain stagnant. Post is still able to generate a steady cash flow from its cereal business, but is extremely wise in distributing some of that cash to other food groups in order to stimulate company growth.
Trailing behind the Dakota Growers acquisition are the purchases of Golden Boy Foods, Dymatize Enterprises, and related assets from Nestlé, such as PowerBar, all within the month of February. Dymatize, PowerBar, and Premier Nutrition are all manufacturers of protein/nutritional supplements and further push Post Holdings beyond its pre-existing cereal and snack limits.
Golden Boy Foods and American Blanching, both peanut butter service companies, were purchased in an attempt to expand Post's peanut butter service. Previously, Post did not manufacture its own peanut butter, so taking on these two companies is simply an intelligent ploy to exterminate purchasing costs in the future.
While Post Holdings' revenues begin to climb higher due to the horizontal acquisitions of Michael Foods (in June of 2014), a producer of a variety of food products, for $2.45 billion and the protein/nutrition subsidiaries, its expenses will be on the decline and therefore profits will rise. Keep in mind, also, that while the acquisitions appear pricey through the articles they're written about in, they have expected sales contributions. For example, American Blanching cost Post $128 million in cash. American Blanching is expected to rake in a whopping $135 million in sales, though. A similar analysis can be done with the other acquisitions as well as demonstrated by the third quarter net sales and newly acquired segments mentioned before.
Based on this information, now is the time to move in on Post Holdings, Inc. (NYSE:POST) while the price is right and the action is hot.
5-year analysis charts: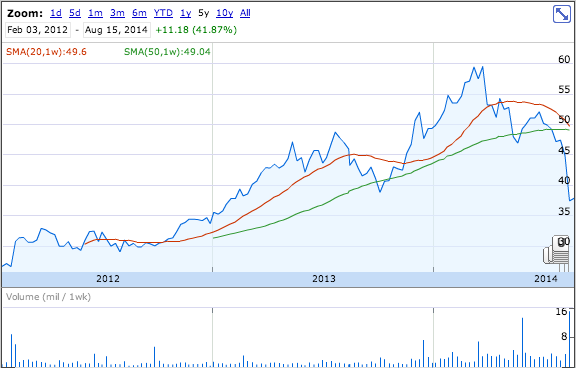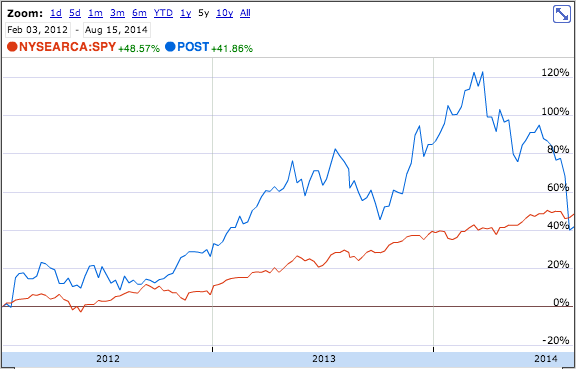 [Next up: a quick look into Lockheed Martin and its advances with graphene]
Sources:
abcnews.go.com/Business/wireStory/gap-po...
en.wikipedia.org/wiki/Post_Foods#Post_Ho...
seekingalpha.com/article/2327185-post-ho...
www.thestreet.com/story/12843698/1/post-...
www.prnewswire.com/news-releases/post-ho...
www.rttnews.com/2366687/post-holdings-to...
www.rttnews.com/2366665/post-holdings-po...
Disclosure: The author has no positions in any stocks mentioned, and no plans to initiate any positions within the next 72 hours.