Despite Exxon Mobil (NYSE:XOM) management's assertion of achieving strong results for the first quarter in 2013, I saw declining sales and flat earnings.
click to enlarge)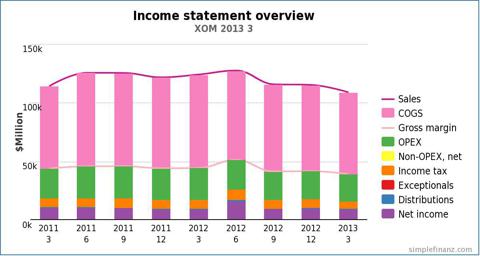 Double-checking the data I still see the same, and I have a tough time finding out what is "strong" here. Help needed please!
The cuts operational expenses saved the net income.
Cash and current assets are being depleted and bleeding as well (more detailed and interactive charts on my site).
Large spending for Celtic Exploration and other new investments have still to show results. We assume there is some oilfield depletion here, despite huge investment by Exxon Mobil to develop and maintain fields.
XOM plans to spend some $38 billion per year for the next few years for new investments. However Mr. Lee Tillman, currently the engineering vice-president, just left Exxon Mobil for Marathon Oil Corp., a competitor. The departure may affect Exxon's investment plans.
Billions of stock repurchases apparently stabilized XOM price so far.
There is some ongoing cash burn for the last four quarters; coupled with the decline in production, that's not encouraging. XOM strength is yet to be seen.
Disclosure: I have no positions in any stocks mentioned, and no plans to initiate any positions within the next 72 hours.