Tiny 3D Printing R&D company Sigma Labs (NASDAQ:SGLB) was just awarded a grant by The National Institute of Standards and Technology (NIST) may be of interest to investors in 3D printing stocks.
To underscore the importance of this grant I'd like to quote the leading industry authority, Terry Wohlers, on the importance of standards for real-time process monitoring during 3D printing:
"Standards for processes and materials need to be created so that design engineers can specify AM with confidence. Systems need to include real-time process monitoring and control. System speed, maximum part size and costs must improve."
Now it appears the NIST grant winners, as a consortium of Universities, non-profit organizations, private and publicly-traded companies, are going to be addressing this industry need. The goal "is to produce a "3D Quality Certificate" that would index in-process measurements to part geometry and properties."
It probably comes as no surprise that the competitively awarded grants were won by large, well known industry players such as Oak Ridge National Laboratory, General Electric (Aviation and Inspection Technologies), Lockheed Martin, Pratt & Whitney, Northrup Grumman, and Boeing.
But there is another company that will be part of this project that 3D printing investors might find interesting. I have confirmed through Mark Cola, CEO of Sigma Labs Inc., (NASDAQ:SGLB), that they are also one of the grant winners via their wholly-owned subsidiary B6Sigma.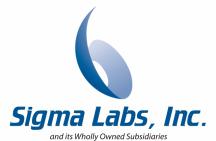 Sigma Labs Inc. has been making inroads in the industry with notable player GE Aviation. Greg Morris, (GE Aviation's business development leader), had this to say about Sigma Labs while beta testing their patented real-time inspection hardware/software suite, "PrintRite3D".
"Today, post-build inspection procedures account for as much as 25 percent of the time required to produce an additively manufactured engine component. By conducting those inspection procedures while the component is being built, GE Aviation and Sigma Labs will expedite production rates for GE's additive manufactured engine components like the LEAP fuel nozzle." (see GE Aviation press release)
Sigma Labs plans to have their PrintRite3D system (download PDF here) ready for launch next year.
With the results that beta testing of PrintRite3D with GE Aviation has shown, their grant award last week by NIST to set the standards for real-time process control for additive manufacturing, and planned commercialization of PrintRite3D next year, I believe Sigma Labs (SGLB) is "one to watch".
Disclosure: I am long SGLB.