Yesterday we saw a mega jump in the stock market when the Fed announced that there was no taper. People got bullish again. Some charts are telling they can see some downside the coming days.
Take a look at the Visa chart. The stock is shooting up for 9 days in a row. You would think that this will be a buy? No, it's a short!. We all know that institutions want us to believe that stocks will break or breakdown. It's the same in this case, I'm thinking that all the people who bought visa today, did this without looking at the daily chart first.
As a technical trader, I'm always looking for indicators where a stock can go and what my maximum loss will be before I enter a position. Visa got a topping tail on the daily chart and we never closed above the double top high from the end of July. Will this be a breakout? The answer to that question will be no.
Now how will you play a setup like this? I will always wait for a retrace. In this case a retrace to 196 before I will take a short. My stop out on this trade will be any close above the $198.00. Some people will go short already, but when you are handling with a good money management system you will wait at least for a 50% retrace.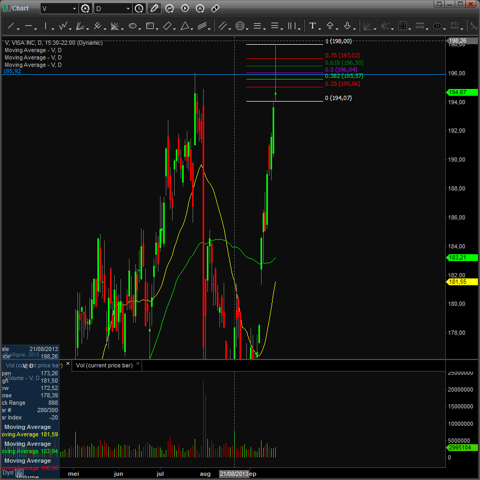 Kristof De Block
Stockinterceptor.com