Signals from TSLA are a mixed bag:
Major technical indicators are overwhelmingly negative shouting out Bearish Sell
Elon Musk's tweet related run-ins with SEC is always on the horizon as a source of distraction TSLA.
The number of TSLA vehicles delivered dropped 31% in Q1 2019 compared to Q4 2018.
All of these factors have led to more analyst to drop ratings on TSLA in the past few weeks.
And yet the die-hard TSLA bulls aren't seeming to give up
Is there money to be made on TSLA in this environment? Do you have the courage to short TSLA when in the past TSLA short sellers have repeatedly been burned? That is too risky. After all, TSLA is a darling Artifical Intelligence play and for the bulls, the short term doesn't seem to matter and they seem to come rushing in to buy at any sign of price drop regardless of fundamentals.
I dare say that there still is one sure shot way to make money on TSLA albeit with minimal risk. The opportunity exists because TSLA is a very volatile stock and with that comes high option premium.
Let us first define the support levels:
The current down cycle is converging. A breakout can occur very soon upwards or downwards. One catalyst is the upcoming TSLA quarterly results on 4/24/2019. Coupled with Q1 earnings season beginning there is an overall elevated risk in the market.
A downward breakout can result in 250 support level being breached

If 250 level gets breached then TSLA can test support level of 240, and could even in the worst case scenario go back into consolidation mode into its previous support bands.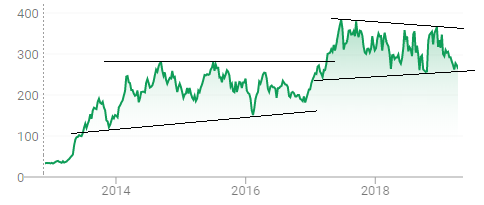 What is the trade? Here are a few options:
Short duration play ahead of results: Sell puts at a strike price of 250, expiring April 18, 2019 and earn a premium of $0.94 (based on bid on 4/12/2019). For 4 days that isn't bad considering that is an annualized return of around 34%. The only risk is that if the support level gets breached this week on the downside then it can drop further down.
Mid to long duration plays post results:

Sell puts at a strike price of 200, expiring Jul 19, 2019 and earn a premium of $7.20 (based on bid on 4/12/2019). For 96 days that is an annualized return of 13.7%. Note that Jul 19, 2019 would be right ahead of Q2 results. It would be a good idea to write options ahead of next quarter results considering post results the risk levels again get elevated.
Alternatively, a slightly more aggressive strategy than above would be to sell puts at a strike price of 220, expiring Jul 19, 2019 and earn a premium of $11.15  (based on bid on 4/12/2019). For 96 days that is an annualized return of 19.2%.
Overall of the above strategies would earn you income even if TSLA were to rally upwards or potentially acquire TSLA at a lower price than today lest it was to slide down.
Disclosure: I/we have no positions in any stocks mentioned, but may initiate a long position in TSLA over the next 72 hours.