In an attempt to hold myself more accountable, I'm going to try to start insta-blogging my holdings and recording my trades.
First, we have my common stocks: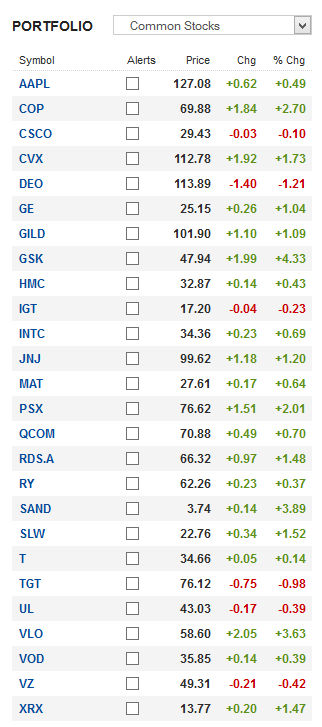 $GSK and $MAT are remnants from when I was foolishly chasing yield. $SAND and $SLW are remnants from when I was foolishly trying to diversify. All positions are small enough that I see no reason to sell. $IGT is pending a merger.
$JNJ is new this month, as it is a best of breed stock and is fairly priced at under $100/share.
My current watchlist consists of $ABBV, $EMR, $KMI and $WMB.
Next, we have BDCs: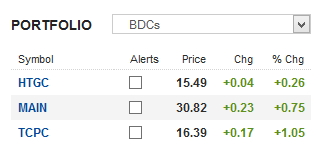 $MAIN is best-of-breed, and I intend to hold it forever unless tax regulations change. $HTGC and $TCPC were bough during BDC sell-offs. Both are solid currently, but they're candidates to be sold should their share prices inflate.
I currently have no BDCs on my watchlist, as I feel that I have enough BDC exposure.
Next, we have REITs: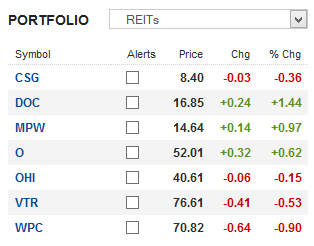 REITs are currently way overvalued. As such, I have sold off all of my more speculative REITs, with $CSG being the only non-best of breed remaining.
$STWD is on my watch list.
Disclosure: The author is long AAPL, COP, CSCO, CVX, DEO, GE, GILD, GSK, HMC, IGT, INTC, JNJ, MAT, PSX, QCOM, RDS.A, RY, SAND, SLW, T, TGT, UL, VLO, VOD, VZ, XRX, HTGC, MAIN, TCPC, CSG, DOC, MPW, O, OHI, VTR, WPC.