First, we'll start with the common stocks:

Then the REITs: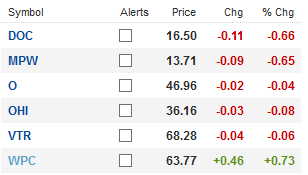 Then the BDCs:

As far as transactions go:
On 4/24/2015, I started a small position in $GRMN. The company has zero debt, a high dividend, and a talented engineering staff. Again - it's a small position, but I'm speculating that they are in a good position to expand with respect to autonomous cars.
On 4/29/2015, medical insurance companies tanked. I took advantage and started small positions in $AET, $CI, and $UNH. I love the health insurance industry. Imagine how awesome owning auto stocks would be if the government fined you for not owning one!
On 4/30/2015, I added a small amount to an existing position in $OHI, and a larger amount into $WPC. Both were knocked down due to short-term issues, with $OHI's major tenant lawsuit being much more concerning. $WPC is getting beat down due to nearly a 1/3 exposure to European markets. I view the diversified exposure as a positive, as the dollar will not remain this strong forever. And I love how $WPC's management has recently been expanding in Europe while the dollar is strong. This marked the end of reinvesting the money made off of the $IGT/GTECH merger.
On 5/7/2015, I added to an existing position in $DEO. What can I say? Technically I reinvest the dividends in the company. :)
And finally, on 5/21/2015, I added a small amount to my existing position in $WPC. Honestly, nothing really excited me in the market. I missed the window on $ARCC, $HTGC is priced well but with a higher risk involved. So it was either $WPC or $T through $DTV, but I already have plenty of $T exposure. I know it sounds stupid to buy REITs knowing that interest rates are bound to rise, but I'm fine with $WPC at a 6% yield. I feel a lot of the fear is already baked into the price of $WPC, and if a REIT-killing taper tantrum does occur, it will hit more overpriced REITs like $O and $VTR harder than $WPC, at which point I will buy them.
Disclosure: The author is long GRMN, AET, CI, UNH, OHI, WPC, DEO.