In an attempt to keep myself honest about my transactions, I try to post my current holdings and what transactions I have made monthly.
First, my common stocks:

Next, my BDCs:

Next, my REITs: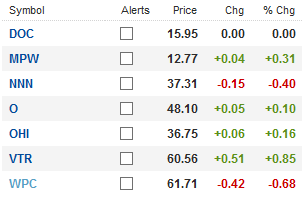 Do note that SeekingAlpha hasn't added $CCP yet, but I obtained shares due to its spinoff from $VTR.
Next, my ETF:

And, new this month, is a Motif I created that includes the entertainment stocks in the S&P 500: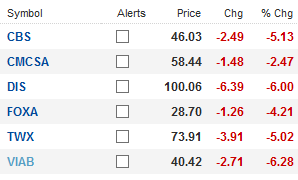 Transactions:
On 8/3/2015, I purchased shares of $PG. While not best of breed, $PG is a beaten down consumer staple, which I am underexposed to, with a 3.5% dividend yield. While there are better places to grow dividend income, the recent price drop and stagnation in common stock price appreciation has me comfortable taking my chances on purchasing $PG now and better run companies as the market continues to correct.
On 8/6/2015, I created my Entertainment Motif that includes $CBS, $CMCSA, $DIS, $FOXA, $TWX, and $VIAB. The recent selloff in content producers is nonsensical, especially in contrast to $NFLX trading at a P/E of 274!
What apparently no investor seems to realize is that a switch from cable to internet streaming still requires content. Has YouTube absorbed most of my filler TV watching (Pawn Stars, Storage Wars, etc.)? Absolutely. But has it replaced watching movies, primetime TV, etc.? Not even close. When $DIS releases the next Star Wars movie, I'm not going to skip watching it to stay at home to watch Angry Video Game Nerd videos, or any other community sourced video content. And I know I'm not alone on that, so the only argument left for why people would stop seeing movies in the theaters and cancel their cable subscriptions is that they can get the same content online. But if the content producers start losing revenue due to declining TV contracts, they're just going to increase the fees they charge $NFLX and Hulu. $NFLX then has to start broadcasting advertisements to subsidize the cost, or pass the cost on to consumers.
Or, just as likely, the major content producers can do what HBO did and just start their own streaming content subscription service. Imagine the irony in everyone abandoning their $60 cable subscriptions to then replace them with 6 $10 streaming service subscriptions, with the added requirement of paying for a $40 internet connection. Big business wins.
$NFLX has a very narrow moat, similar to AOL when broadband internet started being adopted.
$NFLX doesn't own the content, which is the only reason people subscribe. Outside of House of Cards and the third(?) season of Arrested Development, they're at the mercy of the content producers.
$NFLX doesn't own the delivery mechanism. They have no control over the internet outside of paying lobbyists.
$NFLX doesn't own the consumer endpoint. Users can use their PCs, tablets, phones, etc. to access videos, which means $NFLX will have a recurring engineering cost in keeping applications that can deliver $NFLX content to consumers up-to-date.
Every single piece of their business model is vulnerable and replaceable by a company that has the competence to cut them out. In 2015, a video streaming service is not that complicated to implement. You license the h.264 video codec, you rent some web servers from Amazon, Microsoft, etc. You create a web player application with login credentials. And you create a server application to serve the content, validate credentials, and possibly process monetary transactions. Most of this is readily available in off-the-shelf software stacks.
So, basically, I view the recent selloff in established, dividend paying entertainment stocks as a great long-term buying opportunity. And while some of my friends are enjoying the fact that my portfolio is, ignoring dividends, slightly down this year due to investing in $CVX, $COP, $RDS.A, and $XOM too early, when the eventual stock market correction occurs, I have a strong feeling that those "brilliant" investments in bubble companies like $NFLX are not going to work out so well.
On 8/20/2015, I added to my Entertainment Motif.
Watch List:
I might add to $PG so I can put it in that "I own enough to forget about it forever outside of my dividend payments" category.
European stocks seem undervalued, but it gets harder to pinpoint specific companies that are great long-term holds. For ETFs, I like $FEZ right now, but I'm still leaning $PG which I will probably regret, then not regret, then regret, etc.
Industrials are looking good as far as long-term holds go. Companies that catch my eye are $CMI, $DOW, $EMR, $ETN, and $UTX.
I missed the drop on $VZ, but am willing to wait patiently should the dividend get a bit more enticing.
Energy stocks are cheap, but I see not short-term catalyst to correct that. So even if the bottom is set, they're not a buy yet.
All of Canada - especially Canadian bank stocks also remain cheap, but financials are not a place I want to invest in fearing a market correction. And unfortunately, outside of $VRTX, Canada kind of sucks. Their main companies are service industries like telecoms and financials, or commodities which are being hit hard, again with no short term catalysts.
Disclosure: I am/we are long PG, CBS, CMCSA, DIS, FOXA, TWX, VIAB.
Additional disclosure: I am a cat on the internet