In an attempt to keep myself accountable for my transactions and to remember why I bought certain stocks, I try to post my current holdings and transactions each month. I just had a baby, so sometimes I am late on these, and other times I am early knowing that I would otherwise be late.
First, my SWANs: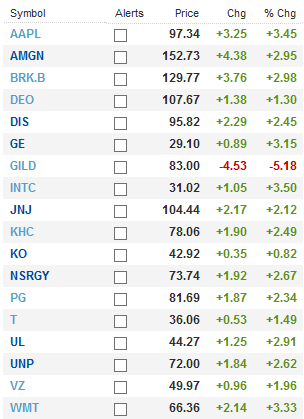 I moved $WMT from speculative to SWAN at some point due to its low beta during the recent sell-off. $TGT remains speculative, as it lacks $WMT's targeting the poor/emerging population and $AMZN's "future of retail" thesis.
Next, my speculative holdings: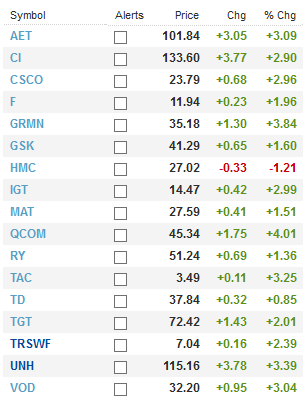 Next, my REITs: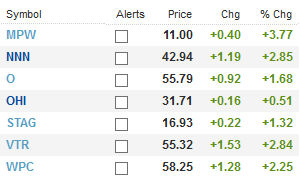 Next, my BDCs:

Next, my Energy Recovery thesis holdings: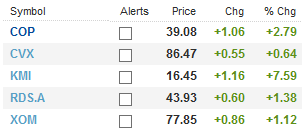 And finally, my two motifs that I'm too stubborn/lazy to close out. First, my Boom or Bust Biotech: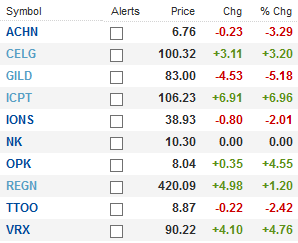 And finally, my Entertainment motif: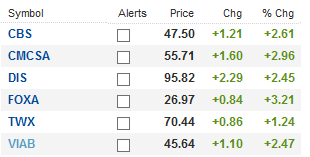 Transactions:
A lot this month due to a high amount of volatility providing buying opportunities.
On 1/4/2016, I started a speculative position in $F leading into earnings. Bought too early, but received a special dividend in the process. Could have added to $HMC, but opted for diversity. Could have started a speculative position in $GM, but $F not filing for bankruptcy in 2008 gave them the nod. $F is cyclical, and I plan to sell in the ~$14 range. Again, bought too early.
On 1/6/2016, the selloff really started to hit. To free up cash, I closed my position in $XRX early. Icahn is still doing his thing, and if I had more money, I would have waited patiently. But I'm young and I don't.
On 1/6/2016, I used the money that was speculatively invested in $XRX to add to $NSRGY. Great company. Trust it nearly as much long-term as the US Government, and the dividend yield is higher than a Treasury bond.
On 1/8/2016, I started a speculative position in $TAC. This is currently my favorite Munger Discarded Cigar Butt stock. From a comment on a $TAC article I recently made:
$TAC is one of my biggest speculative holdings that I started during the recent sell-off. While I plan on selling it well before your $7-8 price target, the combination of:* The market undervaluing the nearly 15 year window the existing coal assets have
* A strong USD/weak CAD
* $TAC's share price trading alongside to energy prices despite being a consumer - not a producer
* Increased energy demand due to El Niño ...provide multiple catalysts for a rebound. The dividend cut was done to continue growth without issuing shares at a depressed share price or taking on US denominated debt when the CAD is weak. Smart management for long-term shareholders.'

The potential USD/CAD catalyst applies to all Canadian equities - not $TAC specifically. CAD regaining some of its recent losses would boost the stock price of all Canadian equities, including $TAC. Again, I view $TAC as a medium term trade and not a long-term investment. $TAC seemed like a safer way to play Canadian stocks being oversold. A vast majority of Canadian stocks are either financial or commodity based, which are historically not good investments during recessions. However, utilities are typically safe. Most Canadian utilities are government owned, leaving only a few, such as $TAC, as options to play this thesis.I do agree that now is not the time for $TAC to start construction on clean energy plants. Fortunately, they have nearly a 15 year window to do so. And their competitors face the same short-term hurdles.
My sell price target is $3.60, unless I need the funds elsewhere. So far, I am up 14.5%, so that's good. I missed the drop after the dividend was cut, but that recovered quickly as it was really a non-issue.
On 1/12/2016, I added to $MPW. The yield is insane in a stagnant market. The value of the underlying property is secure. And hospitals are among the safest of medical real estate classes you can get.
On 1/14/2016, I again added to $NSRGY. Still filling out that position.
On 1/15/2016, I started a speculative position in $STAG. I was torn between doing this versus adding to $MPW, but diversification preserves wealth. I view $MPW as safer, but $STAG is undervalued unless the US goes into a full-on recession. At that point, the money wouldn't be safer in large-cap stocks like $F or $GM, so targeting a high dividend yield makes sense in what has been a stagnant stock market.
On 1/20/2016 - where the bottom really seemed set in - I started a position in $BRK.B. The stock was priced close to Buffett's 1.2x book value in which he said he would buy back shares. I don't like $BRK.B as it does not pay a dividend, and long-term, I will probably regret not buying $MMM instead. But $BRK.B at 52-week lows is a safe place to stash cash, and I had made multiple speculative investments prior.
I missed a short $BDCL correction rally. I have myself as a investor for that. Worst case, I could have sat on it and its then impressive yield.
There are still some great values in the market right now, but I am broke. Christmas credit card bills are due, and I was active recently. So unless a speculative investment rallies, or something gets insanely undervalued, this will probably be a passive month for me. As always, we'll see. My moves are both bank account and market dependent, and thus out of my hands.
Disclosure: I am/we are long $TAC, $MPW, $STAG, $NSRGY, $BRK.B.
Additional disclosure: I am a talking cat on the internet - not a financial adviser. Take what I say accordingly.