The mobile app ecosystem is maturing with the standardization of Deep Linking, a method allowing apps the ability to seamlessly link to any specific content from one app into another.
As native mobile app usage continues to rise, page views generated ad revenue will decrease. A reallocation will occur as a result of this transformative shift.
With the adoption of deep linking, a strengthening revenue source opportunity within the mobile app ecosystem will develop. Gatekeepers roles will change.
Mobile Deep linking with App Indexing Search will redefine the current economics driving the internet. Deep linking will become the currency of the mobile app ecosystem.
Mobile Deep Linking: A Pivotal Shift
A new opportunity is building in the native mobile app ecosystem as the challenge of interconnecting one app's content to a specific section of another apps content gets addressed. Much in the same way the hyperlink created the world wide web enabling content discovery and interconnection through search indexing, mobile deep linking will allow apps the ability to seamlessly link to any specific content from one app into another.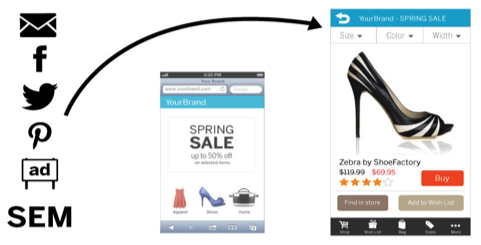 As changing social behavior continues to shift in the internet space, time spent and user engagement continues to rise in mobile app usage, a new currency channel opportunity in the native mobile app ecosystem is being formed. Facebook (NASDAQ:FB) and Google (NASDAQ:GOOG), as well as a handful of startups, are handing developers the tools to address this shifting market need. Mobile deep linking is the transformative shift that will change the economic front of the internet.
Facebook and App Links:
On Apr 30 2014 at Facebook's F8 Developers Conference developed in partnership with industry leaders, Facebook introduced App Links, an open source, cross platform solution for linking on mobile apps.
"Linking is an important part of what makes the web great, but right now it's too hard to implement and expose deep links on mobile. There's no way to know if another app supports deep links, and there's no single standard that works across mobile platforms.

"Today, we're announcing App Links, an open, cross platform solution for app-to-app linking. App Links gives you all the tools you need to expose deep links in your app and link to other apps."
In a July 1 2014 Facebook blog post, just three months after it's introduction, Facebook announced App Links had reached more than one billion mobile destinations.
Google App Indexing Expanded:
More apps in Google Search-now even easier to use
The Official Google Search Blog - Jun 25 2014
"Sometimes the best answer is on a website, and sometimes it's in an app. That's why since last December, when you search with Google on your Android device....

"Deep Linking opens a new currency gateway to the mobile native app ecosystem. A pivotal shift in internet economics is about to take place."

Brad Franklin . Mobile Technology Strategist
Original Source . Please continue to full article...
Disclosure: The author has no positions in any stocks mentioned, and no plans to initiate any positions within the next 72 hours.