On Sunday, March 4, 2012 we posted an article comparing two of the markets popular stocks and as a short re-cap we wrote the following:
Apple Incorporated (NASDAQ:AAPL) or Silver Wheaton Corporation (SLW): some would say its a little like David and Goliath or Bambi meets Godzilla. Apple is currently the darling of the technology sector and Silver Wheaton is hugely popular in the precious metals space.
As investors we need to continually ask the following question:
Is this the best investment vehicle for my hard earned cash?
So, we took a look outside of our precious metals box and duly noticed the meteoric rise of Apple. No doubt the supporters of Apple would find it laughable to be compared with a much smaller silver streaming company. If we take a quick look at the performance of both since January 2011 we can see that AAPL is the winner by a long way.
We also posted this chart of the progress that had been achieved by both companies.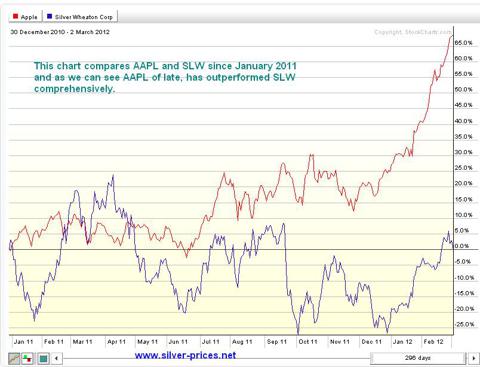 If we now fast forward to today we have the following financial data from which we can glean that Apple continues to make terrific progress and that Silver Wheaton has finally started to gain some traction.
Apple Corp has a market capitalization of $657.97Bln, an EPS of $42.54, a 52 week low of $342.24 and a high of $702.33, average volume of shares traded is between 13.00Mln and 14.00Mln, so the liquidity is very good allowing ease of access and exit when trading, with 937.41 million shares outstanding. Current stock price is $701.91.
Silver Wheaton Corporation has a market capitalization of $14.00Bln, an EPS of $1.60, a 52 week low of $22.94 and a high of $42.50, average volume of shares traded is between 4.00Mln and 5.00Mln, so the liquidity is good, with 353.87 million shares outstanding. Current stock price is $39.55.
In terms of market capitalization APPL is 47 times bigger than SLW, also of interest is that its EPS is greater than SLW's stock price.
Now, when looking to invest in a stock we try to acquire a stock that we believe can double in 12 to 18 months. For Apple to double it will need to become a trillion dollar plus company. This is a big ask, even for a stock market favorite, however, it is heading north with considerable speed. On the other hand, SLW will need to grow its value from $14Bln to $28Bln, which is also a big ask, but who would have thought it would have gotten this far back in the day when it could be acquired for around $4.00.
These are two totally different companies in different market sectors so its very much like comparing apples with oranges. However, when we look at the price of these stocks as of March 4, 2012 (when we suggested that SLW would outperform AAPL by the year end) and compare them to the prices that we have today, we get the following result;
AAPL: March 4, 2012, $545.18 - Today $701.91 an increase of 28.7%.
SLW: March 4, 2012, $37.59 - Today $39.55 an increase of 5.2%.
Clearly, Apple has outperformed and has been the place to be. So well done to Apple shareholders.
Taking a quick look at the latest chart we get a similar story, however we would ask you to note the recent gains made by SLW since July, largely on the back of improving silver prices and the acquisition of additional revenue streams. The magnitude of this move has been phenomenal in our opinion. We now expect silver prices to continue to rally with SLW making very good gains.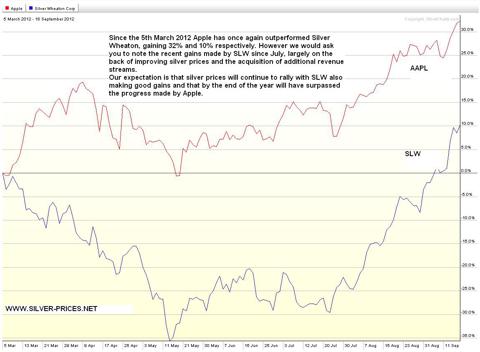 Putting the euphoria to one side we do expect Apple to plateau and possibly undergo a correction in the short term and Silver Wheaton to gain on the back of rising silver prices and therefore humbly suggest that Silver Wheaton will outperform Apple between now and the year end. By outperform, we mean that it will experience a bigger price increase in percentage terms. We will continue to monitor both companies between now and then and provide an update as and when there are any indications of substantial developments in the direction for either stock. So its a race to the end of the year between the Techies and the silver bugs, may the best stock win.
For disclosure purposes we must point out that do own stock in Silver Wheaton and we do not own stock in Apple Incorporated, so our view should be considered in the light of that knowledge.
Silver Wheaton Corporation trades on both the NYSE and the TSX under the symbol of SLW.
Apple Corporation trades on both the NASDAQ under the symbol of AAPL.
Bob Kirtley
URL: www.gold-prices.biz
Email:bob@gold-prices.biz
Disclaimer: www.gold-prices.net or www.skoptionstrading.com makes no guarantee or warranty on the accuracy or completeness of the data provided. Nothing contained herein is intended or shall be deemed to be investment advice, implied or otherwise. This letter represents our views and replicates trades that we are making but nothing more than that. Always consult your registered adviser to assist you with your investments. We accept no liability for any loss arising from the use of the data contained on this letter. Options contain a high level or risk that may result in the loss of part or all invested capital and therefore are suitable for experienced and professional investors and traders only. Past performance is not a guide nor guarantee of future success.
Disclosure: I am long SLW. I wrote this article myself, and it expresses my own opinions. I am not receiving compensation for it. I have no business relationship with any company whose stock is mentioned in this article.