Brief Notes:
Sunday afternoon's I clean up my notes that have been shuffled to the bottom of the pile during the week and I nearly always find something that re-pricks my curiosity.
This week it is a focus on Emerging Markets.  It is possible that these guys may be leading the marketplace down. 
As you know by now - technically, for bullish time frames, I like to have the trend, momentum and relative strength already "Going-To."  That means that the General Market, Sectors and Industry Groups are clearly in an ascending posture and the Candidates for Buying (C4Bs) are tracking very well.
For the current time frame, my focus is - that I am anticipating a General Market Bearish Inflection Point and therefore my analytic work is bearish.  That should make sense to just about everybody.  Therefore / Clearly, I am doing just the opposite from the above paragraph.  I am focused on the "Coming-From" and descending posture and the Candidates for Short Selling (C4Ss).
I am ready to implement, and only need the General Market to finish screwing around in its current topping of an outstanding September to date – Bullish Cycle – rally.
Table of Sectors and Commodities: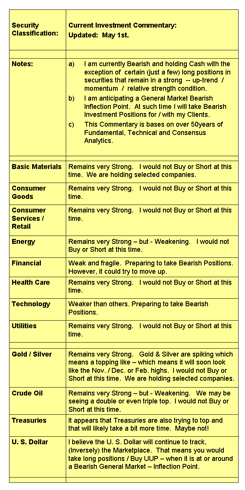 My Most Current Market Status:

You will find this information in my Tuesday, Thursday and Saturday postings here in SA - Instablog.

Wrap for the Weekend:

My long awaited General Market Bearish Inflection Point will have to wait yet another week or so.  I think!  I do hope you stay tuned.

Smile, have fun – Investing Wisely,

Steve