So - What Did the Market - Tell Me this Past Week ? ( 07-28-13 )
What You Should Know that You Likely Don't Know - About Being Consistently PROFITABLE: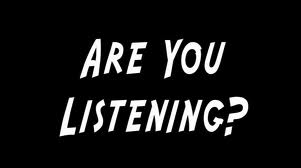 The Market is "Teaching" and "Telling its Story" each and every week. You need a trained ear and the ability to be a "LISTENER" and you will be rewarded with Consistent Annual Profits.
It is sad for me to share that my frequent Emails from Investors and even Clients has made quite clear that they are Not Listening Investors.
* Don't take time to "Listen" to what the Market is telling them anymore.
* Don't have the time to "Keep-Up" and still believe they can compete with the professionals. That is almost funny!
* Are not sufficiently knowledgeable or experienced in Stock Market Investing to know they are being screwed by Wall Street each and every day. All 95 million U.S. Investors are too much in a hurry to "Listen" what is happening to them by the Bad Guys.
* Mutual Funds have become the proverbial "Dinosaurs" of "Investing Wisely." The Rewards are Very Slim and the Risks are Very Fat.
* Do not have the Patience or Discipline to profit. The world has become too "NOW" for them.
* To "SLOW DOWN" and become "Serious Investors" is simple not possible - anymore.
* Narcissism has become an Over-Whelming mind-set.
* In many cases - Un-Believably to me - They (Investors) Don't Seem to "CARE" enough.
This Week Confirmed by Telling Me:
Three Weeks Ago / This Week
* Three Weeks Ago I Said: "The Market is due for a Rally." - - - This Week I Say: I was right.
* Three Weeks I Said: "A TOP is in the Making." - - - This Week I Say: You had better believe me.
* Three Weeks I Said: "Gold is heading still Higher - for a short time." - - - This Week I Say: I was right on the button.
* Three Weeks I Said: "AAPL will rally and then head Lower." - - - This Week I Say: You had better believe me.
This Weeks New "Stuff:
Tune-In -- to my SeekingAlpha.com - Articles. (if you will follow for a short time you will see my Opinions and Forecasts are Very Accurate and thus Very Profitable).
URL - - https://seekingalpha.com/author/steven-bauer/instablog/full_index
* The Market has remained strong but is breaking-down - internally - and that is and has been costly.
* One after another Company is getting hit with daily notable losses and nobody seems to understand until it happens to them. Even Then - They Don't Get the Message!
* The Bloggers are WAY TOO BULLISH. They also do not have Bear Market Experience for the most part.
* DON'T BUY - - if you are an Investor. "Traders" are DEFINITELY NOT Investors.
Each Week I will Update and provide more "one liners" for you to Ponder.
If I can help with Guidance and Direction, please feel free to ask via my Email.
Dr. Steve