Supportive Information for My Bi-Monthly Update Articles
My logo is: "Investing Wisely."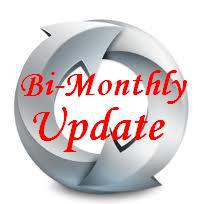 My "Bi-Monthly Update" Articles are designed to provide Investors specific support and direction for the profitable management of their portfolios. They are intended to share the fact that PROFITS are always well "Hidden." I do my best to communicate the essence, e.g. - - Is it - or - Will it be more Profitable to - - Hold the Company / ETF in your Portfolio - or - Hold-Cash for a future investment?
It is my strong belief that Investors, who are seeking "Income" (perhaps for Monthly Income) - or - "Growth" (perhaps for keeping up with Inflation) - or - "Aggressive Growth" (perhaps because that person / investor is Proactive by Nature) - - are being short-changed by Mutual Funds and often the Brokerage community. These organizations / firms - - longer-term performance record - does not come close to my minimum and attainable objectives.
That "Income" objective is a consistent annual return of 10% to 12% or more. Most often more!
That "Growth" objective is a consistent annual return of 12% to 18% or more. Most often more!
That "Aggressive Growth objective is a consistent annual return of 18% to 24% or more. Most often more!
With over 50 years of Asset-Management experience, I have much confidence that I can continue to serve my "Three Asset Allocation Models" as stated above and annually offer that kind of return with a very low risk / reward threshold.
Confirming that you have an appropriate and personalized Asset Allocation Model is your first step to consistent annual profits and financial peace of mind. (I can help if you like).
Important: Please Click and Read the following URL - - > https://seekingalpha.com/instablog/121308-steven-bauer/2134782-supportive-information-for-my-bi-monthly-update-articles
Forecasting - - to Insure Profits
I began Forecasting four decades ago. Upon coming out of retirement in 2007 this focus has become a daily routine. I began publishing my Forecasting here in SafeHaven.com early in 2011.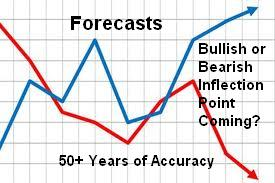 Forecasting is quite simple once you do it over and over again for many years. Being consistently Profitable begins with Accurate Forecasting and Analytic Procedures, then it requires Well Honed: Fundamental - Valuation, Technical - Analytics and Consensus - Opinion. When you add my Confirmation work, it ends with Profitable Results. (F / C = PR).
The above (F / C = PR) is as Accurate and Profitable - formula as anything you will find in the financial blogs you may be reading. Try me!
My near-term and longer-term Forecast for any Indice, Sector, Industry Group, Company, Commodity or ETF on the planet, goes through a process the gives me a "heads-up" or leading picture of those securities that I call: Candidates for Buying (C4Bs) and Candidates for Shorting (C4Ss). On a daily basis, I simple research and do my analytics on a number of securities.
It is kind of like going fishing, some days you come home empty, and sometimes you catch your limit or even a Big One! I then add those that project to be very Profitable in future months and add those as "Candidates" - Bullish or Bearish on my two "Lists."
Guidance as to My Use of the Terms: "Hold" and "Hold-Cash"
All of my published articles use just two terms for guidance and direction that I would like to explain. A little support and details never hurts when it comes to managing money "Wisely."
Each Sunday I write and Publish an Article, here in SeekingAlpha.com, about What I Learned in the Past Week. For me as a senior and academic person (two doctorates) I continue to focus on just two things: The first is on going Learning - and - from the Learning, the second are the Rewards, and they are called Profits.
The terms are: HOLD and HOLD-CASH.
Typically, when I Forecast or offer my Opinion to: HOLD, I am assuming you currently have a position in that Company or ETF. Or -- Perhaps you are just considering it for Buying? I will often say: HOLD, "In anticipation of taking profits." Clearly, that implies that my Analytics does not suggest that there is much more up-side for that particular security. This is particularly so, when it is coupled with my words: Initial or Strong - Bearish "Warning." This later term can become very difficult for some investors to handle. It is a "Now World" and Discipline and Patience is often difficult for people / investors to maintain. My "Initial or Strong - Bearish "Warning" can be in place for literally months. That is why I also say: "Don't get nervous quite yet." Caution and Prudence are just two more components of consistently Profiting in the Stock Market for me.
Ok, now you should know that I also use perhaps a more positive set of words - they are: Initial or Strong - Bullish "Alert." Here I often say: "Don't get excited quite yet."
As mentioned above, I maintain two Lists for my Asset Management. They are Candidates for Buying (C4Bs) and Candidates for Selling (C4Ss). (The latter can also be used for Shorting with Aggressive Clients).
Typically, when I Forecast or offer my Opinion to: HOLD-CASH, I am assuming you do not have a position in that Company or ETF. HOLDING-CASH is not something Wall Street tends TO Recommend! I DO ! It is another way of my telling you I have "Sold" that security and am Holding Cash.
When my Clients are "Holding-Cash" they are waiting for me to make new Formal - Buy (or perhaps Short) - Recommendations. Those Recommendations will rarely be the same Company or ETF; I am Forecasting - or - giving my Opinion on in my Public Blogs!
Think about that for a minute or so - - I have a very large Universe of "Income" / "Growth" / "Aggressive Growth" securities to choose from! Seldom are the Big Blue or High Profile Companies or ETFs the most prudent and project to be the most profitable in which to invest your money.
I do not publicly provide: Buy / Sell -- Formal Recommendations but I will be very specific with guidance and direction via Email with you - - that is for us to get acquainted.
Additional Support
You might want to check out my Personal Blog. I cover a lot of ground each and every day. Just Click - - > http://investingwisely-rotation.blogspot.mx/?spref=tw
For Guidance / Direction on the above Securities or perhaps your favorites - or - further insight into my Analytics, feel free to Email me.
My Email Address: senorstevedrmx@yahoo.com
Asset Allocation Model
"Income" is one of three Asset Allocation Models that I use with each of my Clients in the management of their assets. The other two are: "Growth" and "Aggressive Growth."
As a retired, doctor of Finance & Economics and Certified Financial Planner (NYSEMKT:CFP) - - I have the following criteria for each allocation. Companies or ETFs must have:
Income: 2% to approx. 6% Dividends with a high probability of Modest Growth. Growth: Superior Growth often with a 2% or less Dividend.
Aggressive Growth: Pro-Active Growth with typically no Dividend.
I hope you have a personalized Asset Allocation Model in place for your investment portfolio.
I try to write several Articles covering these thee Asset Allocation Models every week that are posted in the following list.
For a Full Listing of my most current Articles - Just Click - - >https://seekingalpha.com/author/steven-bauer/instablog/full index
Question
Would you be interested in Professional Guidance and Direction? I have over 50 years of Asset-Management experience with excellent and consistent annual results?
Smile, Have Fun "Investing Wisely,"
Dr. Steve