So - What Did the Market - Tell Me this Past Week ?
What You Should Know that You Likely Don't Know - About Being Consistently PROFITABLE - - (in a) Bull or Bear Market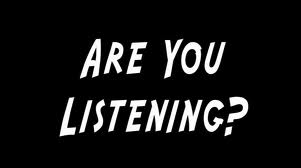 My logo is: "Investing Wisely."
The Market is "Teaching" and "Telling its Story" each and every week. You need a trained ear, experience and the ability to be a very good "LISTENER." With this, you will be rewarded with Consistent Annual Profits. I'm talking 15% to 20% net after expenses!
It is sad for me to share that my frequent Emails from Investors and even Clients has made quite clear that they are Not Listening and therefore not as Profitable Investor as they could be.
Here is my PUNCH List - - for - - Investors Who TRULY" Want to be Consistently Profitable
* They - Don't take time to "Listen" to what the Market is telling them anymore.
* They - Don't have the time to "Keep-Up" and still believe they can compete with the professionals. That is almost funny! (Play a round of Golf with Tiger - if you do not get my point).
* They - Are Not sufficiently knowledgeable or experienced in Stock Market Investing to know they are being screwed by Wall Street each and every day. Almost all 95 million U.S. Investors are too much in a hurry to "Listen" what is happening to them by the "Bad Guys."
* Mutual Funds have become the proverbial "Dinosaurs" of "Investing Wisely." The Rewards (over the past decade or more) are Very Slim and the Risks are Very Fat. Investors don't seem to understand that they are being used as Ponds in a Chess Game that is Very Serious!
* They - Do Not have the Patience or Discipline to profit. The world has become too "NOW" for them. And, the Stock Market has become a place for the Wealthy to prey on the Not-So-Wealthy.
* To "SLOW DOWN" and become "Serious Investors" is simple not possible (Psychologically) - anymore.
* Narcissism has become an Over-Whelming mind-set.
* In many cases - (Un-Believably to me) - They (Investors) Don't Seem to "CARE" enough to protect themselves against the predators.
This Week Confirmed the Above by Telling Me:
(Six Weeks Ago / This Week)
* Six Weeks Ago I Said: "The Market is due for a Rally." - - - This Week I Say: I was right and that will change in the next week.
* Six Weeks I Said: "A TOP is in the Making." - - - This Week I Say: You had better believe me. Many stocks are getting beat-up while Wall Street continues to pump-up the top-tier with their limit-less supply of money. That supply is running out!
* Six Weeks I Said: "Gold is heading still Higher - for a short time - ONLY." - - - This Week I Say: I was right on the button.
* Six Weeks I Said: "AAPL will rally and then head Lower." - - - This Week I Say: You had better believe me.
This Week's New "Stuff
Tune-In -- to my SeekingAlpha.com - Articles. (if you will follow for a short time you will see my Opinions and Forecasts are Very Accurate and thus Very Profitable).
URL - - https://seekingalpha.com/author/steven-bauer/instablog/full_index
Have a look at a few Articles and understand that I want to help you "Invest Wisely." With over 1,000 articles covering many, many Companies you will not be disappointed.
Check-Out my Personal Blog. I publish most every day. You might want to check out my Personal Blog. I post every day. Just Click - - > http://investingwisely-rotation.blogspot.mx/?spref=tw
This Week's Guidance and Direction
* The Market has remained strong but is breaking-down - internally - and that is and has been costly. There are TWO Markets running simultaneously - - the Indices such as the Dow 30, the Nasdaq, the S&P 500, etc.. There is the one that you hear about from the Media and other sources. And, there is the one that you never hear about - - the Internal Market. The Internal Market has been costly to say the least. Examples would be, Gold, Precious Metals, Metals, and of course the Darling of Wall Street - Apple, Inc.
* Last week I said: "A notable "Indice" Pull-Back is in process. This coming week is very possible - PIVOTABLE." Yes, this may well be the beginning of a "Indice" Mini-Rally.
* One after another Company is getting hit with daily notable losses and nobody seems to understand until it happens to them. Even Then - They Don't Seem to Get the Message!
* The Bloggers are WAY TOO BULLISH! The Financial Media are WAY TOO BULLISH! Many of those you are reading and listening to - - - do not have Bear Market Experience for the most part. It takes a couple Bear Markets to wipe out the Cocky, in a persons behavior. I learned this some 50 years ago the hard way..
* DON'T BUY - - if you are an Investor. "Traders" are DEFINITELY NOT Investors.
Each Week I will Update and provide more "one liners" for you to Ponder.
If I can help with Guidance and Direction, please feel free to ask via my Email.
Email Address: senorstevedrmx@yahoo.com
Smile, Have Fun, "Investing Wisely,"
Dr. Steve
My Focus Stocks for this Article: SPY, QQQ, GLD, AAPL, GE, D, SO, BAC, T, XOM