Thursday -- ( Forecasting the U.S. Stock Market ) -- October 24th:
My logo is: "Investing Wisely."
There are just two time frames that I work with. Near-Term (1 - 30 Days) and Short-Term (1 - 3 Months). Meaningful and Profitable Inflection Points (Bullish Buys and Bearish Shorts) can readily be Identified using a rather simple combination of these two time frames. Longer-Term ( 6 Months and beyond ) Forecasts have become, in my opinion, a worthless expenditure of research time and energy. The Marketplace has changed dramatically from the "old days" and that is a fact that must be understood in the pursuit of Profits. In other words using the baseball expression - hit and run. I am not a Trader and I will let my profits accumulate over the longer-term as evidenced in every articles I publish. Please read a few, they are accurate Forecasts from which to Profit.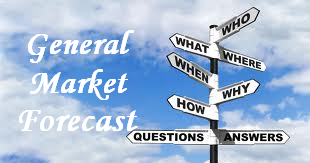 In addition, for several decades I have used what I call an I.P. Count to identify Bullish and Bearish Short-Term ( one to three months ) Inflection Points. Years ago I was able to mathematically quantify the movement of the General Market into what I call I.P. Counts. It is rather complex but in brief, when my "I.P. Count" begins to increase quantitatively, either Bullish or Bearish I know that an Inflection Point is eminent.
The Current Status of my I.P. Count is: Neutral
The General U.S. Stock Market
Today the General Market is up and Apple, Inc. is hitting a short-term high. That's Ok if you are looking for a Bearish Short-Term Inflection Point - and I am. It only means that I must remain patient and wait for my composite technical indicators to do there thing.
At this time I am holding Cash and am focused on a Topping and very likely a new Bearish Inflection Point or if you prefer a new / meaningful Bearish Cycle.
For the Near-Term: ( one day to thirty days ) The Bulls are very close to running out of the euphoric attempts to move the General Market UP. There has been very little convincing evidence that the current rally will be sustained. The coming days and perhaps a couple / few weeks will be a very fun time for me to fully test my 50+ year Methodology of "Investing Wisely."
For the Short-Term: ( one month to three months ) Topping is over-due but the coming few days of trading will be an excellent time to do my Analytics homework very diligently using all my many Indices to find the necessary "Confirmation" that the Bulls are at least dying and / or perhaps already dead.
More Updates to follow - at least a couple per week. You might want to visit my Personal Blog: > http://investingwisely-rotation.blogspot.mx/?spref=tw Stay tuned - my "stuff" is very accurate . . .
Let me know if I can help.
Smile, Have Fun, Investing Wisely,
Dr. Steve
- - -