Thursday -- ( Forecasting the U.S. Stock Market ) - November 14th
My logo is: "Investing Wisely."
Accurately Forecasting any Indice or Security for me is a routine that I have maintained for well over 50 years. There are just two time frames that I work with. Near-Term (1 - 30 Days) and Short-Term (1 - 3 Months). Meaningful and Profitable Inflection Points (Bullish Buys and Bearish Shorts) can readily be Identified using a rather simple combination of these two time frames.
Longer-Term ( 3 - 6 Months and beyond ) Forecasts have become, in my opinion, a worthless expenditure of research time and energy. I'm sure you understand my principal that is: when I have the Near-Term and then the Short-Term accurately Forecast the Longer-Term simple falls in place.
The "Dynamics" of the Marketplace has changed dramatically from the "old days" and that is a fact that must be understood in the pursuit of Consistent and Superior Annual Profits. In other words using the baseball expression - hit and run - is now the way to Profit.
As a point of clarity: I am not a Trader I am an Investor. I will always let my profits accumulate over the longer-term as evidenced in every article I have and will publish. Please read a few of my articles and you will see what I mean, they are accurate Forecasts from which to Profit.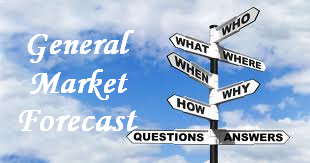 There are always many road-signs telling you - very Inaccurate information about the direction of the Stock Market. I hope you will soon see and understand the importance of: a) first - Forecasting, and then b) second - Making Prudent and Profitable Investment Decisions, and c) third - Monitoring and Continuing to Forecast all investments Frequently. That is how I go about consistently making money in the stock market for myself and my Clients.
In addition, for several decades I have used what I call an I.P. Count to identify Bullish and Bearish Short-Term ( one to three months ) Inflection Points. Years ago I was fortunate to be able to mathematically quantify the movement of the General Market into what I call I.P. Counts. It is rather complex but in brief, when my "I.P. Count" begins to increase quantitatively, either Bullish or Bearish I know that an Inflection Point is eminent. Forecasting keeps me "ahead" of all the many and confusing road-signs.
The Current Status of my I.P. Count is: Neutral with a Bearish Bias
The General U.S. Stock Market
The General Market is UP and within my Near-Term Forecasts. That will likely continue for a short while longer.
The "Bias" is however, DOWN. I often use the word "BIAS" because it is for me a more accurate word than the "Trend." Trends can be anything the Analyst / Investor wants them to be and I believe is a very mis-used and offer much mis-guidance by many financial authors and bloggers. You might ask how the "Bias" can be down with the General Market UP and often making new highs? This is where my work / analytics is very different from the "HERD." I have very accurate Primary Indicators and the Secondary Indicators I use only for support of the Primary Bias.
At this time and for me there is clearly, not yet, any Bearish Trend to follow. That is why my Forecasting is ALWAYS LEADING and AHEAD OF the Market, the Sectors, the Industry Groups, Companies and ETFs. It is an ANTICIPATORY matrix that gives me Alerts and Warnings long ahead of the actual change of direction or what I call an "Inflection Point."
I work with Cycles and only Cycles. Not one of the many approaches you read about offer even a reasonable Probability for Profit. "Reasonable" for me is: each of my Formal Recommendations has been profitable to the level of well over 90% - - that is my current performance.
I often read that this or that indicator is 60% accurate. When I was a professor of Finance and Economics, if my student was only 60% accurate he or she received an "F" grade. I often wonder why so many Analysts and Investors will invest with such a low probability of profits and accept being "F" Investors. "A's" are available to you and all Investors if you will do your homework, like I have for many decades.
In my doctoral studies we studied everything you can find in all the text books with the exception of Cycle Analysis. So, Cycle Analysis was easily my choice for my doctoral thesis. It made sense at the time for me and continues to both make sense and superior profits today. Even today there is little written about Cycles. And what I read about Cycles, does not make much sense to me. Seasonal Cycles, for me are on the level of a joke with much laughter. A simple and supportive article on My SHB Cycle Analysis can be viewed by Clicking on this URL.
I hope you will permit me to help improve your "Probabilities for Profit."
At this time I am primarily holding Cash and am focused on a Bullish Topping and very likely to be followed with a new Bearish Inflection Point or if you prefer a new / meaningful Bearish Cycle and perhaps another monster Bear Market.
Forecasting the Near and Short Term of the General Market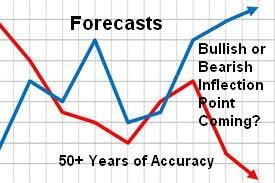 For the Near-Term: ( one day to thirty days ) A mini or bounce rally is in place for the past coupe of weeks and may already be terminating. My Forecast suggests that this rally still has more upside.
The Bulls are very close to running out of the euphoric attempts to move the General Market UP. There has been very little convincing evidence (Economically or Fundamentally) that the current rally or even future rallies will be sustained.
The coming days and perhaps a couple / few weeks will be a very fun time for me to once again fully testing my 50+ year Methodology of "Investing Wisely."
For the Short-Term: ( one month to three months ) Topping is over-due but there can be no Bearish Forecast made for the Short-Term until the Near-Term starts flashing signals. This will happen but there will first be more Topping. I call it a "Dance at the Top" and have learned to enjoy the dance and be patient.
You problem or perhaps I should say - - the Investor's problem is that there are notable numbers of Companies taking major hits on the downside nearly every day. This is the subtle way of the marketplace and only excellent Technical Analysis can help prevent major losses. There are already many "major losses" with many Companies and ETFs. Those could have been prevented.
Again, my Articles have provided Warnings, you might want to read my past articles on Apple, Inc. Few, Investors that I have had contact will have the Technical Tools to deal with this kind of "Loss Prevention."
If you are interested in my work you will have to read my daily articles for a time and then ask me questions about my Methodology of "Investing Wisely."
This URL will take you to my most current articles and you can then go back to my archive for any of the Companies I write about to check me out for accuracy.
https://seekingalpha.com/author/steven-bauer/instablog/full_index
More General Market ( Forecast ) Updates to follow - at least a couple per week. You might want to visit my Personal Blog: > http://investingwisely-rotation.blogspot.mx/?spref=tw
Stay tuned - my "stuff" is very accurate . . .
Let me know if I can help. My Email Address: senorstevedrmx@yahoo.com
Smile, Have Fun, Investing Wisely,
Dr. Steve
- - -