UnitedHealth Group, Inc. - Fit and Healthy w/ Caution
UnitedHealth continues to be one of the leading Dow 30 - Industrials composite Companies. It is on a Strong Hold, but my Indicators are breaking down. My analytics endorses the above title.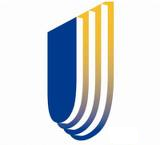 My previously written articles on UNH (just click) provide you the history of my forecasting, its accuracy and support for my performance. For over 50 years my management objective is to identify changing trends for my forecasting analytics. I simple want to have current notes to quickly refer to on the anticipated direction of this company and its industry peers.

My Performance for UnitedHealth can be found in my table below and is about 44% per annum for the last 5 years. (not including dividends).
My management objective is to monitor and identify changing trends for my forecasting analytics. Simple stated, I want to have current notes to quickly refer to on the anticipated direction of this sector and industry group.
A Special Note for Seniors & Retired Investors - Dividend Yield: 1.59%
Forecast w/ 5 Year Performance
UnitedHealth Group, Inc. and other Health Care Provider Companies are tracking the marketplace well.
Note: The below Table is for your review, questions and perhaps thoughts. If you would like guidance and direction to "Invest Wisely" in my "Income Asset Allocation Model," please email me to open a dialog on how I go about providing superior performance with a very low threshold of risk.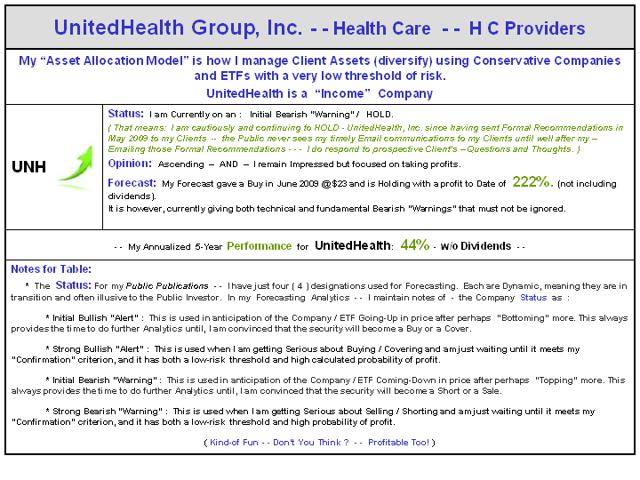 My Current Forecast is not as bright as you may think! (I will be more specific upon your email request).
My Current Opinion is to Hold in anticipation of taking profits. This may be at even higher prices, but there will be an end and time to sell, but that is not currently in my forecast. That is a balancing of my below three (weighted) pillars of research.

Fundamentally - ( weighting - - 40% ): My Analytics for my fundamental valuation play a vital role in profitable managing money. Earnings continue to be only moderate.
Technically - ( weighting - - 35%): Within this outstanding company, my indicators remain strong. It is only slightly off its highs of $77, is selling for $70.
Consensus Opinion - ( weighting - - 25% ): My third pillar of research is one that is always distorted to the positive by most all financial analysts. That's because they are afraid of being bearish. I am not! My articles on "Reality" are supportive of the below 20 year Chart.
I will personally and promptly reply to any serious investor's inquiry as to my very cautious position for UNH !
A Twenty Year Perspective of UnitedHealth Group, Inc.
UnitedHealth has taken some big hits over the years!
URL for (20-years of -(NYSE:UNH): http://stockcharts.com/h-sc/ui?s=UNH&p=W&yr=20&mn=0&dy=0&id=p42254269324&a=330115530
"Selectivity" is what I preach (along with discipline and patience) and is what separates the average investor and mutual funds from the profits that come with long-hours / hard work and "selectivity."
Here are a number of the Component Companies / Peers in the Property-
Casualty Insurance Industry Group that I focus on rather frequently if you wish to follow me: (UNH), (NASDAQ:ESRX), (NYSE:DGX), (NYSE:HCA), (NYSE:THC), (NYSE:HMA), (NYSE:AET), (NYSE:CYH), (NASDAQ:CTRX), (NYSE:SEM), (NYSE:HUM), (NASDAQ:BIOS), (WLP), (NYSE:DVA), (NYSE:LH), (NYSE:CI). And, more . . .
If you are seeking guidance or direction, please feel free to email me. My personal blog or site is: Investing Wisely.
Smile, Have Fun, "Investing Wisely,"
Dr. Steve
UNH, ESRX, DGX, HCA, THC, HMA, AET, CYH, CTRX, SEM, HUM, BIOS, WLP, DVA, LH, CI