A Performance Forward Look at Three of My Twelve U. S. Sectors
The third of three Sectors of twelve are: Health Care / Industrials / Retail
My logo for over 50 Years is: "Investing Wisely."
The graphic below is simple and what you must understand - - IF - - You want to consistently be a profitable Investor.
My Sector Performance Table below lists my select U.S. General Market - - Sectors which is a rather broad breakdown and perspective of the General Stock Market and Indices.
In this Table, I share my current Forecasts and Opinions and 5-Year Performance - - Updated at least Semi-Monthly. My Sector focus is to constantly dissect each Sector to have a very accurate Forecast as to its direction - Bullish or Bearish.. There are other Sectors that I use for confirmation and "sub-groups" for each Sector and they are my select 350+ Industry Groups.
I write a weekly article for a new Industry Group in Doug Short's - Advisor Perspectives blog. It is one of the very finest and elite financial blogs in cyber-space. You will find quite a number of excellent financial authors. I recommend you tune into his Blog.
http://www.advisorperspectives.com/dshort/
At this writing these three Sectors contribute to the suggestion that the very old Bull General Market is deteriorating. It is always a slow process of topping a multi-year bull market. It therefore requires much patience and discipline. Doing your homework each day over the year helps much more than you might think.
Forecasting the General Market for me is fun. It can only be done by breaking down (dissecting), first the Sectors and then the component Industry Groups of each Sector. I use very basic fundamental - valuations that are always confirmed by my technical analysis. My Cycle Analysis and Forecasting Methodology has served both me and my Clients well for over 5- years. Simple stated - it works!
Fundamental - Valuation is a very mechanical / mathematical process but over the more recent years it has become an art as well as a science.
Cycle Analysis for me means identifying Bullish and Bearish Primary and Secondary Inflection Points for the General Market, Sectors, Industry Groups, Commodities, Companies and ETFs. Yes, it can be done and this series articles will share how I go about the task. You might find my specific article and animated graphic on Cycles may be of interest. Click here.
Forecasting is a tool that I use primarily because it offers me what I call "lead time." That means, I have time to "Cherry Pick" the Best of the Best for Bullish Cycles and the Worst of the Worst for Bearish Cycles.
Table of Current Status and Performance for: Health Care / Industrials / Retail Sectors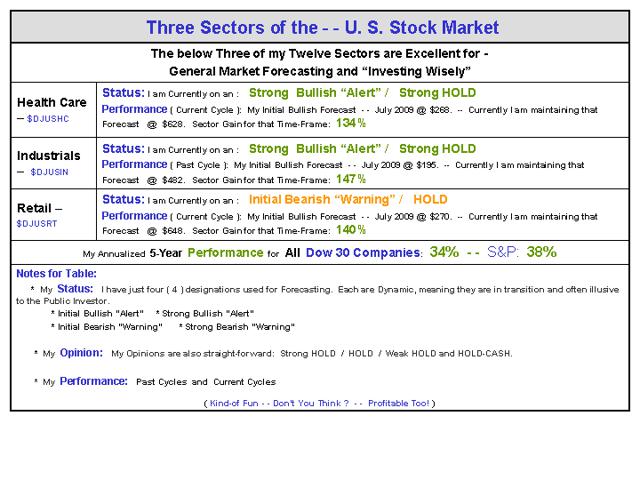 Long Term Charts for the three Sectors
It has NOT always been like you are being told by so many who do not take the time to do their homework and "Invest Wisely." Every Sector on the planet has at one time or another taken some big hits over the years. Check these longer-term 20-Year charts out!
Just Click:
Percent Chart for Perspective of the three Sectors

Perspective, there are calculable reasons, ahead of making Investment Decisions, why some Sectors clearly out-perform other Sectors. This fact is also true with Industry Groups, Companies and ETFs. Note that the Financial Sector vs. the Gold Sector has a spread of over 100% in this two year period
Again, this all can be determined "ahead of your making Investment Decisions." It simple requires more work, experience, a calculator and know-how.
Combining my Fundamental - Valuations with my very unique Technical Analysis always provides a clear perspective of the Best of the Best (individual) Securities for Bullish Cycles and the Worst of the Worst (individual) Securities for Bearish Cycles. Anything in between the Best and the Worst - I call "Also Rans" and should never be considered to be part of your portfolio.
Summary
At this writing these three Sectors are suggesting that the very old Bull General Market is notable deteriorating. Topping a long-term Bull Market is always a slow process of that requires much patience and discipline. Doing your homework and gaining perspective each day helps more than you might think.
Of the 12 Sectors, currently three are notable Losers, three more are on the Bearish Edge and six remain relatively Bullish Strong and a Hold. For reference, just six months ago there was only one Loser. My Forecasts suggest that within the next six months a notable number, (definitely not all), of my Sectors will become Losers.
It is simple mathematics with a few caveats. When there are mostly Bullish Sector, Industry Groups and Companies you have a Bull market. It should be somewhat obvious that - when the, "vice-versa" occurs your have a Bear market.
The trick is knowing the Bulls from the Bears! I do that task very well because I actually live with those critters. As this never ending Cycling Process occurs within the General Market Indices ( Dow 30, Nasdaq, S&P, etc) and the Sectors that make up the General - - both You and the Marketplace will be euphoric during Rallies - BUT - all Rallies followed by scary and expensive Pull-Backs. A little study on your part of the past few decades of the Marketplace will clearly confirm the above as FACT ! ( see my above three charts! )
Be aware that a Bear Market is in the making. This Bearish fact has been on a crescendo for many months now!
My work with these Sectors is fun for me. Sharing it with the Public is a pleasure and I indeed hope you will profit by my work.
Smile, Have fun, "Investing Wisely,"
Dr. Steve
Please Note:
For a Daily Input and Deeper View of my Work / Analytics you might want to Click, and scroll down to my "Thumb-Nail" articles in my Personal Blog.
To Email Me with your questions or thoughts: senorstevedrmx@yahoo.com
- and / or - themoneydr@gmail.com.