Income Investors - Only! - - 5-Year Performance - - April 14th. - Update
My logo for over 50 Years is: "Investing Wisely."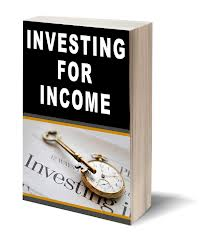 There is almost always a group of Companies and ETFs that are "In-Favor" for the "INCOME" Investor. Companies that will provide - Both - Good Dividend Income and Consistent Annual Growth.
These Companies are not ready to Buy every day or even every week but definitely at Bullish Inflection Points as they occur throughout the year. (If you can understand this sentence - YOU will be a very profitable Investor)!
Yes, I have read the "Book" and hundreds like it over the years. None of them, I said "none of them" ever impressed me with their advice. As a professor of finance and economics you would likely be surprised to know I believe there is a BIG difference between what the books offer and being in the trenches of actually profitable managing assets.
I suggest Senior and Retired Investors are getting plain old vanilla when you deserve to be getting a much better taste (performance) for your risk of investing your nest-egg. Yes, Income Investing has risk, but risk can be mitigated to almost zero if you use your head, are patient and are a disciplined Investor. I hope you will let me share with you how I get consistent annual results. (Please see my Table below).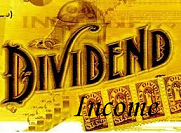 My Performance over these many years has been good to me and my Clients with few set-backs. The table below listing of ten (10) specific Companies is clearly strong performance but also prudently attained. My performance goes back to the late 1950s! Click here for that long-term record and narrative.
Asset Allocation Model Performance
You will want to review all four of my Asset Allocation Model Performance for a perspective of my focus on "results" for my Clients. Here are my four URLs / Links for recently published performance:
Income: ( This article is my most current performance for my "Income" Allocation ).
Income & Growth: https://seekingalpha.com/instablog/121308-steven-bauer/2780143-income-and-growth-portfolios-5-year-performance-record-march-24th-update
Growth: https://seekingalpha.com/instablog/121308-steven-bauer/2799313-growth-5-year-performance-record-march-31st-update
Aggressive Growth: https://seekingalpha.com/instablog/121308-steven-bauer/2818083-aggressive-growth-portfolios-5-year-performance-april-7th-update
How I Go About Producing Consistent Annual Profits for my Clients
Well Forecasted and "In-Favor" Companies will always outperform in Bull Markets and sometimes hang in there in Bear Markets. I am a BIG believer in CASH, which is not often found with most Financial Advisors and Asset Managers. When my Forecast for a given Income Company suggests that is more prudent to Hold-Cash - that is where I go. Holding a descending security just has never made sense to me even when they pay a decent dividend!
I like working / doing my analytics on Income Companies / ETFs and maintain a list of over 200 of them to monitor. The Table below will give you an idea of what can be expected from my providing you guidance and direction with your portfolios.
Income Companies that are "In-Favor" are easy for me to identify and I make it a policy of always have at least a twenty or thirty in my "Income List" as possible / future Buys. That may be several months ahead but remember that is one of the primary reasons I Forecast. Oh, yes these Companies and ETFs can turn Bearish and when they do over the ensuing months they can hurt you Big-Time. And that is why I offer a 20-year Chart (for Perspective) in most all of my articles.
When Inflection Points occur it is quite easy for me to identify those that will "greatly outperform" for that Rally or Pull-Back. This makes my work both enjoyable and fun, by following and frequently Forecasting those Companies that are on my "List."
My on going objective is to identify changing trends with in my Forecasting Analytics. Simple stated, I want to have current notes to quickly refer to on the anticipated direction of this Sector and Industry Group. With that in my pocket, I can make well prepared and informed investment decisions to Buy / Sell or even Short-Sale / Cover.
Income Investors
My Mission is to provide guidance and direction for conservatively providing consistent annual and superior profitable results for each Formal Recommendation I make to my Clients.
Table w/ 5 Year Performance
The below Table is for your review, questions and perhaps thoughts. If you are seeking, what I call "Decent Income Performance" - - please Email me to open a dialog - there is no obligation. I do not manage Client accounts with less than $100,000 in the Clients Portfolio. There are exceptions. . .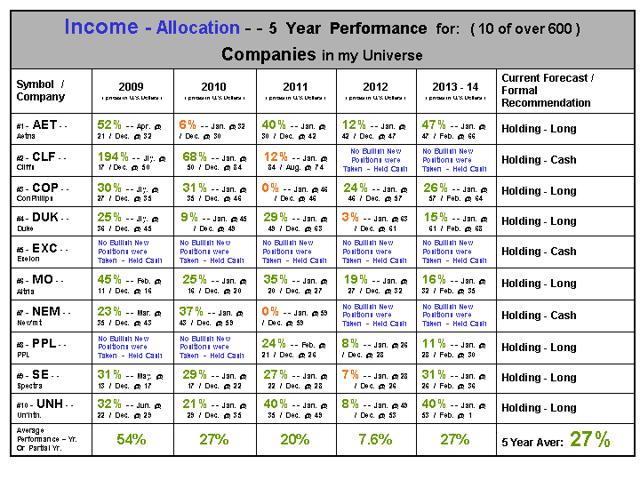 My management of "Income" Assets is unique. If I cannot identify a Company that is paying a decent dividend that has a Forecasted Upside, e.g. projected growth I Hold-Cash. Holding Cash presents a very low income flow but I believe that owning a Company that is paying a "decent" dividend during times when my Forecast is Bearish is definitely not following my logo. My logo is "Investing Wisely." There are very few times over the past 50 years that I have professionally managed the assets of my Clients that there was not some Companies to Hold.
You will note that the 10 Companies in the below Table have Dividend Payments ranging from a low of about 1.50% to over 5.00%. I wish to stress that a few percentage points of Dividend Payments can be erased in just a day or two of trading. My, point which differs greatly from most Financial Analysts / Asset Managers is that - - If you are not holding a Company that is clearly Appreciating and appears to have the propensity to continue to Appreciate, you are going to substantially restrict your over-all profitability - - that means both disappointment and LOSSES!
These are all conservative Companies but they historically they take the same "HITS" on the downside as other more growth oriented securities. This is my way of saying: Guidance and Direction in your "Income Portfolio" is equally as important in your "Growth Portfolio."
Notes for Table:
* You will alsonote in most of my Articles I use the words "Favorable" and "Un-Favorable - - I maintain just these two Asset Management Lists. ( please see the below "Report Card." )
* Bullish ("Alerts" and Bearish "Warnings" are each subdivided into either - "Initial" - or - "Strong." The time-frame from my "Initial" to my "Strong" ("Alert" / "Warning") provides me sufficient lead time for selecting the currently most ("Favorable" & " Un-Favorable") e.g. PROFITABLE ( Bullish & Bearish ) Investment Choices. That time frame may be weeks or even a couple months!
* Fundamental Valuation and Technical Analytics calculations are (quantitatively computed) and then translated by formula into a Rating (ranging from: ( 0 to 100 ). Just like in school: A's are 90 - 100 and F's are 59 - 0 and thus the Letter Grade.
* Opinion is my on going strategy of Analytics to - Hold - an investment for as long as possible. Those - Holding Periods - prior to Selling or Covering are very strategic and effective. Alternatively, - Hold-Cash - is my investment strategy that demands that - - until I have both a General Market Bullish or Bearish Inflection Points coincident with the Industry Group and its component Company - I Hold CASH ! Yes, I " Cherry Pick " very carefully! Bullish (Buying / Selling) - or - Bearish (Shorting / Covering) - - Formal Recommendations or Positions Being Held are never provided Publicly, they are exclusively for my Clientele.
* As an Ex-Professor of Finance & Economics I refer to my Securities Rating Procedures as a "Report Card" - - ( A's are for Buying and F's are for Shorting ) and anything in between is MUTE. My Report Cards for each Index / Company / ETF, etc. permits me to remain Focused on the Companies / ETFs with the highest probability for Profit!
I am seeking new Clients and Consulting relationships. Please feel free to open an Email dialog. I hope you are interested.
Note: Should you have interest in my professional guidance and direction for your Portfolios, please Email Me with your questions or thoughts: senorstevedrmx@yahoo.com.
For Daily Updates and a Deeper View into my work / Analytics, you might want to Click and Scroll Down to my "Thumb-Nail" Articles within my personal blog.
Please spend some time reading my articles for a perspective of their and also viewing my Bio before making inquiries. Sharing a bit about yourself and your financial and needs, goals and objectives would be appreciated.
A relationship between You and Your Asset Manager must be a "Win / Win" affair. You get the Performance and the Education and I get paid for my Analytics / Work and Experience.
If I can be of help just Email me. Serious Investors Only - Please!
senorstevedrmx@yahoo.com
Smile, Have Fun, "Investing Wisely,"
Dr. Steve
Companies: SPY, QQQ, DIA, AET, CLF, COP, DUK, EXC, MO, NEM, PPL, SE, UNH